"He backs himself, he backed himself against 10 Scarlets on the short side when we'd a six-man overlap on the other side.
"I said, 'did you call for the ball?' He said, 'yeah, yeah.'
"He just didn't manage to beat one of them but that's the beauty of them young lads, they back themselves."
On another day, Johnny Sexton might not have been so charitable.
As it was, Leinster scorched home against the Welsh outfit in April's Champions Cup semi-final and Jordan Larmour's wrong turn was laughed as youthful exuberance.
That's not to say that the 21-year-old has been given permission to pull a stunt like that again should the same stone wall of opposition defenders come into sight in the future.
That was certainly at the extreme end of the scale but what looks impossible for most players looks tempting to Larmour.
He denies that anyone has had a friendly chat with him about curbing his enthusiasm but at this stage - with a Grand Slam, Pro14, Champions Cup, series win in Australia and a New Zealand scalp to his name - it's something that he has learned himself.
"I haven't been told but I kind of know myself," Larmour tells RTÉ Sport at an Energia partnership announcement.
"I'll learn from that incident and I won't do it again, hopefully."
That last word is an acknowledgement that he's still learning, and that it's mostly instinct at this stage of his fledgling career that dictates the next move of those dancing feet.
Fast forward to last November and, fresh from a man-of-the-match hat-trick performance against Italy in Chicago, Larmour gets another start against Argentina.
Just three minutes in he jigs inside but finds himself tackled just out of range of his support: penalty, Nicolas Sanchez kicks the Pumas into an early lead.
"The more games you play you learn more, you get more experience so you'll know [better] in the bigger games," he says, referring to moments like that.
"You'll always back yourself and if you see a gap you'll go for it but you won't do something outrageous that will jeopardize the team."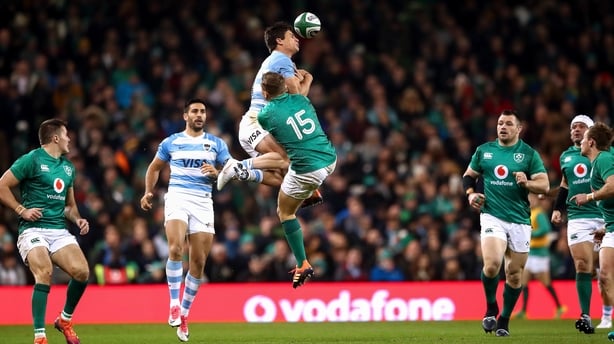 Larmour, a former underage hockey international, has won seven of his nine Ireland caps off the bench.
And while some players come into the national camp with a sense of having to serve their time, Larmour is a man in a hurry.
Many fringe members arrive to see a host of stars with scores of caps and numerous medals ahead of them in the queue. They feel like they should learn their trade before aiming for a start.
Yes, Rob Kearney has two Grand Slams, four Six Nations, four European Cups, four Pro14s, three Lions Test starts, 87 Ireland caps. But Larmour still wants that shirt.
"Every rugby player wants to be involved in the starting XV," he says.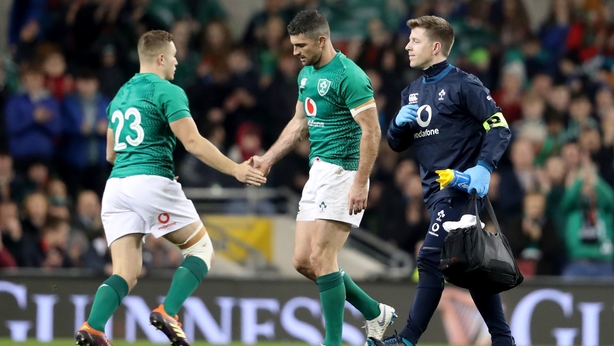 "Getting into the starting XV is a goal of mine and it's a goal of anyone who is playing rugby – they want to be playing the big games, they want to be starting the big games.
"I've got to try and keep performing because only the best 15 will get picked so you need to be playing as well as those other guys."
The Dubliner naturally considers himself a competitor of Kearney's – and that's a dynamic that Joe Schmidt wouldn't have any other way.
The versatile Larmour, who can also play wing or centre, knows he has a lot to learn and can count the full-back among those who want to see him improve.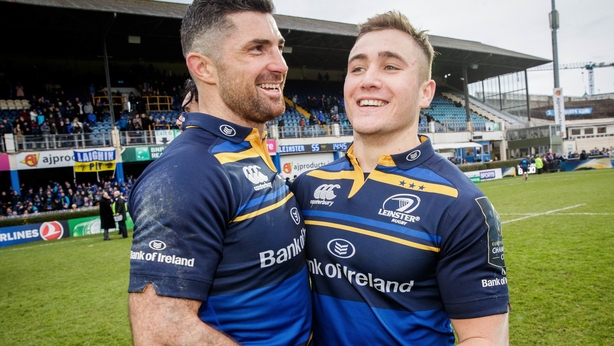 "Yeah, he does [offer advice]," replies the former St Andrew's pupil when asked if the man whose jersey he is trying to take is open to sharing his experience with the whizz kid.
"If I ever have a question I can ask him and he'll give you an answer, he's really good like that, or even going through video together.
"At the end of the day you're a team and everyone wants to help each other out and get better and grow as a team. There are players in there that will help you out if you need a helping hand."
Larmour is hoping to be named on the Leinster team later today as the holders finish their Christmas inter-pro series against Ulster at the RDS tomorrow.
"They've been going really well, their defensive system has improved a lot, their attack is really good," he says.
"They've got some unbelievably good players, like Jacob Stockdale and Jordi Murphy.
"They have real threats all over the park so we're going to have to be switched on this week and come up with a game plan and try and execute it."