The 'wounded beast' cliche got a reprieve yesterday.
For it was about to be whipped out and repeated to within an inch of its life for the next seven days had the officials at the England v New Zealand game not spotted, after a TMO intervention, that Courtney Lawes was offside.
That call ruled out Sam Underhill's fine try that would have more than likely secured Eddie Jones' side a win over the world champions.
'The All Blacks are like a wounded beast' would have been the narrative had they succumbed to the Red Rose. That is, more dangerous than normal healthy beasts, who just happen to be double Webb Ellis champs and the world's top-ranked side.
Argentina boss Mario Ledesma, who during a refreshingly well humored post-defeat appraisal admitted that he hadn't yet seen the Twickenham game, said: "If New Zealand were bad, it's difficult for them to be bad two games in a row."
But Joe Schmidt, who had just seen the opening half of the England game by the time he addressed a packed press conference after Ireland's 28-17 win over the Pumas, refused to concede that, all things being equal, the result in London made even a little difference to how the Rugby Champions winners will approach next week's game.
"I don't think it really spills over as a narrative that they or we are particularly influenced by," he told RTE Sport.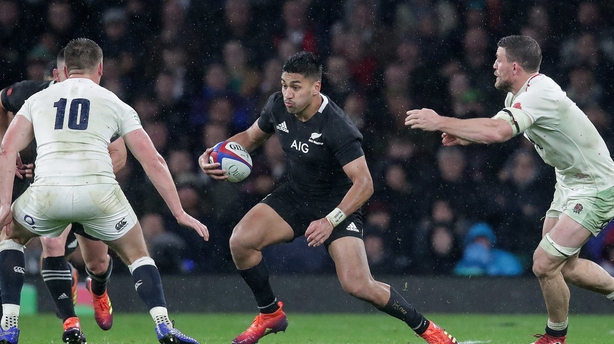 "They will have a look and say 'well, we didn't start well but we were 15-0 down and came back and won the game'.
"They'll look at us and say 'they didn't start well, they went [a try] down very quickly to a midfield bust, got caught on the right edge, we can do that to them'.
"We start looking at each other but I think the All Blacks are comfortable in their own skin.
"They will first look at themselves and keep building themselves forward because we all know they are a heck of a team."
Yes, of course they are a heck of a team, but they're now, courtesy of that victory, not a heck of a team staring at back-to-back losses and all the jazz that comes with that.
They may have to cop some flak about their showing but, for all their high standards, nothing compared to what they would have expected to receive had England been able to keep their cool and work a late dropgoal.
"The All Blacks would have been a little bit rusty today," RTE rugby analyst and Dragons coach Bernard Jackman said.
"They sent one group to Japan [the week before] and it's always difficult to get the cohesion right.
"Both Ireland and New Zealand will improve a hell of a lot...and it will be a different ball game next week. Both teams will be 100 per cent ready to put in the game of their lives."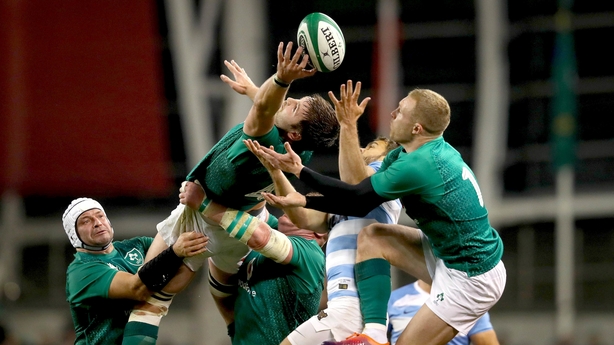 Useful, it was too, to have Argentina as a primer. The South Americans play New Zealand twice a year and gave them a fright in Nelson just a couple of months ago.
Asked how the pace of yesterday's game compared to the Rugby Championship, captain Pablo Matera said: "I think it was really similar. Ireland play the ball in less than three seconds so I think that it's really similar to maybe Australia and New Zealand, it was physical.
"Maybe they don't have the big guys as South Africa or Australia but they are really physical guys as well and they play the ball fast."
Ledesma added: "[Ireland in 2016] already beat them in the United States carrying a 18-game streak.
"For us to beat them they have to be bad and we have to be good, for Ireland a little bit less. They have to be average and Ireland very good, and you'll beat them."
Schmidt continued to hop the ball around the chances of Conor Murray lining out but the unfortunate Sean O'Brien, who broke his arm, is out.
Up stepped Dan Leavy again and earned Schmidt's praise.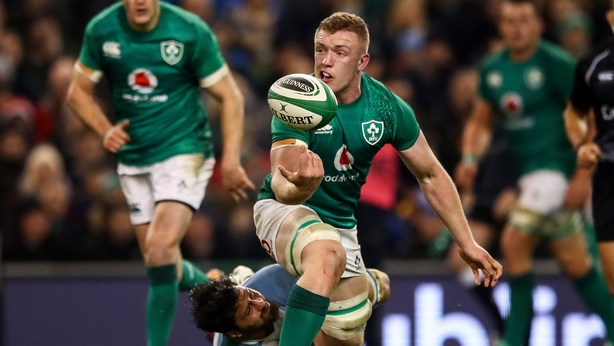 "His competitiveness, how combatative he is, I thought he did a really good job. He carried down the left a few times, through the middle a few times, defensively he was strong, got some pressure on the ball. That's what you want from a seven."
While the Irish camp paid Argentina due respect, there was plenty of All Blacks talk over the last week.
Now they can go all out.
"The challenge for our guys is to step up," said Schmidt. "I'm confident that they can but at the same time I'm well aware of the challenges the All Blacks present.
"There was the one [the last-gasp loss] in 2013, I am still bleeding from that. It hurts when that happens and while Chicago was a great band aid, in fact it was a full bandage – it was great.
"Two weeks later we were very, very much in the game and it was very tough, very very tough. As physical as it was tonight it was a step up last time they were in town."
The beast is back.