It says everything about the blinding success Jordan Larmour's career has been so far that he only takes a short pause before calculating how many games he's lost playing for Leinster.
"Two or three," he tells RTÉ Sport's Gary Moran, adding: "I wish it was none but it was always going to happen in sport, you're always going to lose a few. Hopefully I can keep that number nice and low for the rest of my career!"
Similar to Brian Fenton, the Dublin footballer who has yet to lose a single championship game in four years of battle in a blue jersey, the supremely talented Larmour has emerged in the middle of a golden age for his team.
The 21 year old winger will have bad days - they come to everyone - but right now he's soaking up the glory of being part of the top dogs in Europe.
It's a title that's hard to earn and harder to maintain. The culture at Leinster is brutally relentless, and even after the awesome 52-3 destruction of Wasps last Friday night, the celebrations did not linger. 
"We don't want to get complacent," adds Larmour. "After a good win we enjoy it, we enjoy each other's company. That's one of the best things about a good win.
"You go back to the changing room, you have a beer with the lads and you reflect on the game. We're definitely pleased with how the game went but we know we can get a lot better.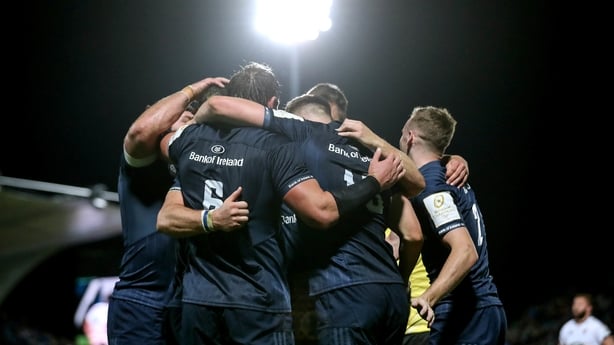 "Everyone wants to be on the starting 15 every week. In training it can get a bit fiery at times. Lads can be annoyed if they don't get picked. You need that in training to drive the standards. It brings out the best in you.
"You can only really control what you can do on the pitch. The rest is up to the coaches, if they pick you or not. 
"A few weeks ago we had a bad training session. We had to talk about that and see what we could do because it's not acceptable, especially when big games are coming around.
"Just little things, nothing major. Things that wouldn't happen on a game day. You need to train how you play.
"When training comes around it's nearly like a game. Everyone is switched on, ready to go, trying to bring out the best in each other."
It's an unforgiving environment that's sculpted a squad of serial winners. They want more and more. The trip to Toulouse this Sunday will be a sterner test of their credentials, but Larmour said his team-mates are prepared for that.
And if the try line does present itself, there'll be little danger of the visitors repeating Freddie Burns' disastrous error, the Bath man prematurely celebrating against Toulouse at the weekend, allowing Maxime Medard to pop the ball from his grasp.
"France is a tough place to go. The players feed off the crowd's energy. We need to go there, with the mindset of having a fast start and try to quieten the crowd.
"You give them a sniff of space and they will score. We've got to be switched on. 
"[The Burns incident] just shows Toulouse will chase everything. If you get the chance to score a try just put it down straight away - and then celebrate!"