Connacht coach Andy Friend said that while his side weren't clinical, it was their gutsiness that hauled them over the line against Ulster in Kingspan Stadium. 
The westerners claimed their first win in Belfast in 58 years on Friday night, with a 22-15 victory over Dan McFarland's stuttering outfit in the Pro14.
With Ulster coming off the back of an eye-watering 64-7 tanking in Thomond Park, it appeared there would never be a better chance for Connacht to break their Belfast hoodoo.
Tries from Tiernan O'Halloran, Bundee Aki and a first half penalty try helped them to a seven point win. 
Speaking to RTÉ Sport's Michael Corcoran afterwards, Friend hailed his side's resilience in overcoming early injury setbacks. 
"It was a gutsy win. We lost Marmo (Kieran Marmion) in the first minute of play, we lost Tiernan (O'Halloran) after five minutes. So to keep our composure and grind out a win there was really pleasing. 
"We talked about being clinical and weathering that first 20 minutes. We know they're going to come hard in that first 20. 
"We get in at half-time and we're nine points up and we say, 'that's good but it's nil all again'. Cos, this next 10-15 minutes is going to be really hard and if we can hold them out there it's a fair chance. 
"And then at the re-start, you have the red card, which was disappointing for them but it was probably the start we needed."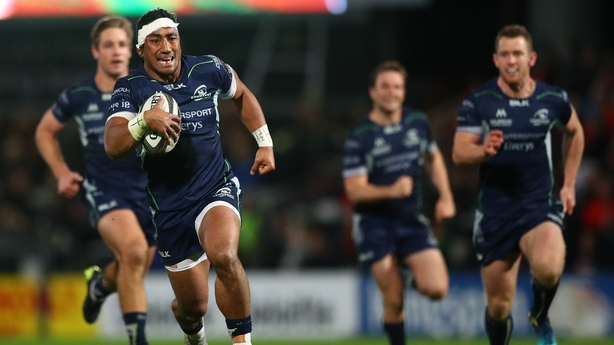 Friend disputed the suggestion that Connacht went into their shell in the closing stages, arguing that their breakdown work became more ragged. 
"We weren't clinical, we were gutsy. So there's definitely things we need to work on. But I just thought the way we managed to hold them out, and our defence was outstanding, got us the win.
"I don't believe we went into our shell. One of the big things we said to the boys this year is 'we'll back ya'. You saw we turned down a fair few penalties. 
"We probably just lost some of the simple stuff. Some of our ground work. I thought their breakdown work was excellent but we allowed it to be good. We got to work harder on the ground there. Some of the small stuff we've been working on this year, we lost in the last 20 minutes."
Friend added that his side would be unable to bask too long in the glory of claiming a historic first win in Belfast as they needed to keep improving and achieving if the year is to be deemed a success. 
"We didn't talk about the history during the week. It is going to mentioned, we know that. If that's all we're going to do this year, that's not going to be acceptable. We can't rest on that laurel. 
"I honestly feel we have been building with every game. We have been getting better. We've got Europe next week in the Challenge Cup so there'll be other guys getting a chance. We've got to continue building that depth."