A blockbuster Saturday night fixture in the national stadium could be just the ticket for Munster to find their mojo on the road, notwithstanding the sheer quality of the opposition.
Munster have had issues with finding the right mindset to beat teams away from home, which has been their biggest stumbling block so far this season. A couple of losses on the road has taken the gloss off some impressive attacking performances, albeit against weaker opposition.
It's hard to truly tell where they are at the moment so this weekend is going to be pivotal. They are expected to be without their captain, Peter O'Mahony for the clash at the Aviva Stadium. He has been outstanding this year since coming back from international duty and seems to be in his best possible condition to tackle the World Cup year head on.
Leinster are rumoured to be without some of their own big guns this weekend, with the likes of Jonathan Sexton potentially sitting this one out. It will be interesting to see how the IRFU influence the selections but there's more than enough depth in both squads to put on a show in Dublin.
Johann Van Graan and Leo Cullen are both in for selection headaches when they get a full complement back for next weekend, especially in the back row. The return of Sean O'Brien and Tommy O'Donnell on top of quality players like Dan Leavy, Josh van der Flier and Chris Cloete make the provinces' back rows difficult to pick, never mind Joe Schmidt's job when the November internationals comes around.
Leinster are looking very consistent since they lost on the road to Scarlets in Round 2, picking up an away win at the Sportsground last week. The same can't be said for Munster. It might not feel like an away game for some players but if they don't get a win away from Thomond Park soon it could play on their minds as the season progresses.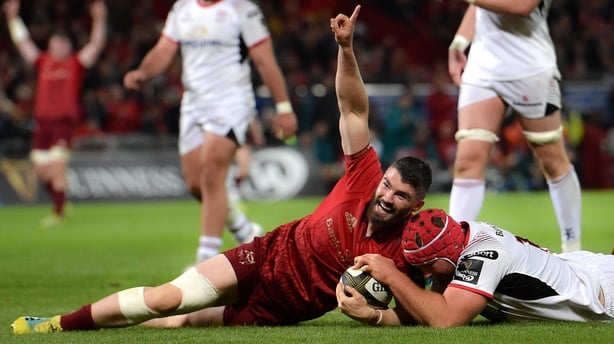 Munster's season could hinge on how they show up to the Aviva on Saturday night ahead of two big games in the Heineken Cup. Playing against Leinster in the Aviva is a standard above the Guinness Pro 14.
My first (and last) time facing them was a close encounter but the intensity was a different level. You couldn't take your eyes off Sexton that day, always one step ahead and looking to catch you on the hop. That's how Leinster play.
On the attack and setting the pace for most of the game.
An aspect of Munster's game that needs to come on another bit is their continuity. When their attack comes under pressure we can see them make less passes and less offloads. Their attack can get quite flat and there's less time to use the ball when the defence is winning the battle. This is something that I feel Leinster excel at.
Garry Ringrose showed his ability last week to pick off some tiring forwards and got in behind for a try without having to use his support. If Leinster can play to these strengths it will take away from Munster's line speed in defence, which can be intimidating and tough to play against.
It's very hard to get off the line if you're not onside yet
Traditionally the Welsh sides played with very fast defences. When preparing to face them you can come up with great tactics. A quick hit in the 12 channel, clear the ruck quickly so they're still retreating when you're playing the next phase and players have more time on the ball to make decisions.
It's very hard to get off the line if you're not onside yet.
But it's much easier said than done and when the pressure comes on in the game the small details can get lost. Someone might miss their role in the play and get to the breakdown late, meaning the ruck ball is slower and the defence is back on the front foot.
One of the weaknesses in a defence like this is how hard it is to recover when the opposition use their foot work on a less agile player. Once they are in behind you it's very difficult to put the brakes on and recover in time to block the offloading channel.
Keeping the ball alive when Leinster find these opportunities is key to slowing down that line speed and negating the outstanding ground work that we've seen from Munster's back row this season.
The defence has very limited time to organise and go forward again before the ball is played but trying to find a poach in a retreating ruck is a tough skill to master.
You will also see players trying to maintain their line speed while on the back foot resulting in poor defensive reads and disconnects between some of the forwards and backs.
If Munster are to be successful this weekend they'll need to maintain that defensive integrity, starting with winning the one-on-one contact area and allowing each other the time to be organised enough to stifle the Leinster attack.
This tie might not have as many players available as some of the past games but there's still a lot on the line for anyone that takes to the pitch.
Not wanting your rival getting one over on you, momentum for the following weeks and simply winning the next league game should see plenty of action this weekend and it's certainly one I'm looking forward to.
Follow Leinster v Munster via our live blog on RTÉ.ie/sport and the News Now app, or listen to exclusive national radio commentary on RTÉ Radio 1's Saturday Sport.