IRFU chief executive Philip Browne has congratulated France on beating South Africa and Ireland to win hosting rights for the 2023 Rugby World Cup.
France won Wednesday's vote of the World Rugby Council ahead of South Africa, who had been named preferred bidders after an independent review. Ireland were eliminated after finishing third in the first round of voting.
"I would like to thank all who participated in this process and particularly those who supported Ireland in the vote today," said Browne.
"For almost six years we have focused passionately on bringing a Rugby World Cup to Ireland in 2023. In that time we developed a world-class proposition which reflected positively on Ireland and saw us formally acknowledged as a destination well capable of hosting a superb Rugby World Cup.
"It is not to be. Our race is now run. Today belongs to France. They have our warmest congratulations and very best wishes for a magnificent Rugby World Cup in 2023."
France will host the 2023 Rugby World Cup as World Rugby council disregards technical review group recommendation #RTErugby pic.twitter.com/QfrRsYIyGE

— RTÉ Rugby (@RTErugby) November 15, 2017
Bid chairman Dick Spring said Ireland should be proud of their efforts.
"We want to congratulate France on their nomination today, by World Rugby, as hosts for the 2023 Rugby World Cup. We wish them every success as they turn their attention to delivering an outstanding tournament," he said.
"Ireland's bid is one of which all involved can be extremely proud. It has been richly rewarding to witness, and be inspired by, the fulsome cooperation between the many individuals and groups, North and South, who have given so freely to our common quest."
Taoiseach Leo Varadkar also expressed his disappointment at the decision.
"I am of course deeply disappointed by this result but I wish France the very best in their preparations for Rugby World Cup 2023. World Rugby had a choice of three excellent contenders," he said.
"As someone who has been involved in the bid from the beginning, I had hoped that Ireland would be selected. But we were beaten by another excellent candidate and I know that France will host a superb tournament in 2023. I have no regrets about bidding for the tournament and I want to thank everyone who was involved in it.
"We should never forget that the technical report found that Ireland would be excellent hosts for Rugby World Cup 2023, and there may be other occasions for Ireland to show the world what we are capable of."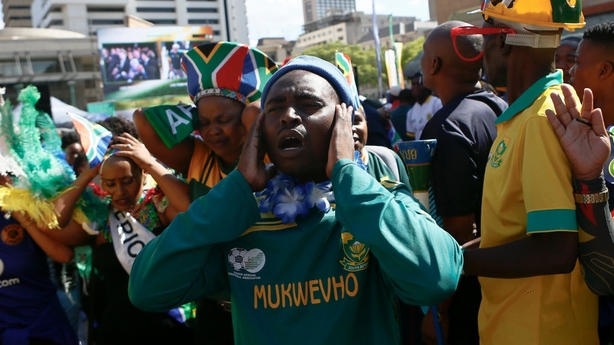 South Africa Rugby expressed disappointment over the decision and said the process became "opaque" following the independent report.
A statement on SA Rugby's official Twitter account read: "SA Rugby said it was 'bitterly disappointed' at the decision by the World Rugby Council to overturn a recommendation that South Africa should host the 2023 Rugby World Cup and instead voted for France to host the tournament in a secret ballot."
SA Rugby chief executive Jurie Roux added: "World Rugby ran exhaustive, transparent process for 15 months to identify best host nation, only for the process to go entirely opaque for past two weeks. The view of the experts and World Rugby's leadership was overturned by World Rugby council members."
SA Rugby president Mark Alexander said: "We did everything in our power to bring the tournament to South Africa.
"We are bitterly disappointed at this decision and would like to apologise to the people and government of South Africa for raising their hopes."