By Declan Whooley
Another defeat in Dublin, another knockout defeat for Ulster, but head coach Les Kiss says his team are on an upward curve.
Weeks after demolishing Leinster 30-6 on their own patch, Ulster fell to their 12th defeat in their last 13 visits to the RDS in a gritty performance that lacked the same cutting edge as the one given at the Kingspan Stadium.
Coming into the contest, the visitors had scored 10 more tries than Leinster over the course of the regular season, but were outscored on the night three tries to two and a forlorn looking Kiss admitted the better team won out.
"We knew they'd [Leinster] be a different beast and they delivered on that. They won the 50/50s that were crucial in that first 20 minutes and that gave them 13-0," he admitted.
"Unfortunately early in the second half, when we did get a bit of momentum, we just weren't organised enough to make the usual dents and create space.
"It changed the shape of the game. We fell short, we didn't quite deliver what we wanted to."
The taste of defeat at the business end of the season has become one all-too familiar for Ulster and they are undoubtedly sick of the sight of the blue jersey.
"We have the type of player, type of appetite, the talent and industry to go where we would like to go."
They fell to Leinster in the final in 2013, the semi-final a year later and add in a Heineken Cup final defeat for good measure and the term hoodoo is perfectly applicable.
Kiss, who only took over as Director of Rugby full-time after the conclusion of the World Cup in October, refuses to be downbeat and no sooner has their season drawn to a disappointing conclusion than he is already plotting for the next campaign.
"It's an upward curve. My message is this is not an ending, it's a beginning. We have the type of player, type of appetite, the talent and industry to go where we would like to go.
"I'm already looking forward to the off season and really getting my teeth into it from the start and going from there.
"It's been a bit tough to come in a third of the way through the season, but I can't fault the players."
The gracious Australian admitted that despite his personal disappointment, the better team on the night will move on to Murrayfield next weekend.
"Fair play to Leinster. We had to be as good as we were the last time and I don't think we were. That's by my admission and the players' admission. They were just better than us today
"In the patches that we did get a bit of momentum I think we stretched them, but we just couldn't keep it going. That's disappointing."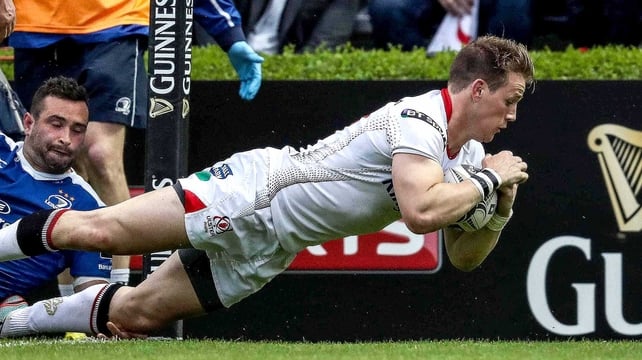 Wing Craig Gilroy admitted the stinging pain of defeat will take some time ease, but urged his team to learn from their mistakes moving forward.
"We'll take the hurt from today and build on it," said the 25-year-old, who crossed for two tries at the RDS.
"Hopefully that group of players, with a few extras coming in and the coaching staff we can stay close and get something over the next few seasons.
"This is the third time we've been here [play-off defeat]. Leinster, fair play to them, they're a fantastic side.
It's even more difficult playing them on their own patch.
"Guys came back from the World Cup and maybe it was difficult for them to transition from international rugby."
Gilroy also took the opportunity to shower praise on Kiss, as he turns his focus to getting himself on the plane for Ireland's summer tour to South Africa.
"I can't speak highly enough of Les Kiss. Since he came into Ulster he has just been fantastic. He's hit he ground running and really bought into our culture. The guys love him.
"There's a tour [South Africa] and there's guys trying to put their hand up for that. It would be great to be involved. I was down at the training camp and it was good to be involved.
"For me personally it's a case of looking after myself and trying not to switch off just yet."