Ireland and Scotland lock horns for the 131st occasion at the Aviva Stadium this weekend with the Scots shading the duel with 65 victories and five draws.
There have been many memorable clashes between the two in recent times and here are five recent encounters in Dublin.
2014 - Ireland 28 Scotland 6
The late withdrawal of talismanic captain Paul O'Connell was not enough to scupper Ireland's Six Nations hopes as they opened their campaign with a 28-6 win over Scotland at Aviva Stadium.
Lock O'Connell was ruled out late due to a chest infection in Joe Schmidt's first Six Nations game as coach. And it looked to have had an effect on the team as they made a slow start. But they gradually squeezed the life out of the resilient Scots.
Tries from Andrew Trimble, Jamie Heaslip and Rob Kearney eased the tension for the home faithful after Ireland had held an 11-3 lead at half-time.
But Ireland could have fallen behind after just five minutes. Luke Marshall got isolated in midfield and Chris Henry was pinged for sealing-off. However, Laidlaw missed the penalty.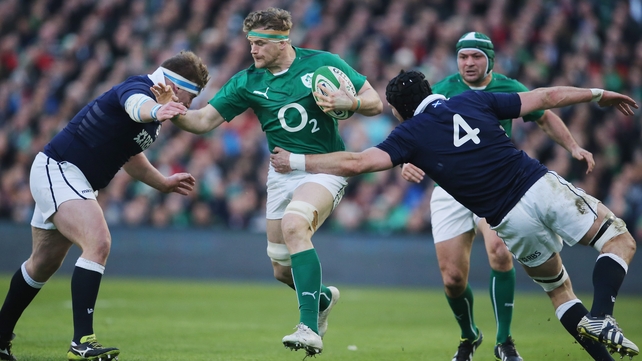 Ireland landed the first blow in the 13th minute when Rob Kearney drove into the Scottish half and Kelly Brown didn't roll away. Johnny Sexton made no mistake with the kick. But four minutes later Laidlaw slotted his first penalty when Devin Toner was the guilty party – he didn't roll away.
In a tight game Ireland needed to keep the pressure on and Sexton slotted his second penalty. Both sides had their chances and Scotland were very much in the game until just before the break.
Ireland got the ball out of a maul and moved it quickly with their precision at ruck-time, opening the gap for Trimble, who was assisted by Rob Kearney for the first try.
Ireland led it 11-3 at half-time and although Laidlaw scored his second penalty in the 43rd minute, Ireland were playing with more intent. The scrum created the crucial second try.
They won a turnover and when Ireland kicked to the corner they won the line-out and stand-in captain Heaslip drove over on the back of a maul. Sexton's conversion pushed Ireland 18-6 clear and Rob Kearney's late try sealed the win.
Scorers – Ireland: A Trimble, J Heaslip, R Kearney tries; J Sexton 2 cons, 3 pens. Scotland: G Laidlaw 2 pens.
Ireland: R Kearney; A Trimble, B O'Driscoll, L Marshall, D Kearney; J Sexton, C Murray; C Healy, R Best, M Ross; D Toner, D Tuohy; P O'Mahony, C Henry, J Heaslip.
Replacements: S Cronin, J McGrath, M Moore, I Henderson, T O'Donnell, I Boss, P Jackson, F McFadden.
Scotland: S Hogg; S Maitland, A Dunbar, D Taylor, S Lamont; D Weir, G Laidlaw; R Grant, R Ford, M Low; T Swinson, J Hamilton; R Wilson, K Brown, D Denton.
Replacements: P MacArthur, A Dickinson, G Cross, R Gray, J Beattie, C Cusiter, M Scott, M Evans.
Referee: Craig Joubert (South Africa)
2012 - Ireland 32 Scotland 14
A try from Rory Best settled Ireland as they went on to secure a comprehensive victory over Scotland after a poor start in the Aviva Stadium.
Ireland trailed 6-0 before the Ulster hooker crashed over in the corner and further tries from Eoin Reddan, Andrew Trimble and Fergus McFadden helped them to a big win.
Ireland held a 22-14 half-time lead and they held their opponents scoreless in the second-half as McFadden added his try and a Sexton conversion and penalty sealed their second win of the campaign.
Declan Kidney's men were slow to get going and after binding illegally and side-entry into a ruck, two Laidlaw penalties saw Scotland into a 6-0 lead after ten minutes.
It was a dreadful start for Ireland and considering they only had one win so far in the championship, when they defeated Italy at home, they looked set to struggle here again.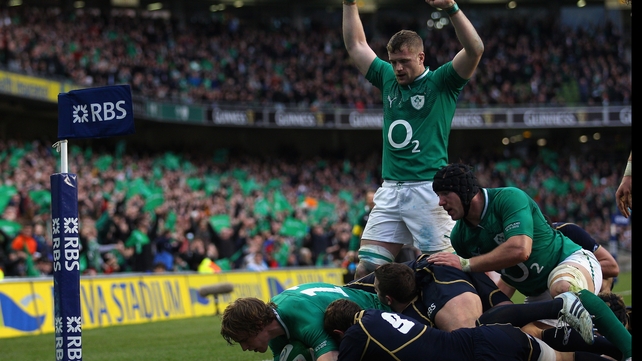 But captain Best barked out the instructions as Ireland kicked a penalty to the corner. Donnacha Ryan claimed the line-out and ended up with Best touching down an important try for Ireland.
That was added to by a Sexton conversion and then a penalty when Scotland collapsed a scrum. The score was back to 10-9 when Laidlaw slotted his third penalty, but then Jamie Heaslip created Ireland's next try.
He tapped and went with a quick penalty and Scotland were caught napping. Reddan picked up the ball and darted over to give Ireland a commanding lead, with Sexton's conversion pushing them 17-9 in front.
It was already an up-hill task for Scotland but they weren't done yet either. Richie Gray was set up by Laidlaw and he dotted down a fantastic effort to get Scotland right back into the game.
Ireland needed to score next and Trimble's try on the stroke of half-time was important. Ireland led 22-14 at half-time and pushed on towards the end with McFadden's try the clinching score.
Scorers – Ireland: R Best, E Reddan, A Trimble, F McFadden tries; J Sexton 3 cons, 2 pens. Scotland: R Gray try; G Laidlaw 3 pens.
Ireland: R Kearney; T Bowe, K Earls, G D'Arcy, A Trimble; J Sexton, E Reddan; C Healy, R Best, M Ross; D O'Callaghan, D Ryan; S Ferris, P O'Mahony, J Heaslip.
Replacements: S Cronin, T Court, M McCarthy, S Jennings, T O'Leary, R O'Gara, F McFadden.
Scotland: S Hogg; L Jones, M Evans, G Morrison, S Lamont; G Laidlaw, M Blair; A Jacobsen, R Ford, G Cross; R Gray, J Hamilton; J Barclay, R Rennie, D Denton.
Replacements: S Lawson, E Murray, A Kellock, R Vernon, C Cusiter, R Jackson, M Scott.
Referee: Chris Pollock (New Zealand)
2010 - Ireland 20 Scotland 23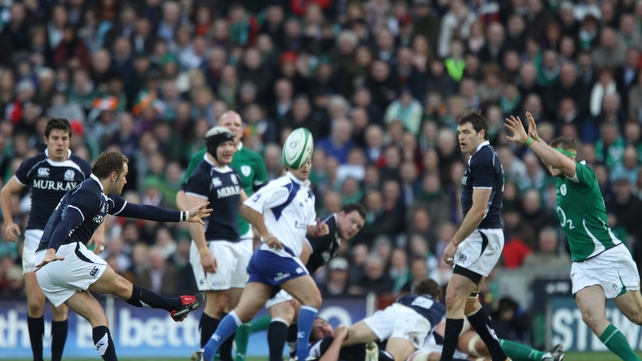 Out-half Dan Parks slotted a late late penalty as Ireland succumbed to their first defeat to Scotland in Dublin in 12 years at Croke Park.
It was also the first time Ireland had lost to the Scots in the Six Nations since 2001 and once again Parks was the star of the show.
He kicked 18 points, including a drop-goal, as he claimed his third man of the match award in the 2010 Six Nations and in doing so lifted Scotland off the bottom of the standings.
The victory also denied Ireland their fifth Triple Crown in seven years as the tries from Tommy Bowe and Brian O'Driscoll weren't enough to secure the win.
Instead, Johnnie Beattie's effort proved decisive for the visitors after they held a shock 14-7 half-time lead and refused to buckle in the second-half.
Ireland performed below-par all day and although they went behind to an early Scotland penalty, everything looked to be going to plan when O'Driscoll dotted down after 11 minutes.
Johnny Sexton slotted the conversion too, but Ireland couldn't sustain a foothold in the game and Scotland struck next. Kelly Brown began the move, it was worked to Graeme Morrison and from his off-load the powerful Beattie stretched over to dot down.
Unusually the conversion was missed by Parks, but he made amends with a penalty and drop-goal as Scotland took a 14-7 lead into half-time.
Sexton missed his second penalty attempt three minutes into the second-half and then Parks pushed Scotland 17-7 clear. Ireland needed something and Sexton slotted a penalty before Bowe touched down.
O'Driscoll and D'Arcy combined to send Bowe over and replacement out-half Ronan O'Gara kicked the conversion to tie the game up. He and Parks then traded penalties before a last-ditch penalty sealed it for Parks and Scotland.
Scorers – Ireland: T Bowe, B O'Driscoll try; J Sexton, R O'Gara pens; Sexton, O'Gara cons. Scotland: J Beattie try; D Parks 5 pens, drop-goal.
Ireland: G Murphy; T Bowe, B O'Driscoll, G D'Arcy, K Earls; J Sexton, T O'Leary; C Healy, R Best, J Hayes; D O'Callaghan, P O'Connell; S Ferris, D Wallace, J Heaslip.
Replacements: S Cronin, T Buckley, L Cullen, S Jennings, E Reddan, R O'Gara, R Kearney.
Scotland: H Southwell; S Lamont, N De Luca, G Morrison, M Evans; D Parks, C Cusiter; A Jacobsen, R Ford, E Murray; J Hamilton, A Kellock; K Brown, J Barclay, J Beattie.
Replacements: A MacDonald, M Blair, R Gray, A Dickinson, S Lawson, S Danielli, P Godman.
Referee: Jonathan Kaplan (South Africa)
2008 - Ireland 34 Scotland 13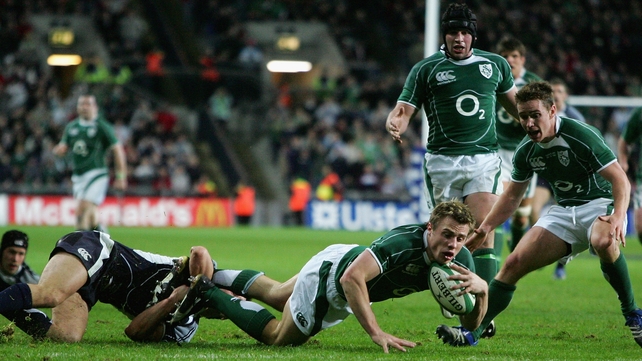 Tommy Bowe was once again the hero for Ireland as the winger dotted down twice in an impressive five-try win at home to Scotland in Croke Park.
David Wallace, Rob Kearney and Marcus Horan also touched down for the hosts, while Ronan O'Gara kicked nine points for the victors.
Ireland held a comfortable 14-6 lead at half-time and they pushed on afterwards to secure Eddie O'Sullivan's 50th win as Ireland coach. This win also meant that Ireland stayed in contention for the Six Nations and Triple Crown double.
Simon Webster was the only try-scorer for Scotland and Chris Paterson kicked eight points but Scotland were always second best in Dublin.
Ireland crossed the line for the first time in the 22nd minute when Wallace was at the end of a well-worked move. Jamie Heaslip picked off the back of a scrum and as he went one way, Wallace went the other and evaded a couple of would-be tacklers to score.
O'Gara kicked the conversion and although Paterson hit back with a penalty, Kearney put Ireland further in front when he crossed in the 26th minute.
It all started when Geordan Murphy caught a high ball under pressure and Eoin Reddan, O'Gara and Brian O'Driscoll were all involved as Kearney got the try.
Paterson did hit back with another penalty before the break but Ireland still led 14-6 at half-time.
Scotland needed to strike first after half-time to stand any chance, but Horan put paid to their cause. He collected a cross-field kick to dot down and a further penalty from O'Gara sent Ireland into a 22-6 lead.
But Scotland shocked the hosts with a try from Webster under the posts in the 53rd minute. Paterson's conversion made it 22-13 but Bowe ended their comeback before it could get going.
He touched down in the 62nd and 79th minutes as Ireland ended up cruising to the win.
Scorers – Ireland: T Bowe 2, D Wallace, R Kearney, M Horan tries; R O'Gara 3 cons, pen. Scotland: S Webster try; C Paterson con, 2 pens.
Ireland: G Murphy; T Bowe, B O'Driscoll, A Trimble, R Kearney; R O'Gara, E Reddan; M Horan, B Jackman, J Hayes; D O'Callaghan, M O'Driscoll; D Leamy, D Wallace, J Heaslip.
Replacements: R Best, P O'Connell, S Horgan, S Easterby, P Stringer, P Wallace, T Buckley.
Scotland: H Southwell; R Lamont, S Webster, A Henderson, N Walker; C Paterson, M Blair; A Jacobsen, R Ford, E Murray; N Hines, S MacLeod; A Strokosch, S Hogg, K Brown.
Replacements: R Rennie, J Hamilton, D Parks, N De Luca, F Thomson, C Cusiter, G Kerr.
Referee: Christophe Berdos (France)
2000 - Ireland 44 Scotland 22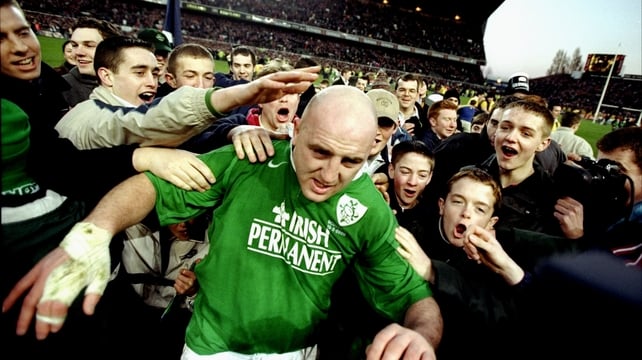 Shane Horgan dotted down on his debut as Ireland claimed a record win over the reigning Six Nations champions Scotland at Lansdowne Road.
Brian O'Driscoll, Keith Wood, Malcolm O'Kelly and David Humphreys also crossed the whitewash. While Ronan O'Gara kicked ten points on his first cap.
Glenn Metcalfe, Kenny Logan and George Graham scored the tries for Scotland. Winger Logan also slotted two conversions and a penalty.
It was 13-10 to the hosts at half-time and they went on to secure their first win over Scotland since 1988.
Ireland were on the back of a 50-18 hammering at the hands of England in Twickenham. But Warren Gatland's men regrouped to pull off a famous five-try victory of their own.
It didn't start well for Ireland though, and they were 10-0 down early on. Logan slotted a penalty, before he latched onto a Gregor Townsend pass to touch down and he kicked the conversion too.
O'Kelly try got Ireland back in the game when he capitalised a period of pressure in the Scottish 22. O'Gara made sure of the conversion and he kicked two further penalties before half-time as Ireland took an un-deserved 13-10 half-time lead.
Ireland, through Horgan, got the vital next score and it was a try that pushed that put them at double-scores. Humphreys then replaced O'Gara and played a massive role as Ireland stretched clear.
He converted O'Driscoll's try in the corner, then slotted a penalty and converted his own try as Ireland went out of sight and Scotland faded.
It gave Ireland a 44-10 lead going into the final ten minutes and the hosts would have been disappointed to concede 12 unanswered points from here.
Metcalfe and Graham both crossed over for the already beaten Scots, as they suffered a huge defeat and Ireland took hope for the future.
Scorers – Ireland: S Horgan, B O'Driscoll, K Wood, M O'Kelly, D Humphreys; D Humphreys 3, R O'Gara 2 cons; Humphreys, O'Gara 2 pens. Scotland: G Metcalfe, K Logan, G Graham; Logan 2 cons, pen.
Ireland: G Dempsey; S Horgan, B O'Driscoll, M Mullins, D Hickie; R O'Gara, P Stringer; P Clohessy, K Wood, J Hayes; M Galwey, M O'Kelly; S Easterby, K Dawson, A Foley.
Replacements: F Sheahan, J Fitzpatrick, J Davidson, T Brennan, G Easterby, D Humphreys, R Henderson.
Scotland: G Metcalfe; S Longstaff, J Mayer, G Shiel, K Logan; G Townsend, B Redpath; T Smith, G Bulloch, M Stewart; S Murray, S Grimes; M Leslie, B Pountney, G Simpson.
Replacements: J McLaren, D Hodge, A Nicol, G Graham, R Russell, D Weir, S Reid.
Referee: Joel Dume (France).