Pat Lam has backed Samoa to give Ireland a much closer run for their money than some are predicting when the sides meet in the first Test of the Guinness Series on Saturday.
Lam, the current Connacht coach, was a Samoa international in the early 1990s, at a time when the Pacific island nation began to break through on the international stage and played for Samoa when they achieved their sole victory to date over Ireland at Lansdowne Road in 1996.
The current side has had major success over the last number of years, with wins over Australia, Wales, and Italy among their recent achievements.
Exposure to regular top class rugby and 'Regulation Nine', which means clubs must release players for international games, have been major factors in that mini-revival.
Speaking to RTÉ's podcast 'The Rugby Show', Lam said: "It's just getting better and better. There are a lot of players playing in the Rabo, the Premiership, Top 14 and Super Rugby and they are getting well paid, quality coaching and strength and conditioning and with Regulation Nine they are able to come in."
"The other thing is the quality coaching going on behind the scenes. Stephen Betham (head coach) is like a manager, he pulls it all together and drives the culture, but you have some quality coaches underneath that they can bring together at crucial times like this match."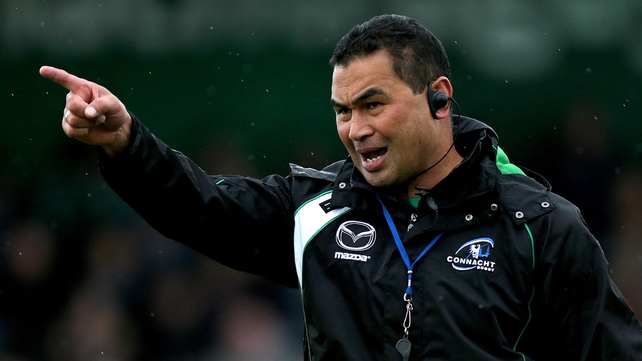 Maintaining or improving on their seventh place in the IRB world rankings will be another major motivation for Samoa.
Lam added: "They are really proud of their ranking. I was involved with them last year and it was a real target to get into that top eight as a small country. Now they are there, it is certainly driving them to stay there. They only have one game against a Tier One country in Ireland this time. They know this is the game that's at the forefront and the one they really want badly."
The death of legendary player Peter Fatialofa will also play a role in Samoa's thinking ahead of the game. Lam paid tribute to the great prop forward, who was one of the stars of Samoa's charismatic Rugby World Cup teams of the early 1990s and played a major role in making Samoan rugby such a success at that time.
Lam said: "Peter did all the work behind the scenes to recruit a strong side. He was the one who encouraged me to come on board and he had the vision of where Samoan rugby could go. He is just such a big loss for Samoan rugby and Samoan people. He is a legend and he has died at such a young age. He certainly lived his life to the fullest. We feel for his wife Annie and his eight kids at this time and I'm sure the boys will go out and play for him."
Lam's cousin Jack is among those who will line out on Saturday, having made the decision to throw his lot in with Samoa and he toured with them in South Africa this summer.
The Connacht boss was full of praise for Jack and said: "He is a quality player. I'm not saying that just because he is my cousin. He has shown that. It was a big move for him to join Samoa.
"I was speaking to him earlier this week and he made the same comment that a lot of guys do when they finally come to Samoa, which is they don't know why it took so long. Once they realise that and become part of it, and get pulled in by the whole culture, the singing, the dancing, the prayers, everything just pulls you right in and it becomes contagious and you are able to play to your best."
The 25-year-old Waikato star, who was capped at underage level by Australia, will pose a major challenge for Ireland on the deck, according to Lam.
He added: "Jack is a true seven. He is great on the ball and a good tackler. One thing we have always had is good link player and Jack is certainly that but he is also hard at the breakdown and that has given Samoa another dimension as well."
Lam will watch the match from the President's Box on Saturday and he believes that despite Ireland being big favourites in the eyes of the bookies, Samoa can cause an upset.
He concluded: "My heart believes they can do it. There's no reason why not. Every time the Samoa team gets together, it's all about belief. I know those guys will believe they can win. For me, it just comes down to them being able to execute their jobs. It's going to be a cracker of a Test match and a lot closer than people think it will be."