Munster openside Tommy O'Donnell admits it has taken some time to absorb the fact he is set to make his international debut for Ireland when they face the US Eagles tonight (1.30am Irish)
The 26-year-old is likely to make his international debut off the bench in Houston, covering all three back-row positions, and he will be watched by his mother and two aunts who have travelled to Texas for the game.
O'Donnell's exceptional form since Christmas saw him start all Munster's big Heineken Cup games and claim the club's player-of-the-year award.
The reality that he is just about to become an Ireland player is now beginning to dawn.
"It is surreal, it hasn't kicked in," he said. "It's just been camp, I've been in camp before and I've always gone home by the weekend."
"I've been in camp before and I've always gone home by the weekend" - Tommy O'Donnell
The match will also be notable for the presence of new coach Joe Schmidt who was due to arrive in Houston last night ahead of the BBVA Compass Stadium meeting and who will take a more hands-on role next week.
O'Donnell said: "Lads are always going to try hard because it is a Test and things will always lift during training, but yes, knowing Joe is there will be on lads' minds and knowing that he will be in charge for the November internationals means that if you show a bit of form you will be in his mind.
"Lads will try their hearts out and try to be a peg above whoever is their competition when they come to November."
Schmidt watched training at Carton House last week as interim coach Les Kiss put the players through their paces.
The former Leinster coach does not take full control until after the games against the United States and Canada, but his presence on the tour will undoubtedly have an impact.
O'Donnell added: "It was different knowing he was there (at training), we were just focusing on our drills but he was on the sideline chatting away.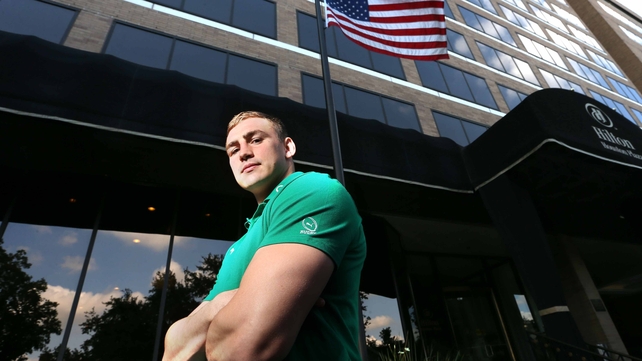 "You can't be looking over and be too focused on him, you just have to get on with your own job and play. That's the best way to catch someone's eye, for them to notice your game, that you're getting everything right and that you've no errors."
The heat has been much discussed this week and water breaks will be allowed after 20 and 60 minutes, but O'Donnell says Ireland must forget about the temperature and focus on themselves.
"I think you just have to get over it," he said.
"It is like going up against somebody who you know is going to be good. You just have to get yourself into a mental place for it and say 'the weather won't affect me'.
"We've trained in the heat now, it was really hot last night and very humid.
"You just get through it, it is like any game."