By Brendan Cole
Three Irish provinces are in the running to qualify for the Heineken Cup knockout stages but Ulster, Munster and Leinster must each overcome tricky situations over the coming two weeks.
As has often been the case, the provinces' fates are intertwined with Ulster capable of boosting the other two and Leinster and Munster potentially competing for the same prize.
Ulster, leading their pool, have the best chance of getting to the knockouts and could even do so with a healthy points total.
Leinster are in the most precarious position and need bonus point wins in both their upcoming matches to have a chance. That said, the double looks very achievable.
Munster also need at least one bonus point win over the coming weeks and have the harder set of matches.
For the record, Connacht, on a very credible eight points in Pool 3, are out of the running for qualification for the main competition but could yet reach the latter stages of the Challenge Cup. They would probably need an away win against Harlequins to achieve that.
For Munster and Leinster, the key benchmark is 20 points with no team reaching that total missing out since the 2006/7 season.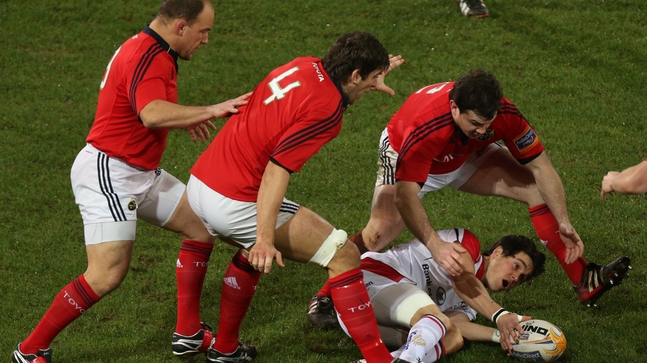 Munster are currently on 11 points but lie third in their pool while Leinster are in second on 10.
Two wins could qualify Munster as Pool winners if Saracens slip up, but in Leinster's case, Clermont look to be out of sight.
This weekend, Munster will face an Edinburgh team languishing in the RaboDirect Pro12 and yet to register a single point in this competition this weekend before taking on Racing Metro at Thomond Park.
Munster should have beaten the Parisians away from home but it is worth noting that Racing shook up the Top 14 with a win over the mighty Toulon last week.
Even so, and despite having early Sunday kick-offs for both games, the potential to reach 20 or 21 points is there.
Leinster can only reach 20 but can get off to the right start at the RDS this weekend when they face a Llanelli team that has yet to register a win in this competition.
If that bonus point win is achieved, Joe Schmidt's men will travel to the southwest of England to take on an Exeter team that caused them all sorts of trouble in Round One.
Playing the champions in front of their passionate home support will be a tricky proposition and Exeter's quality is not to be underestimated.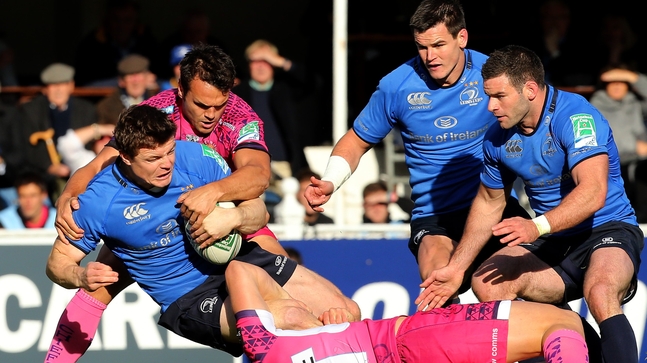 The positive for Leinster is that the Aviva Premiership, in which Exeter are in seventh place, is hotting up and could force Exeter to select pragmatically.
Ulster lead their Pool on 15 points but both Northampton and Castres remain in the running.
The northerners led something of a charmed life early in the season but despite having hit a few bumps, they could reach 20 points a weekend early by getting a bonus point win against Glasgow at Ravenhill on Friday night.
The simultaneous match between Northampton and Castres is crucial.
If Castres win that clash, it will put them within striking distance of winning the pool and set up a deciding game against Ulster in France on the final weekend.
On the other hand, if Ulster win with a bonus point and Northampton beat Castres but fail to win a bonus point of their own, Ulster will have qualified with a week to spare.
Leinster and Munster will hope that Ulster can win their pool in exactly that fashion as for both it is a case of the less teams hanging around the 20 point mark, the better.
Of the rest of the teams in the hunt, Montpellier represent the main danger to the Irish provinces on the back of their after consecutive wins over Cardiff in Rounds 3 and 4.
Already on 13 points but well behind Pool leaders Toulon, they will face a weak Sale away from home and a Toulon side that may not need anything from the match in the final round.
But Toulon are a formidable opponent for any team and, as with Exeter in England, the fact that Montpellier are within striking distance of fourth in the Top 14 could prove a beneficial distraction for the Irish teams.
If Montpellier do reach 22 points and it turns into a head-to-head battle between Leinster and Munster, Munster have the advantage of points in the bank and a superior try count, with Leinster only managing a dismal three five-pointers to date.
But Munster's assignments are tougher and their form against Cardiff must go down as a worry. Leinster seem to be on the up in recent weeks.
Both provinces may just sneak through but the odds are that at least one will slip up somewhere. At least fans of both provinces can unite in cheering on Ulster.
There will be full live coverage of Leinster v Scarlets on Saturday Sport on RTÉ Radio 1 on Saturday 12 December from 2pm.
There will be full live coverage of Ulster v Glasgow on a specially extended Sport at Seven on RTÉ Radio 1 on Friday 11 January from 7pm.