By Tadhg Peavoy
Connacht made history last Friday night in the Sportsground. Their 22-14 victory over Biarritz was the province's first triumph over a French side in the Heineken Cup.
The victory sets down a marker for Connacht as to what they can achieve when attitude is aligned to the right tactics to face any opposition in this competition.
Biarritz came to Galway languishing seventh in the Top 14 league table, following a ninth-place finish in 2010/11; positions deemed unacceptable by their fiercely loyal and expectant Basque fan base.
The surprise defeat to Connacht was the straw that broke the camel's back, with head coach Jake Isaac, and assistant Serge Milhas, being removed mid-week on 'temporary exemption' until 6 January – surely a precursor to their heads being placed on the block.
Athletic director Laurent Rodriguez, and training centre director Rourre Mathieu, take interim control of a club that is certainly in crisis. The question on the Westerners' minds is how they can capitalise on this unexpected turn of events.
One has to imagine that Biarritz will come out enraged by last week's away defeat and aim to devour Connacht early on with a flurry of first-half tries, which will put the game beyond the reach of their opponents, as has so often been the case when the French and Irish national teams have met on continental soil.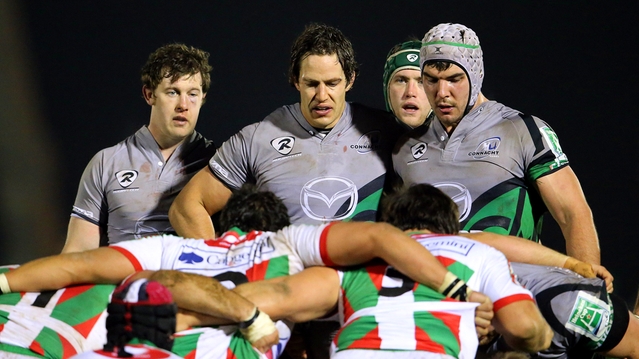 Connacht must weather this storm and look to the strengths that secured glory last week.
Taking the ball directly through the centre channels, looking to offload to the supporting back three and loose runners worked with some aplomb last week as they caught Biarritz cold with poor defensive lines. The ever improving Dave McSharry and Fetu'u Vainikolo are the two men charged mostly with these tasks.
Another key for the Westerners will be field position. Connacht's former Scotland international outhalf Dan Parks remains one of the best kickers in Europe and, given the field position, he is capable of kicking a dominant team to victory in any playing conditions.
Patience and superb close-ball retention must be enforced by the Westerners pack to ensure penalties can be won near the Biarritz 22.
Conversely, Biarritz scrumhalf Dimitri Yachvili is also metronomic with his boot. A lack of patience at the breakdown will afford him plenty of opportunities.
The 5ft11in France number nine will need to be guarded relentlessly by his opposite number Kieran Marmion off the base of the scrum also. With the home crowd baying for blood and inspirational number 8 Imanol Harinordoquy back in the starting XV, there may be plenty of attacks from the back of the set piece.
Another area Connacht may look to target is Taku Ngwenya, the American right winger, who looked shaky at times in defence last week. Some early high balls, and some direct loose forward running, could unsettle the US man and provide some early opportunities down that flank.
There are certainly ways in which Connacht can win. But perhaps the real deciding factor will be which Biarritz team shows up. A total-rugby playing side similar to the one that reached the Heineken Cup final in 2010, or a side that simply doesn't have the stomach for the fight.
Prediction: Biarritz 24-12 Connacht
Biarritz v Connacht, Heineken Cup, at Parc des Sports Aguiléra, Friday 14 December, kick-off 20:00:
Biarritz: 15 Iain Balshaw 14 Taku Ngwenya 13 Jean-Pascal Barraque 12 Damien Traille 11 Aled Brew 10 Julien Peyrelongue 9 Dimitri Yachvili 1 Fabien Barcella 2 Benoit August 3 Francisco Gomez Kodela 4 Erik Lund 5 Pelu Taele 6.Wenceslas Lauret 7 Raphael Lakafia 8 Imanol Harinordoquy.
Replacements: 16 Jean-Philippe Genevois 17 Lodewicus Blaauw 18 Thomas Synaeghel 19 Thibault Dubarry 20 Magnus Lund 21 Yann Lesgourgues 22 Seremaïa Burotu 23 Marcelo Bosch.
Connacht: 15 Robbie Henshaw 14 Tiernan O'Halloran 13 Danie Poolman 12 Dave McSharry 11 Fetu'u Vainikolo 10 Dan Parks 9 Kieran Marmion 1 Brett Wilkinson 2 Jason Harris Wright 3 Ronan Loughney 4 Mick Kearney 5 Mike McCarthy 6 Andrew Browne 7 Johnny O'Connor 8 Eoin McKeon.
Replacements: 16 Ethienne Reynecke 17 Dennis Buckley 18 Nathan White 19 Danny Qualter 20 George Naoupu 21 Paul O'Donohoe 22 Miah Nikora 23 Matthew Jarvis.
There will be full live coverage of Biarritz v Connacht on a specially extended Sport at Seven on RTÉ Radio 1 on Friday 14 December from 7pm.
There will be full live coverage of Saracens v Munster on Sunday Sport on RTÉ Radio 1 on Sunday 16 December from 2pm.
Twitter: @TPeavoy