By Brendan Cole

Live on RTÉ Two, RTÉ Radio 1, www.RTÉ.ie/sport (IoI only)
Ireland need to win this one for a whole host of reasons.
Doing so would end a five-Test losing sequence, keep Ireland from dropping out of the world's top eight teams for the first time, and ensure a place among the second tier of seeds in the Rugby World Cup draw in a couple of weeks.
Defeat definitely means dropping out of the top eight, probably to tenth or, if Italy beat Australia in Florence on Saturday evening, eleventh.
Aside from the fact that winning Test matches is the core purpose of international rugby union, staying in that IRB top eight will mean Ireland avoid England, Argentina and, most likely, Samoa at RWC 2015.
It will also keep Ireland, theoretically at least, in touch with the group of nations just behind the SANZAR trio, but a loss could put Ireland as low as tenth or eleventh.
Ireland have never been lower than eighth since the rankings began in 2003 and while there have been mitigating factors, like the absence of six top players through injury for this November window, there is no ignoring the sustained spell of underperformance that has put Ireland on this precipice.
What has gone wrong, in the short term at least, is the disappearance of real try-scoring threat.
Ireland do not threaten off first phase but it seems that the longer they have the ball the worse their play gets.
"Ireland do not threaten off first phase but it seems that the longer they have the ball the worse their play gets"
Overall the play lacks flow, seeming mechanical and one-dimensional. Structurally, there seem to be few opportunities for individuals to build on the good play of team-mates.
What steps will Ireland have to take to fix it with what is close to a two-week preparation period? Time will tell.
On the personnel front, Craig Gilroy is promoted at the expense of Andrew Trimble and brings more pace and individual threat, though Trimble is unfortunate to be the only player to be dropped on the back of the defeat against the Boks.
And while he made the most obvious individual mistake, that lack of cohesion and flow across the entire team is the bigger worry.
This is not a team that seems to be on the same wavelength.
The forward pack is unchanged but it must be acknowledged that while Mike McCarthy and Chris Henry made good individual plays and Cian Healy had a stormer, Ireland were generally unable to create pressure or momentum.
Once the Boks woke up they were rarely less than comfortable.
It has to shift up a gear this weekend, not least because Argentina arrive more capable than ever of winning a first ever Test in Dublin.
They are short some key players, most notably at tighthead and second row where Juan Figallo and Patricio Albacete are unavailable, but overall this is the best squad ever to visit Dublin with first-choicers Santiago Ferndandez and Juan Martin Hernandez returning to boost the back division.
Argentina have the benefit of playing six matches in the Rugby Championship and a further two so far on this Tour
They have also had the benefit of playing six matches in the Rugby Championship and a further two so far on this Tour, including a morale-boosting victory over Wales.
If they don't hit a tipping point of tiredness, that will stand to them.
In terms of the clash of styles, the worry is that Argentina are strong where Ireland could prove weak.
The back row unit of Juan Leguizamon, Juan Fernandez Lobbe and Leonardo Senatore is about as good as any playing in Europe this weekend.
Veteran blindside Julio Cabello is accommodated in the second row, with the beanpole Manuel Carizza alongside.
Gaining parity in general play would represent a significant achievement for Peter O'Mahony, Chris Henry and Jamie Heaslip.
The overall attack, playing with little distinction between forwards and backs, showed the ability to score tries throughout the Rugby Championship.
Like Ireland, the Pumas lack size across the backline and only Marcelo Bosch and Hernandez qualifying as physically imposing to any great degree.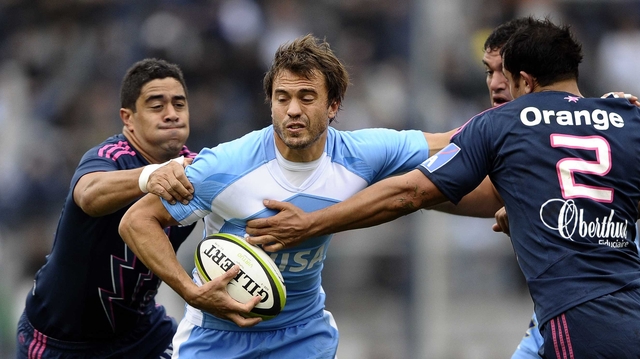 But half-backs Martin Landajo and Nicolas Sanchez, inside centre Fernandez and wingers Juan Imhoff and Gonzalo Camacho all bring have superb footwork and zip.
Every player in this team is licensed to offload, but it is when these players get on the end of one that Argentina become truly dangerous.
The impact of Graham Henry, who worked with Argentina for three months over the summer is easy to see, particularly in the structure and depth of the Pumas attack and the New Zealand-like focus on creating try-scoring opportunities with planned plays from first phase ball.
Overall, the logic between the team selection and the style is clear.
It is not all doom and gloom for Ireland.
Argentina's approach is not without risk and is arguably more suited to dry ball and a fast track than to November rugby in Europe.
In terms of countering it, Australia had success using 'choke' tackles when winning in Buenos Aires, and Ireland could profit from digging up the tactic, though big hits from the likes of McCarthy won't go astray either.
Scrum cornerstone Mike Ross has gone well against Marcos Ayerza in the past and could also make a significant contribution.
As Australia showed against England, the old scrum relationships don't always apply.
That said, this is a scrum battle that could swing either way and it is unlikely to prove decisive.
Ideally, Ireland will find some kind of spark in attack.
But the scale of the challenge should not be underestimated, and Ireland may end up being forced to rely on a conservative approach.
Given what is on the line, you wouldn't blame them.
Verdict: Ireland 9-18 Argentina
Ireland: 15 Simon Zebo, 14 Tommy Bowe, 13 Keith Earls, 12 Gordon D'Arcy, 11 Craig Gilroy, 10 Jonathan Sexton, 9 Conor Murray; 1 Cian Healy, 2 Richardt Strauss, 3 Mike Ross, 4 Mike McCarthy, 5 Donnacha Ryan, 6 Peter O'Mahony, 7 Chris Henry 8 Jamie Heaslip
Replacements: 16 S Cronin 17 D Kilcoyne 18 M Bent 19 D O'Callaghan 20 I Henderson 21 E Reddan 22 R O'Gara 23 F McFadden.
Argentina: J M Hernandez, G Camacho, M Bosch, S Fernandez, J Imhoff, N Sanchez, M Landajo, M Ayerza, E Guinazu, M Bustos, M Carizza, J F Cabello, J M Fernandez Lobbe, J M Leguizamon, L Senatore
Replacements: A Creevy, N Lobo, F Gomez Kodela, T Vallejos Cinalli, T Leonardi, N Vergallo, G Tiesi, M Montero .