By Kurt McQuilkin
Ireland and South Africa both come into these autumn fixtures missing some key players and vital Test match experience.
For Ireland losing Brian O'Driscoll, Sean O'Brien, Stephen Ferris, Rory Best, Rob Kearney and now Paul O'Connell will seriously test the depth and resolve within the current squad.
The South Africans are also missing some big names and that will thrust some of their young guns into the limelight earlier than management would have liked.
Ireland do have a few new arrivals. One, Michael Bent, has been talked about a lot. He has been a good steady performer for Taranaki over the last few years.
He hits rucks, is very mobile, carries well into contact and does his job at defence.
The big thing is his set piece work and he has been a good consistent performer in that area in both the ITM Cup and at Super Rugby level.
He will bring a good all-round game to both the Leinster and Ireland set-ups.
"I guess it must be a bit surreal for him to jump off the plane straight into an Irish training camp"
I guess it must be a bit surreal for him to jump off the plane straight into an Irish training camp. I know there will be a lot of people in the Irish rugby community who are not happy about the situation and I can understand their arguments.
But it is a professional era and the Irish coach is charged with putting the best squad together from the pool of Irish qualified players available to him.
After qualifying through the residency rule to play for Ireland myself, I know what a great experience it was. I am forever indebted to my team-mates and coaches at both Bective Rangers and Leinster for helping me to attain my first cap.
I wish him all the best if he takes the field and I am sure he will be aware what an absolute honour and a privilege is being bestowed on him getting the opportunity to wear that Irish jersey.
Getting back to the upcoming games, these fixtures should prove to be full-blooded encounters with Ireland versus Argentina in particular sure to be keeping a close eye on the world ranking points.
I do think sides like South Africa struggle on these northern hemisphere tours. The conditions in Europe at this time of year are not to their liking and that tends to stifle their play. In particular, it restricts the kicking game.
Those long, raking punts that they can rely on at home do not travel as far in Dublin as they do on the High Veldt.
Add to that a touch of rain or drizzle, a big drop from the normal playing temperature, and a boisterous home crowd and it is game on.
In terms of how they will play, the South African defensive set up has big, mobile units and they like nothing more than inflicting a bit of pain. They will be itching to put down markers with high impact hits.
Tendai Mtawirara during training this week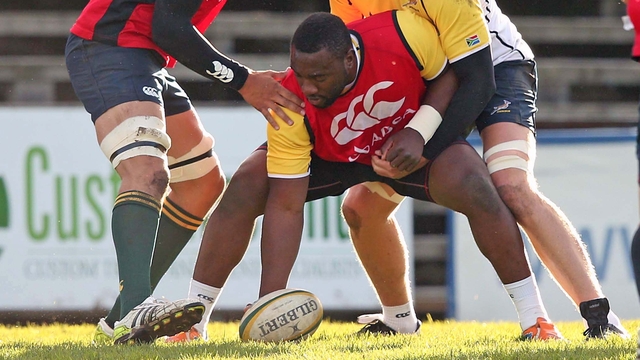 To be effective, the Irish attack must be direct but with late movement where possible to catch soft inside shoulders. If your ball carriers start running lateral lines too early it makes them vulnerable to a big defensive shot.
Gordon D'Arcy and Keith Earls are the key men in this area, along with our ball carrying backrowers.
South Africa will bring plenty of linespeed and Ireland must use their attacking starter plays drag defenders out of the defensive screen and then exploit that space that has been created either side of him.
The deeper you get into an attacking phase the more likely it is you will start to get tight forwards out in wider channels. It can very uncomfortable out there for the bigger men and that is the trigger for the Irish will be looking for.
Every system no matter how good has them.
On the attacking side of the ball, Les Kiss needs to find the system and individual weaknesses that are present in any side, no matter how good.
There is always one player a coach will try to keep out of that front defensive line and it is up to Ireland to locate him. Ireland must then be clinical in their execution as you may only get one or two opportunities during the match.
When South Africa attack, they will play differently compared to what Ireland faced over the summer in New Zealand.
New Zealand hit wide straight away if they feel there is any weakness to be exploited out in that area and combine that with the heavy artillery to play a battering pick and go game if needed.
The South Africans will try and dominate physically around the edges before even looking out to the wider channels, using a lot of "same way" plays.
South Africa power running
Organisation is key for Ireland. The South African playmakers will be scanning for trends in the Irish defensive screen, looking for two things in particular.
1) If the Irish defenders are "over-folding" around the corner and not leaving enough defensive coverage from where they have come from. If this does happen then look out for a 'rewind' attack triggered from the likes of playmaker Patrick Lambie back down the opposite side of the ruck to take advantage of that lack of numbers.
2) An "under-fold": If the Irish defenders leave too many on the passive side of the ruck or maul, South Africa may push out wider into the middle of the Irish defensive screen and force the wider Irish defenders to step in to make tackles. That can create space for the attack out on the far edges of the defensive screen.
South Africa are the number two side in the world and I think it is going to be a tight encounter this weekend. My heart says Ireland but my head says South Africa in this clash.
Ultimately, I think the missing players in key areas will prove too much for Ireland to overcome.
Kurt McQuilkin won five caps playing in the centre for Ireland and was Leinster defence coach when they won the Heineken Cup for the first time in 2009.