By Tadhg Peavoy
Email: Tadhg.Peavoy@rte.ie
Like many of his contemporaries, Blair Stewart is a valuable commodity: a Kiwi rugby player.
He, like many other New Zealanders - and indeed Australians and South Africans - plies his trade playing rugby in France; there he commands a higher wage than in his native Land of the Long White Cloud and can also live a different life to the one had experienced growing up and playing at home.

Stewart began his career playing for Southland, but had always harboured hopes of playing in a different league on the other side of the globe; France gave him that chance when he moved to play for Albi in 2008.
Born in Christchurch, Stewart had the desire to play in France since holidaying there.

"I always wanted to come to France after a holiday here in 2005.
"The different lifestyle and learning a new language were things that interested me and the money in France is a lot more than it is in New Zealand.
"This is my career so I have to take care of myself financially," he said.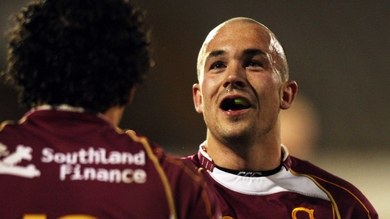 He was part of the Albi side that won the Pro Division 2 and entered the Top 14 in 2009. Life in the Top 14 was brief; however, and only lasted one season for the Kiwi outhalf, as Albi were dumped back into the Pro D2 the following season.

From there, Stewart switched to Grenoble, where he narrowly missed out on a return to the Top 14 last season. The Rhône-Alpes team were beaten in the promotion play-off semi-finals by Bordeaux-Bègles and had to shelve dreams of promotion for another season. The Kiwi missed that game with a broken wrist and had to watch with his arm in a cast.
New Zealand and France are worlds apart culturally and Stewart acknowledges the differences of playing egg-ball in the European nation as opposed to his homeland.

"I think the way of life is different. The French take things a lot more slowly than New Zealanders; there never seems to be a rush in France.
"The location is another big difference, in France you can travel to other countries easily, which I love, and in New Zealand we're really isolated which makes it difficult and expensive."
Much has been made of coaching differences between France and New Zealand in the past and the different approach to player power. Stewart has felt that difference in his time in Europe.
"I think that in New Zealand the players have a bigger input, here in France the coaches have a lot more [of a] teacher-pupil mentality. Also, I find that they're a lot more emotional as well, I think it's the Latin blood."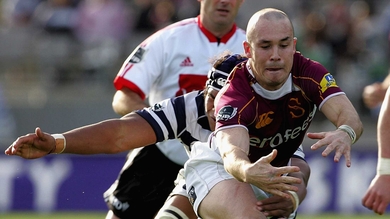 Relegation back to the Pro D2 was a major blow and Stewart is frustrated by not being able to test himself against the very best in French rugby this season.
"Yeah, there is a big difference [between the Top 14 and the Pro D2]. In the Top 14 you are playing against internationals every weekend, and the style of play is really different as well.
"In the Top 14 the referees are a lot better and control the breakdown better, so it's a lot more free-flowing. In Pro D2 it's more forward orientated - a lot of mauling and kicking."
But life back in the Top 14 is something that Stewart thinks his Grenoble side can achieve this year.
"I definitely think that Grenoble has the team to go up to Top 14; we just need to have confidence and back our abilities."
The other stop on most Southern Hemisphere players' career passports is Britain or Ireland and Stewart would fancy a stint in either.
"For me the more options the better. I love the UK and Ireland, so, maybe one day.
"I'm not sure what the future holds for me just yet, this is my last season of my contract with Grenoble so I need to concentrate on playing well and hopefully it will take care of itself."
Tadhg Peavoy was in conversation with Blair Stewart in November 2011.
Follow Blair Stewart's season at: http://www.rugbyrama.fr/rugby/pro-d2/
RTÉ does not accept any responsibility for the content of external websites.