By Tadhg Peavoy
Jonathan Sexton is a hard man to get an interview with. I attempted to nail down the Ireland number ten for an interview earlier in the summer and found out that he would not be available until nearer the season. With the announcement of Leinster's Aviva Stadium double header against Munster in the Magners League and Clermont Auvergne in the Heineken Cup, a media day was arranged for hacks such as myself to meet the stars of Leinster.
These media events are entertaining affairs. A whole plethora of photographers, cameramen, journalists, presenters and media-types descend en masse to attempt to secure a few minutes of time with a star player in the hope of filling a few minutes of airtime or column inches.
I was scheduled last on the list of what must have been 20 journalists down to see Sexton - the pecking order of the interviewees not a reflection of priorities, I hoped. I was happy to wait and the time gave me the chance to evaluate this rising star of Irish rugby.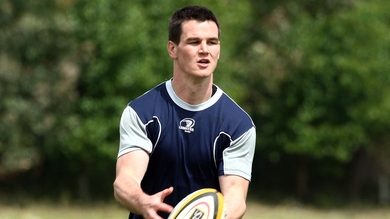 Sexton cuts a different figure in person to that which he portrays on television in the blue of Leinster or green of Ireland. On a rugby pitch the eight-time capped Ireland international looks slender and certainly not the most robust of men, particularly when he is sourrounded by the man-mountains that populate the professional game these days. In the flesh, he is tall, ripped and bulky. He also carries himself in the most professional of ways. His answers are informed, well-described and concise. Even the pre-written 98FM advertising slogans he is asked to recite are delivered well. All the same, Sexton can't help but laugh as he attempts to pre-record a line that states: 'I'm Jonathan Sexton and 98FM is the best station in the world,' - or some such marketing blurb.
When I finally get to meet Sexton, however, his enthusiasm and professionalism is still evident. Sexton established himself at interprovincial level in the 2008/09 season. Last season, after Felipe Contepomi's departure from the Leinster set-up, Sexton became first choice out-half for Leinster and reveled in the role. His creative and imaginative displays lit-up what – at times – was an overly-rigid Leinster backline.
Like any top-level athlete Sexton is not resting on his laurels and wants more from himself this season. Sexton stated: 'I want to try and improve. I think I've tried to get better every season. If I can improve even more than I have in previous seasons that's what I'll be going for. It's obviously a very exciting season for us, with a new coach and a few new players and the opportunity to play here [at Aviva Stadium].'
When pressed as to what Sexton feels may be the main areas he can improve, he finds it hard to pinpoint one area in particular. 'I'm trying to improve all the time. You know, if you're kicking well, you're trying to improve that. If people think you are a good passer you are still trying to improve that,' he said.
The out-half feels comparing himself to his rival number tens in the other Test-playing nations is key to improving. 'You try and push yourself up against the best guys in the world,' he said. 'The Dan Carters, [Matt] Giteau, Quade Cooper, these guys. You try and compare yourself in all aspects to them. Sometimes you think "I may be better at that than him or he may be a lot better than me at a certain aspect". You take bits of people's games and you try and improve based on them. You can't solely do that, because then you can only get as good as them; you want to try and get better than them.'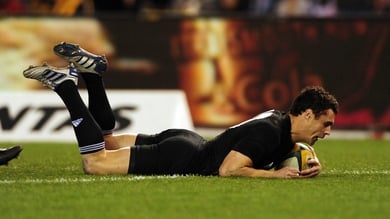 Pictured: Dan Carter crashes over the whitewash for a New Zealand try. The All Blacks have only lost eight games that Carter has featured in since his debut in June 2003.
The one area of Sexton's armoury that has been criticised in the past has been his place kicking. During the 2010 Six Nations game against England in Twickenham he only landed one from five kicks at goal before being replaced by Ronan O'Gara in the second half. Sexton is unconcerned when I refer to this and as you would hope any confident out-half would do, he defends his kicking game. Sexton commented: 'It was two games that I was getting a bit of slack for, I think. I probably kicked well in the England game, they were tough kicks that all just missed. It was the couple of games after that that I probably didn't kick as well as I had been for the rest of the season. I sat down at the end of the season and went through it all. I kicked 78% of my kicks all season.
'Am I happy with that? Yeah, I guess I am for it being my first full season as the frontline kicker. So, obviously I'll look to improve on that this season. I ended the season really well with that aspect of my kicking, the summer tour [to Australia and New Zealand] especially and I'm hapy enough with it.'
Conversely Sexton's drop goal kicking has been widely lauded and something he prepares for continuously. 'I work a good bit with Dave Aldred over in England,' Sexton said. 'We have a drill where we try to practice our place kicks through drop kicks, trying to copy the technique. So obviously I'll be hitting a lot of drop goals in training.'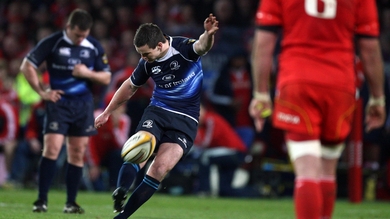 Pictured: Sexton goes for goal against Munster. The out-half's goal kicking has been both praised and derided in the past.
Gareth Southgate recenly wrote an article for The Sunday Times stating that David Beckham ended every England training session of his career with a bag of balls practicing his deadball kicking. Sexton has a similar approach to this aspect of his game. 'Every frontline kicker in the world does that,' he said. 'Obviously if it [kicking for goal] was easy everyone would do it. It's a tough thing to do and a tough thing to master. Even the best go through times when they don't kick as well as they can. I'll be working harder than ever to make sure it's right for next season.'
Sexton was notably bulkier on the pitch last season and there had been rumours circulating that he doesn't eat carbohydrates after 2pm as part of his diet, a rumour Sexton says is pure fiction. 'Me personally? No. Obviously we are well looked after in Leinster with conditioning staff. I don't know where that rumour came from, it's not true,' Sexton said – clearly amsused at the notion of the rumour.
He continued: 'But everyone in Leinster does work really hard in the gym, especially this time of year. Jason Cowman is our head of staff [strength and conditioning coach] and he's one of the best. We do a lot of work pre-season: daily, two sessions a day. Last pre-season we would do two weight training sessions a day, but with the new coach we seem to be on the pitch every day - which is good. We do a lot of our fitness through ball work on the pitch.'
Out-halfs, like it or not, always attract the gaze of the public. With the popularity of rugby in Ireland growing all the time, and rugby players now celebrities, I ask Sexton how he feels about being a celebrity and the pressure it entails. He said: 'I suppose you try and stay away from that as much as you can. You can't be taking your eye off what's important. Obviously there are times when you do get to go out and let the hair down, but it's about staying focused for the majority of the season and doing everything to the best of your ability. Rugby has taken a step up, it's a huge spectacle now. That's something we have to live with. But it's a good way to be. It's better than no-one coming to watch your games.'
Sexton is undoubtedly one of the most creative international out-halfs in operation in the game today and I was keen to find out what players influenced Sexton's style of play.
He told me that there had been many different influences on his game: 'When I was a young lad Ronan [O'Gara] was playing for Ireland. I would have learnt a lot off him; David Humphreys, they were the two guys I watched growing up. Then obviously I've learnt a lot off the coaches that I've had, guys like David Knox, Alan Gaffney, now I'm learning a hell of a lot off Joe Schmidt. You learn a lot off everyone, even the guys you play with. Brian [O'Driscoll], Felipe [Contepomi] - they're some of the best players in the world and I'm lucky enough to play with them. [Isa] Nacewa, the list goes on – you learn a hell of a lot off players you play with.'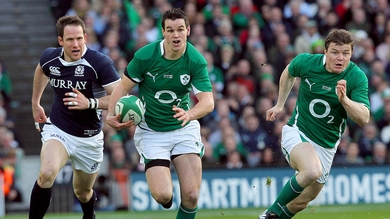 Pictured: Sexton and Brian O'Driscoll in action against Scotland. Sexton has credited his Leinster and Ireland team-mate O'Driscoll as one of the players that he has learnt most from.
With that, after 7 minutes and 52 seconds, the heir apparent to Brian O'Driscoll's undisputed position as the crown jewel of the Leinster and Ireland backline is whisked off and away from the media glare.
Jonathan Sexton was in conversation with Tadhg Peavoy on Tuesday, 17 August 2010 at Aviva Stadium, Dublin.