Ireland on track
With the exception of Cian Healy's calf injury during the last warm-up match against Samoa, Andy Farrell's plans have gone as smoothly as he could have hoped.
Three games, three victories and ahead of next Saturday's final Pool B against match against Scotland, a full deck to pick from with the news that Jack Conan is on course to shake off a troublesome foot injury.
Even the risk Farrell took on Conan's injury healing appears to be paying off.
The back row combinations and performances of Tadhg Beirne, Peter O'Mahony, Josh van der Flier, Caelan Doris and Ryan Baird, have all served to make the loss of the Lions number 8 more bearable. If he continues to progress as expected, he'll see action in Paris.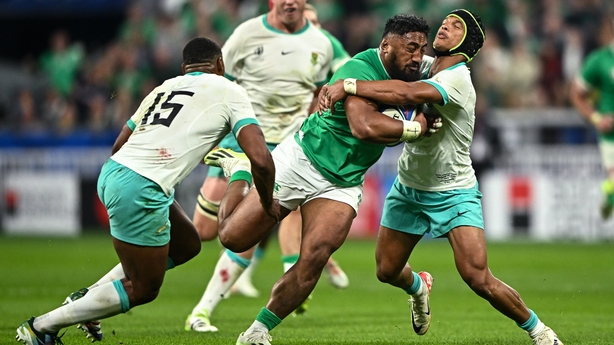 The resurgence of Bundee Aki (above) is another unexpected boost for Farrell with the Connacht centre playing the rugby of his life. He leads the 'runs made' chart and is second in 'clean breaks'.
Even O'Mahony was surprised when he was award player of the match against Romania. Aki was the main man on that day and he was subsequently named best in the wins over Tonga and South Africa.
The two-week break in the schedule has also come at a perfect time, giving the coaching staff time to get the players back to the right emotional pitch after the highs of victory over South Africa in Paris.
Scotland will have to throw everything at Ireland but the team has shown time and again that once they go about their business in the manner they expect of themselves then they will get the job done.
Soon to be commercial manager still good at rugby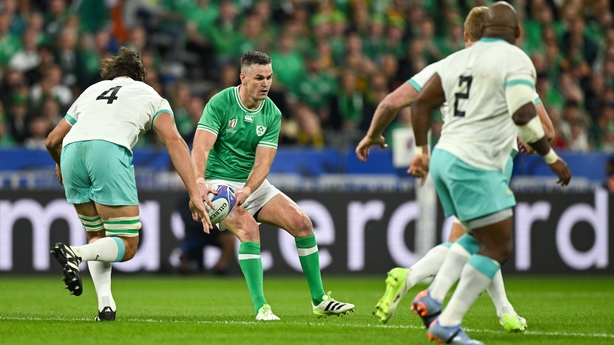 Johnny Sexton might be a prime example of a player being able to slot back in seamlessly after a prolonged absence but after six months out, no matter the name, never mind at 38 years of age, there was never any guarantee that he'd be his old self.
But it was like a duck taking to water. He's in prime condition and exactly where he wants to be.
The Leinster man may have taken a step back against Tonga, getting his passes off slightly quicker than we've come to expect, but he stepped up to the plate against South Africa, putting his body on the line, time after time, taking those borderline shots to give his team-mates more space.
He's the tournament's top points scorer with 45 and also became Ireland's top scorer in the process. The Dubliner cuts the figure of a man in his mid-20s.
As good a commercial manager for a recyclable metal and glass packaging company as he's sure to be, it's hard to think that his rugby career could be over in a week's time, if things went south against the Scots. His participation will go a long way to ensure that it won't.
Card counting chaos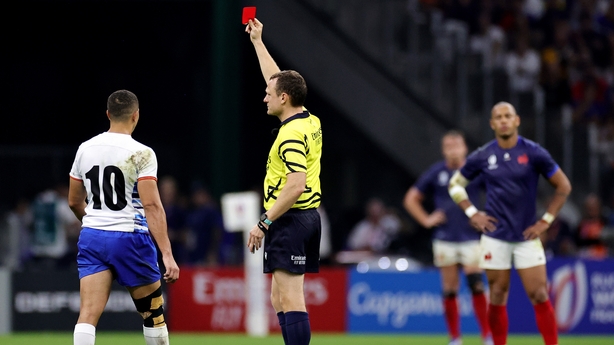 One might have thought the furore over Owen Farrell's (eventual) ban just before the tournament might have been enough of a warning shot to high tacklers to cut it out.
But there is a serious failure of far too many players to get with the programme.
Namibia's Johan Deysel's sickening dangerous challenge on Antoine Dupont resulted in a 12, reduced to six-game (five with tackle school) ban with mitigation and left the France captain with a broken cheekbone and a doubt as to whether he'll feature again in the tournament.
Tonga's Vaea Fifita got a four-match ban for 'dangerous charging into a ruck' and in the hearing refused to accept that his contact to the head of Finn Russell deserved a red.
While people cry out for consistency, there is something to be said about no two challenges, while looking practically the same, being exactly the same.
Even given that, World Rugby needs to do better. Portugal's Rafael Simoes was sent off for a dangerous tackle against Wales but the appeal committee said the on-field decision was wrong.
Bunker reviews in France's game against Uruguay and Namibia's match with Samoa saw yellows upheld even when the replays seemed to show little mitigation for Romain Taofifenua (below) and Tjiuee Uanivi to rely on.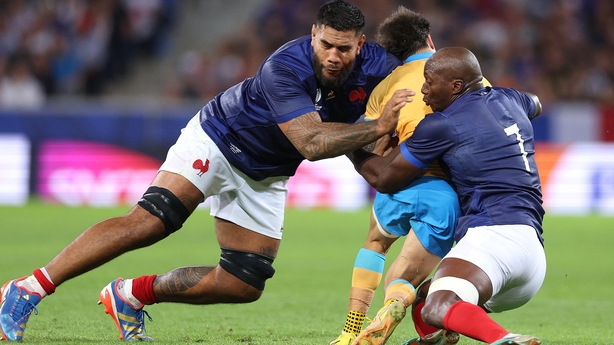 Vincent Pinto (Portugal), Tom Curry (England), Eric Dosantos (Uruguay) and Ethan de Groot (New Zealand) all got three matches for various dangerous challenges.
Namibia's Desiderius Sethie saw yellow then red after a bunker review for a challenge suggested he hadn't been watching rugby for the last two years.
Ireland are the top of the class in the discipline stakes and keeping 15 on the field has been clearly identified as a huge contributing factor to their success. The failure of more coaches not to embrace this approach is bizarre.
There have been seven red (plus one not upheld) and 30 yellow cards in the 27 matches played so far.
In comparison, the 2019 tournament saw eight red and 26 yellow cards issued in total.
Wallaby woes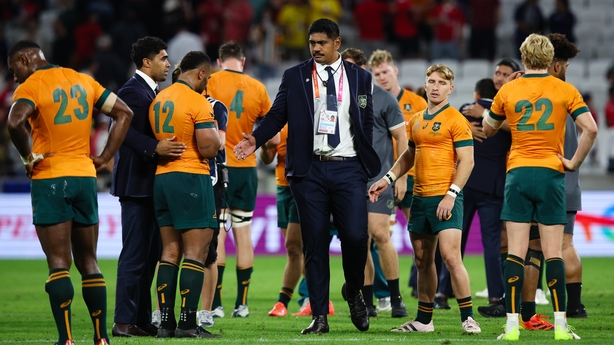 For all the warnings about Australia's poor build-up to the tournament – they lost five of five – there was always the feeling that they would have enough quality to fall over the line.
They play Portugal tomorrow afternoon but if Fiji take five points off Georgia this afternoon, then the Wallabies race is run.
The defeat to Fiji was not a shock but it was the manner of the 40-6 loss to Wales that spoke volumes about where the team is, a capitulation of embarrassing proportions.
Eddie Jones, who took over in January, left behind the likes of captain Michael Hooper and experienced Quade Cooper to bed in younger players, with perhaps one eye on the Lions tour and another on the 2027 World Cup.
But that's two eyes off the ball here and amid rumours of a return to Japan, Jones is on the defensive.
"From my perspective, for the young players it is a great learning opportunity, a fantastic learning opportunity," he said of his squad selection.
"It's a very young squad and I want to protect them at this stage. if your child is three or four, you want to protect them. When they get to eight or nine, 10 or 12, there is a different way of parenting. And I feel this is the best way at the moment."
Part of the reasoning, it was said, about getting Jones on board was to revive the public's interest in the game in Australia, where it struggles against League, Aussie Rules and soccer.
Rugby Australia might wish they hadn't gone down that road.
Listen to the RTÉ Rugby podcast on Apple Podcasts, Spotify or wherever you get your podcasts.
We need your consent to load this YouTube contentWe use YouTube to manage extra content that can set cookies on your device and collect data about your activity. Please review their details and accept them to load the content.Manage Preferences
Watch live coverage of Argentina v Chile and Fiji v Georgia (30 September) and South Africa v Tonga (1 October) on RTÉ2 and RTÉ Player.