On landing in Japan, Joe Schmidt was asked what would constitute success in his swansong tournament.
When he's speaking to the media, Schmidt usually tip-toes meekly towards his point in a roundabout fashion but this time he was more blunt.
"I wouldn't often speak in black and white terms over what success looks like, but we know the only way that we can be successful is to get past that quarter-final," Schmidt admitted baldly.
'That quarter-final.' Our Everest. Our house of horrors. The place where we lose to France and Australia and Argentina the whole time, to put it more mundanely. Ireland's knack of timing their decline for the knockout phase of the World Cup remains unparalleled in world rugby.
Neil Francis, veteran of three World Cup quarter-finals, said he'd happily accept a pasting in a semi-final provided we got there. That would be success enough.
Schmidt has done a lot for the game here but his reign will end on a bum note if Ireland again crash out at the quarter-final stage.
The Irish rugby community, whose exact size is these days a matter of some dispute, are often accused of being too soft on the team's failures but they are not kind to departed coaches. Declan Kidney guided Ireland to a first Grand Slam in 61 years and he's nearly a forgotten man now. Eddie O'Sullivan was a successful Irish coach who boasts the best win-loss ratio outside of Schmidt and his reign seems to be primarily remembered for the 2007 World Cup disaster.
If Schmidt winds up his tenure on such a conclusive failure, will he simply be derided as another Irish coach who couldn't get by a quarter-final?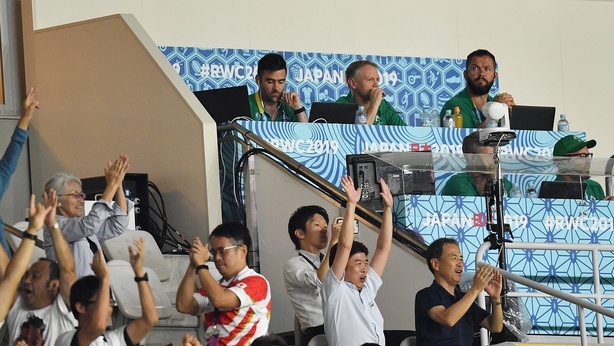 It is a source of great embarrassment and much slagging that Ireland are the only one of the traditional rugby countries - those from the original Five Nations and Tri Nations - not to make it past the quarter-finals of a World Cup.
The anti-rugby constituency, which enjoyed one of its greatest days on Saturday, takes great glee in this stat.
'Can't get past the last eight in an eight-team tournament," is the most oft repeated rebuke to Irish rugby's pretensions of grandeur.
This is an exaggeration. It's slightly more than an eight-team tournament now, which is of course greatly thanks to Ireland's efforts.
The IRFU may have opposed the creation of the World Cup in the first place but the team have really got into the spirit of it.
One of the key objectives of the Rugby World Cup was to expand the game beyond its traditional powerbase and, in losing so often to Argentina and now Japan, Ireland have done more than most to fulfill this mission statement.
Neil Francis, veteran of three World Cup quarter-finals, said he'd happily accept a pasting in a semi-final provided we got there. That would be success enough.
Who've gotten to the semi-finals?
The original SANZAR nations have all won the World Cup multiple times so they've obviously all made it to semi-finals.
The traditional northern powers - England and France - have made multiple finals so they've seen semi-finals.
Our World Cup bogey team, Argentina, for so long outside the tent of 'first world rugby', have reached the last-four on two occasions, in 2007 and 2015.
Our Celtic brethren, our Pro 14 muccas, have also been there on semi-final day.
Wales got there twice, back in the inaugural tournament in 1987 (which Ireland and the IRFU admittedly didn't treat with the requisite seriousness) and in 2011. The former experience was slightly soured by the almighty hosing they took off New Zealand in the last-four, a loss so humbling it seemed to convince several of their better players to go play rugby league instead.
This tournament has opened up for them following their pool win over Australia and they probably have the beating of whoever comes second in England's pool.
Scotland, who are these days Ireland's whipping boy in both Six Nations and, it turns out, World Cup rugby, did make a World Cup semi-final back in 1991, though this comes with an important caveat.
The exile of South Africa from international sport - they finally returned in summer 1992 - meant there was space for one more turkey in the quarter-finals and Scotland were lucky enough to happen upon them.
(In the same way hurling needs a strong Offaly or Waterford or whoever, rugby probably needed South Africa to return to the civilised world.)
So it was that Gavin Hastings, John Jeffrey, Tony Stanger and co dismissed Western Samoa, conquerors of a dismal Welsh team, in the quarter-final. They then lost a terrible semi-final game to England after Hastings missed a penalty in front of the posts.
It could have been Ireland availing of that route. But they lost to the Scots in the pool phase in Murrayfield and so had to face Australia.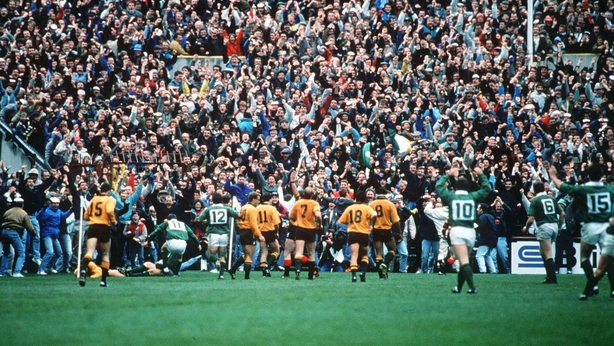 It's remarkable, after all the advances of Irish rugby in the professional age, all the provincial and Six Nations success, that '91 is still the closest Ireland have come to getting into a semi-final.
That a team who were regularly in a tangle for the wooden spoon and who even considered boycotting the quarter final in question (due to a dispute with the IRFU), should have come closer to the last-four than their celebrated successors.
The anti-rugby, 'anti-morketing' fraternity have wrung great craic out of this one. We've been down how many golden generations now and this is still the closest we've come? Gordon Hamilton, Ralph Keyes and co carried us nearer the promised land than all the Celtic Tiger era luminaries.
In truth, the fixation with Ireland's quarter-final hoodoo is probably a modern phenomenon and is one that only really took hold in this decade.
Prior to 2007 - and certainly prior to 2003 - Ireland could not realistically have expected to get much further.
In '87, their preparation was haphazard, '91 was one of the great moral victories. In '95, it was considered a success getting out of the pool at the expense of Wales. In '99, they were at a low ebb. '03 was another qualified success due to the ferociously hard fought pool win over Argentina. After they gave France a big head-start in the QF they weren't getting any further.
The notion of the quarter-final as a psychological hoodoo, as an embarrassing millstone around Irish rugby's neck, rests primarily on the last two World Cups.
In truth, the fixation with Ireland's quarter-final hoodoo is probably a modern phenomenon and is one that only really took hold in this decade. Prior to 2007 - and certainly prior to 2003 - Ireland could not realistically have expected to get much further.
The shock loss to Japan was Ireland's first pool defeat since Argentina put Eddie O'Sullivan's team out of misery in the Parc des Princes (our ultimate bogey ground) in September 2007. In the two most recent World Cups, Ireland won their respective pools and entered both quarter-finals as favourites.
Both times they were turned over. In 2015, there was some mitigation as they were gutted by injuries, but even so, no one expected Argentina to rip them asunder as they did.
Four years earlier, there was no mitigation. The 2011 quarter-final is one of the most sickening Irish rugby losses, as losses to Wales often are.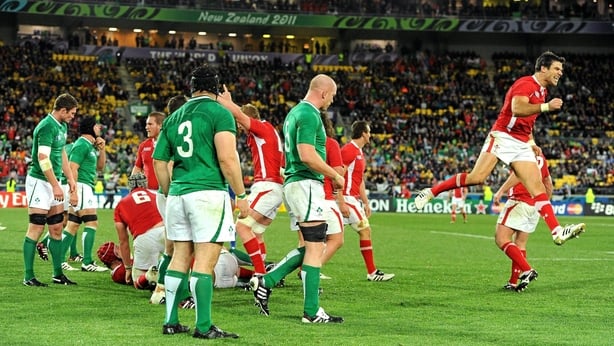 There's naturally a sense that Ireland have to win a World Cup knockout game some time. Irish rugby has been too consistent and successful in the modern era for such a ridiculous record to stand.
But current form and logic suggests it won't be this tournament.
While Ireland's pool was once considered soft - remember that? - the draw was always a lousy one from the perspective of scraping by a quarter-final.
Midway through this World Cup cycle, the draw did briefly look like a golden ticket to the last-four.
South Africa were in rag order and were beaten up like one of the minnows when they landed in Lansdowne Road two years ago.
Unfortunately, in the meantime they decided to hire a coach who knew what he was doing, tinkered with a few of their self-hobbling regulations, and lo and behold, they're in mean shape again.
So much so that Joe Schmidt can say it's much of a muchness who we meet in the quarter-final and no one accuses him of manager-speak.
After all the glorious success of the Schmidt era, the Six Nations titles, the Grand Slam, the first (and second) wins over New Zealand, the first ever away win in South Africa, the consensus seemingly is that Ireland are back to hoping for a one-off upset if they're going to finally reach the wonderland of the last-four.
Ireland could do it, of course. One of the best performances of the Schmidt era, the agonising loss to New Zealand in November 2013, arrived more or less out of the blue, in the immediate aftermath of a couple of miserable performances.
But the tipsters aren't convinced. From this remove, yet another quarter-final exit appears to be on the cards. The dissidents inside rugby country are priming themselves for another field day.
Listen to the RTÉ Rugby podcast on Apple Podcasts, Soundcloud, Spotify or wherever you get your podcasts.
Follow Ireland v Samoa on Saturday 12 October (kick-off 11.45am) via the live blog on RTÉ.ie/Sport and the News Now App, watch live on RTÉ2 or listen to live match commentary on RTÉ Radio 1.