Japan's stuttering performance against Russia yesterday shows that no matter how fancied a team is going into a game things can go wrong.
A slippy ball can play havoc with a game plan.
Then you add in the pressure of a first game in a World Cup and it can be overwhelming, and Ireland v Scotland is the game of the weekend from a northern hemisphere point of view.
That itself comes with a lot of pressure but Ireland are better prepared to handle the pressure.
They have a couple of key guys in key positions. They have dragged Ireland through big moments in big matches before.
We know how unpredictable that Finn Russell can be and, in contrast to that, we know how steady Johnny Sexton can be.
The weather conditions are due to be poor, so when you match the two out-halves up there's a clear edge.
If it was Sexton versus an O'Gara-like player it would be a different story because the two would match up, their kicking game - the spiral kicks to the corners, bringing back-field runners into the game, making defenders turn under pressure - would even out.
Russell is a more of an off-the-cuff, offloading, confidence player. When things are going right everything is fine, it's a different story when they are not.
SELECTION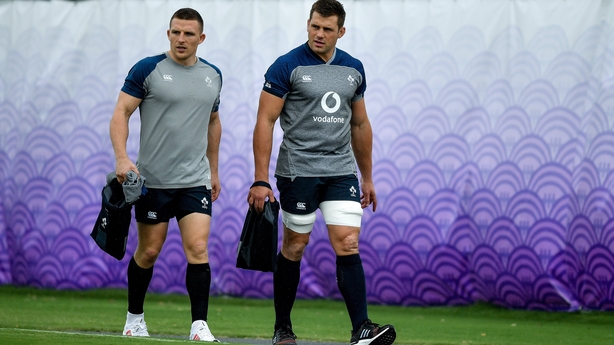 The back row of Peter O'Mahony, Josh van der Flier and CJ Stander is the one I thought was going to be selected even before the warm-up games but Schmidt has not gone on form by naming this formation.
It looks like loyalty to who he knows and has confidence in.
For me, it's a surprise call not to bring Jack Conan in at 8.
CJ Stander has been very disappointing. He had a good game against Wales but he was at 6. I would have had Conan in at 8 every single day of the week.
Why? He's a better athlete and he offers more in attack. In defence he very rarely gets caught. CJ got caught numerous times against England.
That said, the two back rows are very well matched, and the combos are very similar. I'm expecting it to be an attritional frenzy at times with the likes of Van der Flier running around with his hair on fire making tackles.
Maybe Joe is thinking Conan can come off the bench and light it up against a tiring Scotland team in the last 30 minutes.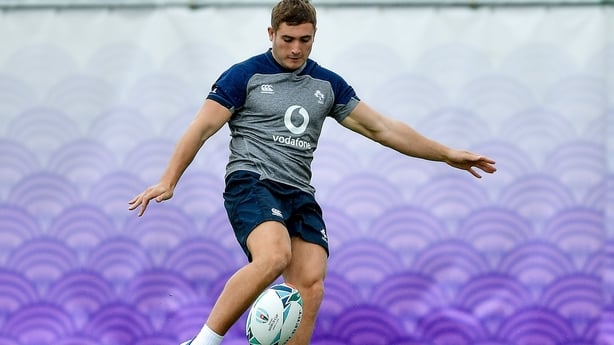 If you look at how Jordan Larmour struggled under the high ball against Argentina last November, that could be a problem, albeit we have seen some improvement.
He's backing Larmour and Andrew Conway, he's giving them guys confidence - 'go out there and put in a brilliant performance, put Rob Kearney under pressure for a World Cup quarter-final' and that's good for the squad.
From being in camp back in the day I get the feeling that Rob Kearney and Keith Earls are not 100% fit but I also feel that if Ireland had been drawn in a different section and had someone like Wales or France in the quarters Joe would have put them in here.
It's a roll of the dice but it's one that I think it's a chance worth taking. They've got other games and they are going to back themselves to win those.
VICTORY IS ALL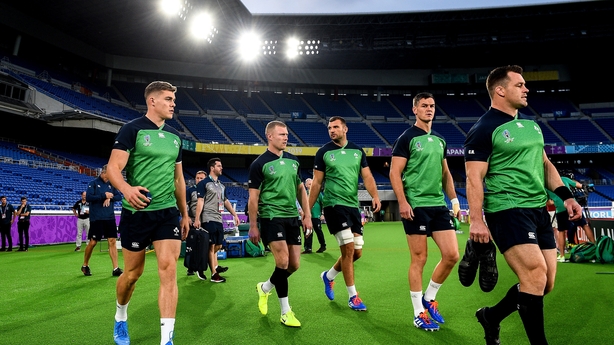 History has shown that you really need to go out and win all your games to win a World Cup. Ireland will look to get off to a positive start and that comes with a victory. Even if it's a one-point victory, it doesn't matter.
When it gets to this stage it's not about performance, it's about getting over the line, results. If you win every game by one point you win the World Cup.
That's what will be drummed into the guys: do whatever it takes to get over the winning line.
I believe they will be fully prepared and get the job done.
Ireland just have that little bit more firepower, that little bit more experience that the Scots think they have and maybe say they have but they have yet to walk the walk.
They come every year in the Six Nations and talk the talk, 'yeah, this is our year, we're training well, the squad is fully fit' and then they fall at the first or second hurdle.
It will be an intriguing battle but you have to back experience, you back leadership and you back previous results.
Ireland have the edge in those areas.
Follow Ireland v Scotland on Sunday (kick-off 8.45am) via the live blog on RTÉ.ie/Sport and the News Now App, watch live on RTÉ2 from 8am or listen to live match commentary on RTÉ Radio 1.
Listen to the RTÉ Rugby podcast on Apple Podcasts, Soundcloud, Spotify or wherever you get your podcasts.