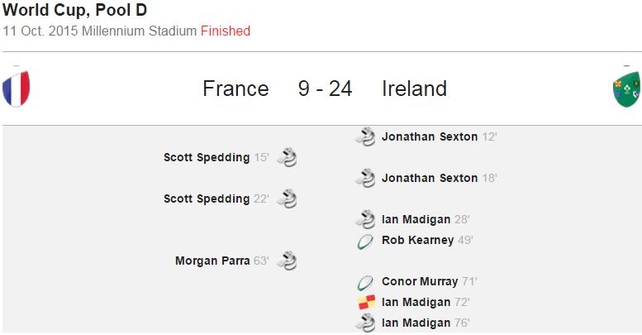 Ireland won a pulsating Rugby World Cup contest to secure top spot in Pool D and a quarter-final against Argentina next Sunday with tries by Rob Kearney and Conor Murray helping Joe Schmidt's men to a 24-9 victory.
The victory came at significant cost with Jonny Sexton, Paul O'Connell and Peter O'Mahony all suffering injuries in a contest of incredibly high attrition.
O'Connell's injury, a hamstring problem according to coach Schmidt, looked particularly bad. The apparent end of the Munster man's Test career halfway into one of the great days for Irish rugby was particularly poignant.
But he will be the first to acknowledge the brilliance of his team-mates' second-half display, a ruthlessly efficient performance that had by the end turned Phillipe Saint-André's French team into a rabble.
Ireland controlled the ball brilliantly for long stretches, and had enough moments of attacking excellence to make their clear superiority count on the scoreboard. They also defended superbly with Sean O'Brien setting the standard for effort with ball in hand and producing countless moments of defensive brilliance to relieve pressure on the Irish defence.

The Irish bench must also take huge credit. Identified as a key reason for the failure to beat New Zealand at Lansdowne Road in 2013, it produced the goods and more in Cardiff with Ian Madigan, Iain Henderson and Chris Henry not allowing standards to slip in the slightest when they entered the fray.
Ireland edged the first half on the scoreboard, but absorbed significant blows in other respects.
Injuries to Sexton and O'Connell cost them their two most important players, while Keith Earls' will be haunted by a horrible drop that cost his team a possible try.
The consequences of the first 40 minutes may not end there as O'Brien was spotted on camera punching a French player in the stomach in the open field and may be faced with a citing.
Ireland absorbed pressure for the first ten minutes, though poor discipline in the defensive ruck gave both Frederic Michalak and Scott Spedding chances from placed balls.
Both missed, with Spedding's attempt striking the post and it was actually Ireland who opened the scoring through Sexton, who landed a three pointer after sparking panic in the French ranks with a smart chip and chase.
France were showing flashes in attack, with a classic Michalak break and a series of flicked passes along the line showing they were prepared to take risks. That Michalak incursion led to another penalty and this time, Spedding's shot at goal was straight and true.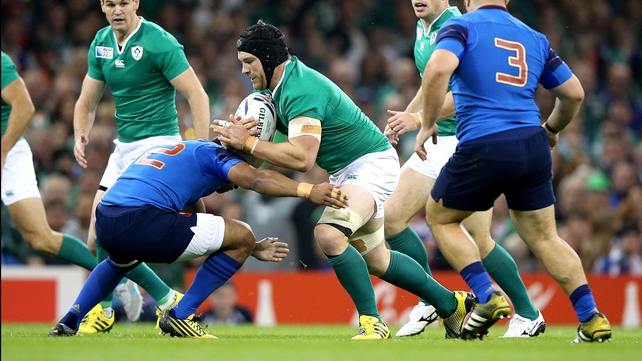 Another rucking penalty when a French forward was cleverly sealed into an Irish ruck quickly followed and Sexton's successful kick saw Ireland retake the lead. Spedding answered back with another long-range success after more Irish rucking indiscipline to make it 6-6.
France continued to play with ambition, a series of flicked passes stretched Ireland down the right and it took superb defence from Devin Toner and O'Brien in the centre of the field to cut off a huge overlap.
Then disaster struck. A heavy tackle on Sexton from Louis Picamoles shook the Ireland out-half badly. Clearly devastated, he was escorted from the field and replaced by Madigan.
He was instantly called into action when another French rucking penalty was called by Nigel Owens. He proved equal to the task.
And then came the key moment of the half.
Ireland struck with a beautifully designed powerplay, releasing Tommy Bowe up the middle, and the big Ulsterman drew his man and timed his pass to the flying Keith Earls perfectly. Somehow, he contrived to drop it and let a certain try go begging.
To their credit, Ireland kept on coming, while France wilted as an attacking force, with neither of the vaunted centres Wesley Fofana or Mathieu Bastareaud producing an attacking moment of note.
The story of the second half, all over the field, was one of Irish players who were stepping up and producing.
Robbie Henshaw carved past Fofana in a straight one-one-one only for desperate French scramble defence to see them escape again and the sides to remain neck and neck on the scoreboard.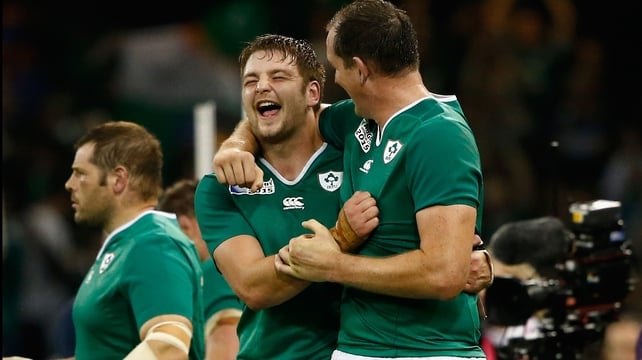 From the resulting Irish scrum, Rob Kearney finally broke the deadlock, letting Murray's pass drift across him before powering through Michalak to score the game's first five-pointer. Madigan was unable to add the extras, but Ireland had a two-score lead.
France captain Dusautoir then dropped the simplest of passes to give Ireland another chance, but Henderson's spill forward let France escape and a rare French attack reduced the deficit to a single score again after players in the Irish defensive ruck were again caught failing to roll away.
A disrupted lineout and a penalty for offside saw France work their way back up the pitch and the tension ratchet up even further. But more heroics from the sensational O'Brien, who battled through two Frenchmen to scrag Parra, rescued Ireland again.
Ireland steadily worked their way up the pitch, Henderson's big tackle making up for Kearney's skewed clearance, and gradually put France on the ropes before Murray then landed a smartly judged knockout blow.
The scrum-half placed the ball against the base of the post after huge carries by O'Brien and Henderson splintered the French resistance to give Ireland much-needed breathing space on the scoreboard. Madigan landed the extras to put Ireland 12 points clear with just eight minutes left.
France, who had produced little of note in the second half despite introducing Morgan Parra and Remi Tales at half-back, wilted completely.
A final Madigan penalty completed the scoring on Ireland's biggest win over France since 1975.
And despite suffering devastating injuries, the attitude now must be that all roads lead to a potential first-ever Rugby World Cup semi-final against Australia or Scotland in Twickenham on 25 October - at the very least.
Man of the match: Sean O'Brien.
Ireland: R Kearney, T Bowe, K Earls, R Henshaw, D Kearney, J Sexton, C Murray, C Healy, R Best, M Ross, D Toner, P O'Connell (capt), P O'Mahony, S O'Brien, J Heaslip.
Replacements: R Strauss, J McGrath, N White, I Henderson, C Henry, E Reddan, I Madigan, L Fitzgerald.
France: S Spedding; N Nakaitaci, M Bastareaud, W Fofana, B Dulin; F Michalak, S Tillous-Borde; E Ben Arous, G Guirado, R Slimani, P Pape, Y Maestri, T Dusautoir (capt), D Chouly, L Picamoles.
Replacements: B Kayser, V Debaty, N Mas, AFlanquart, B Le Roux, M Parra, R Tales, A Dumoulin.
Referee: Nigel Owens (Wales).