Tadhg Peavoy talks to Wales' most-capped forward Martyn Williams about the Ireland v Wales Rugby World Cup quarter-final, who will win the RWC and his own international career.
TP: What do you see as the main dangers of the Wales team and how do you think they'll try to beat Ireland on Saturday?
MW: I think our main attacking threats are Jamie Roberts at 12 and then we've got a very dangerous back three. That is where the Irish will have big concerns. Attacking-wise that's our major strengths really.
TP: So you think Wales are going to try to win the match in the backline?
MW: I think so. Obviously, you have a gnarly, old experienced pack there, who know how to grind out these type of games and I think the looser it gets the better for us it is. In the last two games, albeit against defences nowhere near as tight as Saturday, our backs have shown how dangerous they can be. Hopefully it will be an open, free-flowing game and that will suit the players we've got.
TP: Who do you think Wales will see as the main threats in the Irish team?
MW: Obviously Brian [O'Driscoll] in the centre, Drico, and Sean O'Brien. I think it's similar in many respects to Wales. You've got your standout players. For me, the most under-rated player for you guys is Keith Earls. I think he's similar to Shane Williams - he can make something out of nothing. He maybe doesn't get the plaudits of the other boys, but he's really dangerous. But in the big games, Drico is the main man and if you can stop the way he attacks you're in with a good chance.
TP: There's been a debate in Ireland over whether Ronan O'Gara or Jonathan Sexton should start at out-half. Who would Wales prefer to see starting at out-half for Ireland?
MW: We've had a similar debate here in Wales between Stephen Jones and Rhys Priestland. I've been fortunate enough to play with O'Gara in my career and in the big, big games he is the man you want on your side for his kicking at goal. His tactical kicking is also outstanding.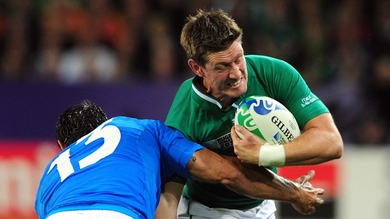 But then again, over the last two seasons Jonathan Sexton has done exactly the same thing in the big games.
It's a nice position for Ireland to be in. Wales will just be concentrating on themselves and getting it right. You can't worry too much about the opposition. I don't think Wales will have a preference for who plays; both are match-winners.
TP: And who's going to win?
MW: I've got to say Wales. It'll be really tight. Hopefully it won't, but it might come down to a referee's decision here or there - or one little error.
I just think if we can get our set-piece right and our line-out functions well. I just think the roll we are on – I know Ireland are on a roll as well – but speaking to the boys down there, there is so much confidence with ball-in-hand. I think we just have the edge attacking wise -have that little bit more. So, hopefully, we'll sneak the victory. It will be very, very tight.
The weather will have a big bearing on the game as well. If it's wet, it might suit Ireland a little bit more. I'll go for us, just.
TP: Do you think Ireland or Wales could go on to win the whole tournament?
MW: I think there's no reason why they can't. People would have laughed if you said that at the start of the tournament wouldn't they? But, the way it's been building up, both sides have been in a Grand Slam scenario where momentum builds and you just get so much confidence. So, everybody else seems to be in a bit of a quandary really, don't they?
Carter going down for New Zealand; France are all over the shop; England have got issues off the park; South Africa have players injured; Australia lost against Ireland. So, I think at the moment Ireland and Wales are the best-placed sides confidence-wise. They haven't got any injury concerns at the moment, so there's no reason why not. Plus, whoever wins this quarter-final is going to be on such a high, there is no reason they can't go all the way.
TP: Do you think there is a clear favourite among the Northern Hemisphere teams remaining?
MW: No, I don't. Who knows what France are going to do. They could put 20 points on England on Saturday and they could lose by 20. You really don't know, they've got so much talent there, that they are a danger, but I think all four sides know each other so well, it's so tight.
I think the great thing about this tournament is that hopefully we've put to bed the divide between the Northern and Southern Hemisphere. In past World Cups – apart from England '03 – there was a gulf there, but I think it shows it's gone. Any of those four Northern Hemisphere sides could go on and win it.
TP: Can New Zealand go on and win the World Cup without Dan Carter?
MW: Obviously, when he was fit, they were red-hot favourites. Now that he's not they're writing them off. But, just speaking to a few Kiwi boys in our camp [Cardiff Blues] who have friends in the All Blacks squad, they're saying the squad is even tighter and more determined.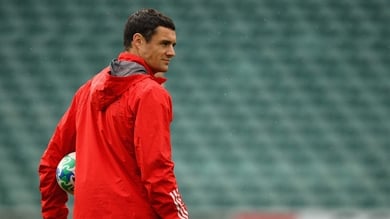 If I put myself in their shoes, they'll not want to be seen as a one-man team. I think they realise they've got to go up another level now. For me, they're still the favourites - they have huge talent in the backline.
TP: From your own point of view, you've played in three World Cups, do you have a World Cup highlight?
MW: Pretty much like the Irish boys, World Cups havn't gone too well for us. 2003 in Australia was probably the highlight. We got to thequarter-finals and lost to the eventual winners England. Just being part of that whole tournament. We were very similar to what the boys are now, we were a young up-and-coming bunch really, who everyone had written off before we left home and we really came together. That was the highlight for me.
TP: So, your career highlight would be the Wales Grand Slam wins in 2005 and 2008?
MW: Definitely. The '09 Lions tour as well, which I think makes this week's game even more interesting, because the Irish and the Welsh boys got on famously on that tour; between us we where the majority of the squad and got on really well. The Grand Slams and the '09 Lions tour were just things I am so glad to have been part of really.
TP: We're big fans of Welsh off-the-cuff rugby in Ireland. Is that taught right from a very young age in Wales or does that get coached later?
MW: In the past, because we were maybe not the most physically dominating pack like South Africa or England, we had to play a more expansive game, like Australia. It is taughtfrom a very young age, certainlyit was in my day. There was very little set-piece work done, it was all broken up kind of rugby and everybody wanted ball-in-hand – that's where it stems from.
But nowadays guys are getting much bigger and stronger and our pack is of a similar size to the other teams. Even our backs, Jamie Roberts and George North, are big now. So, we are kind of playing an opposite way now.
TP: What style do you prefer: off-the-cuff or retention based?
MW: When I was younger and quicker I preferred the free flowing rugby. It suits me the way I play. The more open and free-flowing the better. It's horses for courses. What Warren Gatland has got now is a lot of unbelievable athletes and his game plan is very power-orientated. I think what we play now is not the traditional style but it is very, very effective.
TP: What are your personal goals for this season with Cardiff Blues?
MW: This is the twilight of my career. I tried to get on the Wales squad in the summer, but didn't make it. To be honest, when I resigned for this year I didn't expect to go to the World Cup, I was just focused on having a good season with the region and enjoying my last year. Obviously, I've just broken my arm, so I'm out for a while.
When Sam [Warburton] is back he'll be first choice, but he'll be gone for the Six Nations.
It's just a case of trying to help the region to be successful. It's a bit of a transformation at present at Cardiff Blues. The one thing I would like on my CV is a European Cup, but it hasn't happened that way.
TP: How is the arm coming on?
MW: Because it's a break it's just a matter of time. It is a disappointing to be honest, but that's the way it goes. I'll be back some time in November.
Martyn Williams was in conversation with Tadhg Peavoy on Tuesday 4 October 2011.