Sprinter Sacre will bid to cap one of the great individual seasons of National Hunt racing at Punchestown later today in the The Boylesports.com Champion Steeplechase (5.30pm) and it remains to be seen just how good the brilliant seven-year-old will become.
The Nicky Henderson-trained French-bred has won his four races so far this season by a total of 52.5 lengths and has done so without coming off the bridle or missing a jump.
Only when running over two-and-a-half miles for the first time in his career in the Melling Chase at Aintree just over two weeks ago was he anything less than sensational.
In fact, his four-and-a-half length winning distance, under a cautious ride by Barry Geraghty, was his shortest ever over fences, though it was clear that, as usual, he had plenty more in the tank if required.
It is the style of his victories to date that are most notable.
Sprinter Sacre has won his races with flawless jumping, bold when asked but never risky, and a sensational burst of speed in the final furlongs. He has been eased down on virtually every occasion.
In fact, the level of competition he is facing is the main bone of contention.
His rivals had begun to avoid him even before his brilliant victory at Cheltenham, and some wonder if his Cheltenham victory as good, for example, as that of the brilliant Master Minded?
Sprinter Sacre beat Sizing Europe, himself a former Champion Chase winner, comprehensively but in 2008, Master Minded vanquished the more highly rated Voy Por Ustedes by the same 19-length distance.
And Master Minded followed that with a second Champion Chase the following year, albeit with a less vaunted performance.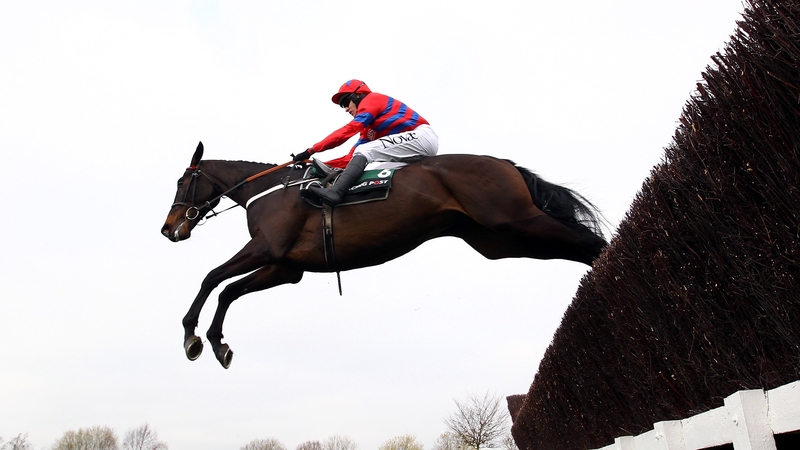 However, it must be remembered that Voy Por Ustedes reversed the placings with Master Minded weeks later at Aintree, albeit over two-and-a-half miles.
And while Master Minded won the Irish Champion Chase in 2009, he did so by just a head over Big Zeb.
His suitability at the track, both tracks are undulating but the sharp turns at Punchestown are a different challenge to the sweeping bends at Cheltenham.
In the end, Master Minded never again quite recaptured the brilliance of his freakish first victory, finishing a hard-ridden fourth behind Big Zeb a year later and blundering at the second last when hard ridden in third before finishing eighth in Sizing Europe's win the following year.
Sprinter Sacre has yet to blot his copybook and gives no indication that he will be put out by the quirks of today's track.
Sprinter Sacre has yet to blot his copybook and gives no indication that he will be put out by the quirks of today's track
Instead, the focus is on where how good he can become and where he will eventually rank in relation to the other great seasons and careers in National Hunt racing.
In his own division, Sprinter Sacre already looks primed to prove himself superior to Master Minded and Moscow Flyer, who dominated the previous generation as a winner of an Arkle, three Irish Champions Chases and two Queen Mothers.
At the three-mile division, Denman was briefly but undeniably brilliant, while Kauto Star and Best Mate have the best records.
Kauto Star, with two Gold Cups and five King Georges to his name, may just shade it in a comparison.
Going back in history, Arkle's unbeaten 1965/66 season, three consecutive Gold Cups and awesome record when giving away weight in handicaps, still mean he is widely considered the greatest of all chasers and he is rated as such.
Flyingbolt is rated the second best horse of all-time behind 'himself'. In a career plagued by injury, he won his Champion Chase in 1965 by 15 lengths when sent off the 1-5 favourite.
That is still the shortest price in the history of the race.
If he continues in this vein, Sprinter Sacre could well start the race even shorter-priced next year, though he must overcome today's very different challenge at Punchestown first.
Live television coverage of the Punchestown Festival from 16:00 on RTÉ One and 17:55 on RTÉ Two on Tuesday 23 to Friday 26 April. Live streaming on RTÉ.ie (Ireland only).