David Bass has a secret weapon when it comes to the demanding life of a jockey – a vegan diet.
"I'm a bit of an eco-warrior," the man who has partnered 47 winners already this season told RTÉ's Game On.
"I decided to do it for environmental reasons to begin with. But now I feel it's beneficial as far as my health is concerned.
"I feel my knowledge of my diet and what I'm eating has got so much better. My metabolism has improved massively.
"I'm quite heavy for a jockey and I feel like I find it easier to lose weight on this diet and maintain a level weight."
Bass mostly just snacks on nuts and fruit on race day.
He admits that jockey's canteens don't always cater for vegans but says "a few racecourses are making more of an effort now" and expects more options than the "odd sandwich" to be standard in the next couple of years.
"Probably much to the disappointment of some of my colleagues," he laughs.
"I'm not going to lie, it probably means I have to work a bit harder on eating the right food, getting the right amount of protein and that sort of thing.
"But I feel like it's working for me."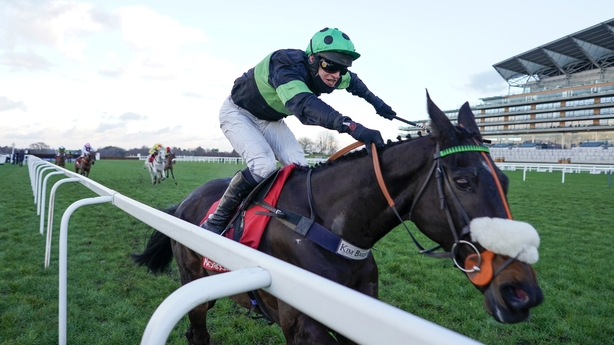 Bass has a couple of live prospects at the upcoming Cheltenham Festival.
He piloted Kim Bailey's 14-1 shot First Flow (pictured) to a shock victory in the Grade One Clarence Chase last weekend, with last year's Champions Chase winner Politologue left trailing by seven lengths.
"It was brilliant to go there and beat the reigning champion chaser," said Bass of his third career top-level win.
"I was confident he would put up a big race, but if I'm honest I didn't really expect him to put in a performance like that.
"It probably looked crazy that I went and took on Politologue so early but he got into such a good rhythm down the hill.
"I can't wait to do it again in the Champion Chase."
Imperial Aura won a novices chase at the Cheltenham Festival last year and backed that up with a Grade 2 victory at Ascot in November,
He fell when an even-money favourite at Kempton earlier this month but Bass is convinced that Bailey's eight-year-old can bounce back on the big stage and put it up to Min in the Ryanair Chase in March.
"It was unfortunate, he's normally a brilliant jumper," he said.
"I'm convinced he was a little bit put off by the shadow of the wing. It was very unlike him.
"Thankfully he has come out of the race well. We're looking forward to going straight to Cheltenham and the Ryanair and having a go.
"It looks a really competitive renewal this year, but I think he's a very progressive horse who likes Cheltenham.
"We're confident he can run a big race."