He will go down as one of the most decorated jockeys of all time, but Ruby Walsh's career has been as much dealing with injury as riding winners.
The 39-year-old announced his retirement after victory in Wednesday's Punchestown Gold Cup to bring the curtain down on a 24-year-career.
Walsh ends with more than 2,700 winners, but the injury list is also a lengthy one.
He has broken his leg on two occasions, fractured and double-fractured his leg, broken his ankle twice, broken his collarbone, dislocated his shoulder twice, broken his arm twice and also fractured his wrist on a couple of occasions.
In 2002, he suffered a cracked jaw and also had eight teeth broken. He has undergone an emergency operation to remove a ruptured spleen, and in July 2011 suffered a crushed vertebra in the neck.
There have also been incidents of concussion, soft tissue damage and badly bruised ribs during a career that saw Walsh lauded as one of the greatest jockeys ever.
It was the perfect end to Ruby's career
Relief was the main emotion for Walsh's wife Gillian after his decision to call it a day.
"I'm so relieved, and I'm so happy," she told RTÉ Sport. "We're very lucky that he's fit and well and able to walk away.
"It was the perfect end to Ruby's career.
"I never asked him when he was going to retire but I knew when he said it to me that I wouldn't have to ask if he was sure.
"Ruby is black or white, when he made the decision I knew that was it."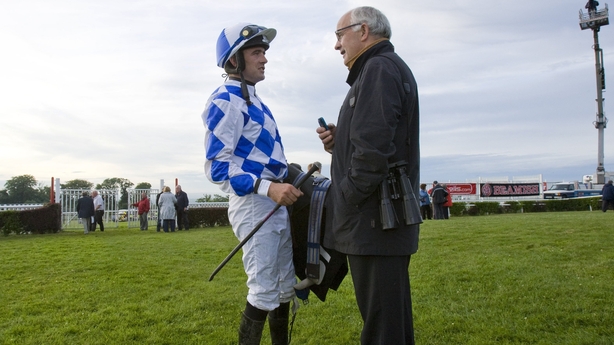 His father Ted added that he has brought so many great days for the family, but admits that it has been a nervous watch on occasions due to the nature of the sport.
"There were loads of times when he got pretty serious injuries," he told RTÉ Radio 1's Morning Ireland.
"They were the worst days. They were the days that make me glad I won't see them on a racecourse again."
"It was particularly bad when you weren't there and you were watching on television; he's put into an ambulance and when it is going slow you know it is a serious injury.
Ted Walsh talks to @Sportsdes on @morningireland about the incredible racing career of his son Ruby pic.twitter.com/VARG4ZGBvt

— RTÉ Sport (@RTEsport) May 2, 2019
"You'd have to wait for 10 or 15 minutes until he contacts somebody and you know exactly the damage."
Despite the many broken bones Ruby endured throughout his career, Walsh senior claims that this was in fact the best-case scenario for a sport that has endured tragic moments down through the years.
"It's not too bad when you are there when you run down and he says, 'I think my leg is broke, dad'. It's terrible, but as long as he's talking to you.
"He's unfortunate that in his life both John Thomas (McNamara) and Kieran Kelly got serious injuries that ended their lives. They were young men and that flashes through your mind."