Merchant Navy came out on top in a thrilling climax to a dramatic renewal of the Diamond Jubilee Stakes at Royal Ascot.
Having proved his capabilities at the very highest level in Australia, the three-year-old joined Aidan O'Brien earlier this year with a view to having a crack at this six-furlong Group One and the plan came perfectly to fruition.
The son of Fastnet Rock had made a winning Irish debut in last month's Greenlands Stakes at the Curragh and was guided in his big-race assignment by Ryan Moore.
There was drama at the very start, with 5-2 favourite Harry Angel playing up before the stalls opened and completely missing the break. He was under pressure from an early stage and ultimately failed to get competitive.
American challenger Bound For Nowhere led for a long way, but, with his tongue lolling out, Merchant Navy (4-1) drew alongside entering the final furlong and battled his way to the lead.
French ace City Light emerged as the biggest threat as the post loomed and they flashed by almost as one, but after a short wait the judge confirmed Merchant Navy had held on by a short head.
Like Harry Angel, Australian speedball Redkirk Warrior was disappointing.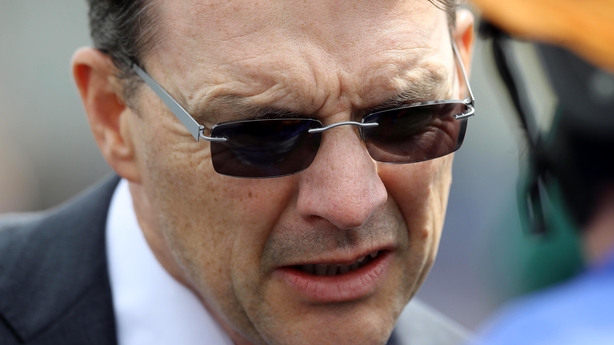 O'Brien said: "He was travelling very well and we knew looking at him that Ryan was very happy on him.
"I think Ryan was hoping not to get there (the front) too early on him and then he got a little bit of a bump and Ryan said it took him a bit of time to re-balance.
"We're over the moon with him, really. He's always been very straightforward since he arrived.
"He's being treated as a four-year-old here and he's really a three-year-old. I came here prepared that he couldn't win, reading what everyone was saying"
"He did five half-speeds before he went to the Curragh, so we weren't really sure what was going to happen, but we wanted to get a run into him before he came here.
"We thought it was an impossible task for him here as he was 12lb worse off than he would have been in Australia. He's being treated as a four-year-old here and he's really a three-year-old. I came here prepared that he couldn't win, reading what everyone was saying."
Asked whether Merchant Navy could run in the July Cup at Newmarket before returning to Australia to take up stallion duties, the trainer added: "He is booked to go back home, but wouldn't it be great (to go for the July Cup)?
"The plan was that he'd run here and then go back to Australia, as I think there's a lot of mares waiting on him there."
Moore said: "I thought he would win easier, but the American horse leaned into me, we got very tight and he just lost his rhythm for a second. If he'd have got beat I'd have felt he would have been unlucky."
Stephane Wattel, trainer of City Light, said: "It didn't look a race to begin with as there were horses everywhere, but it was a great effort.
"This horse has come a long way and I thought for a minute I was going to have a Group One winner."
Clive Cox said of the vanquished Harry Angel: "His leg was still in the stall when it opened. He's not straightforward in the stalls, as you can see. It's a shame it's happened and it obviously affected the whole day.
"He's got a nasty puncture wound, which we're concerned enough about. He wasn't sound behind when he came in. Not dreadful, but he wasn't sound.
"I'm just sorry for everyone and it's a shame, but I hope he'll be fine."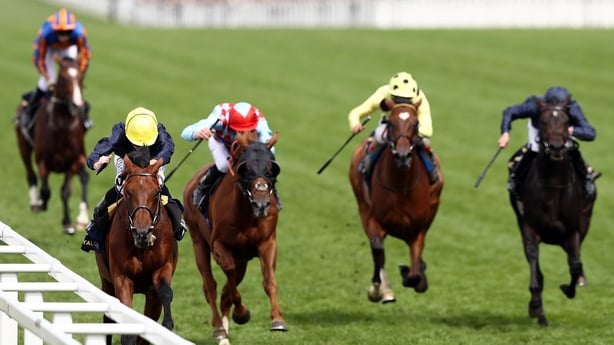 Crystal Ocean provided Michael Stoute with an 11th victory in the Hardwicke Stakes at Royal Ascot.
It is 32 years since the master of Freemason Lodged first claimed the prize with Dihistan (1986) and he has since struck gold with the likes of Harbinger (2010), Telescope (2014) and the Queen's Dartmouth (2016).
Having already won at Sandown and Newbury this season, Crystal Ocean was a red-hot 4-7 favourite to add his name to the roll of honour and odds-on backers will have had few concerns for the duration of the mile-and-a-half Group Two.
Ryan Moore positioned the market leader on the heels of last year's winner Idaho for much of the way and when he faded out of contention early in the home straight, Crystal Ocean kicked clear for a comprehensive two-and-a-half-length victory.
Red Verdon ran a fine race to fill the runner-up spot at 33-1. 
Both Stoute and Moore were enjoying their fourth winner of the meeting.
"It was straightforward. He is so uncomplicated you can do what you like with him. He is a relaxed horse. It is so far, so good"
Crystal Ocean is likely to return to Ascot for the King George VI And Queen Elizabeth Stakes on 28 July.
Stoute - who on Wednesday set a new best for career winners at the showpiece fixture - said: "He's really continued to progress with his racing. He's got a lovely temperament and he's a joy to train.
"It was straightforward. He is so uncomplicated you can do what you like with him. He is a relaxed horse. It is so far, so good.
"We will take him home and look at him for a little while, but I expect that (King George) is likely. We will take it step by step.
"I think we will get brave now. The King George is likely, but we will get home and think about it."
Red Verdon could be bound for Australia in the autumn.
Trainer Ed Dunlop said: "It was a great run. He's so consistent, he's improving and we came here because there wasn't a huge field and to try to get our rating up a little bit.
"We discussed a while ago that the likely option for this horse is to go to Australia. We will work back from the Caulfield Cup and the Melbourne Cup.
"He'll probably have one more run before we take him to Australia."
Jockey Seamie Heffernan said of third-placed Cliffs Of Moher: "He's finished third and there were only five runners. It was his second run this week (finished fourth in Wednesday's Prince of Wales's Stakes). I was happy with him."