Tony McCoy's suggestion that female jockeys should receive a weight allowance have not been universally welcomed.
The now-retired 20-times champion jumps jockey was reacting to the claims of Melbourne Cup winner Michelle Payne [pictured below], who labelled the sport "chauvinistic" following her history-making success last week.
He wrote in his blog for William Hill that women simply are not as strong as men. "The female jockeys are very, very competent riders but perhaps a woman should receive an allowance like a filly does in a race," said McCoy, who begins a new career as a Channel 4 Racing pundit on Friday.
"It's a very physically demanding sport and they're not going to be as physically strong as a bloke. They can't be. Tactically they can be as good but if it comes down to strength in a finish, a woman is not going to be as strong as a man.
"There aren't many sports where women compete against men and on a day-to-day basis are women as physically strong as men? No they're not. It's just fact."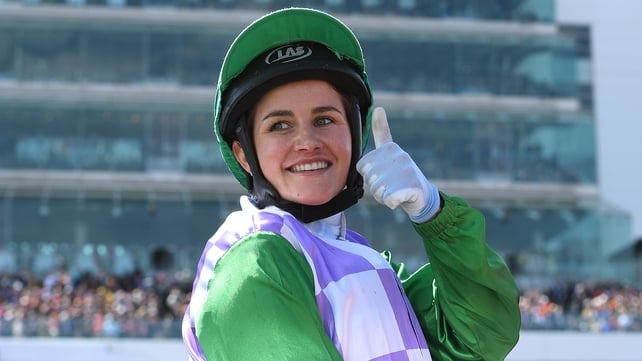 But leading female rider Cathy Gannon believes it would be a backwards step after years of striving to be accepted on an equal footing.
"I don't think it would be fair," she said. "We want to compete with the boys on a level playing field and it would cause ructions if we were given an advantage.
"We've been trying to say we're as good as the boys for years so it would be a backward step in my eyes. Don't get me wrong, I'd love a 5lb allowance, but there'd be a few in the weighing room who wouldn't be happy about that.
"When the new system comes in for nursery races and the bottom weight is 8st 9lb, that might enable a few of the lighter girls to get a few more chances."
Lizzie Kelly, second in a Grade One in France last week, wrote on Twitter: "I hope this doesn't happen, I wouldn't do any of the weights!"
Grade One-winning Canadian rider Emma-Jayne Wilson said: "Brilliant idea - if strength were the only attribute #jockeys required to be successful. #Haveyouseenmewin."
Sophie Doyle, the sister of top British rider James Doyle, is currently making a name for herself in America and she tweeted: "Why? We have already proven ourselves, it comes down to being educated and dedicated about fitness as an athlete in this sport!"