Ellen Keane finished eighth in final of S9 100m butterfly final on Thursday night, while her compatriot Nicole Turner took seventh in the S9 100m butterfly decider.
Keane had earlier clocked a career best of one minute 10.95 seconds at the Maria Lenk Aquatics Centre in Rio to make the Paralympic Games final.
She was the sixth fastest qualifier of the eight but her time of 1:11.27 was the slowest in the field, as China's Jialing Xu took the gold, with Spaniard Saria Gascon winning silver and Zsofia Konkoly of Hungary settling for bronze.
The Clontarf woman had admitted that a mix of euphoria and adrenaline after last night's medal swim impacted on her preparations for today.
"When I won my medal, I was just on such a high," she said.
"I tried to get home, get to bed early and recover well.
"Unfortunately, I just lay there for a couple of hours because I just couldn't get to sleep!"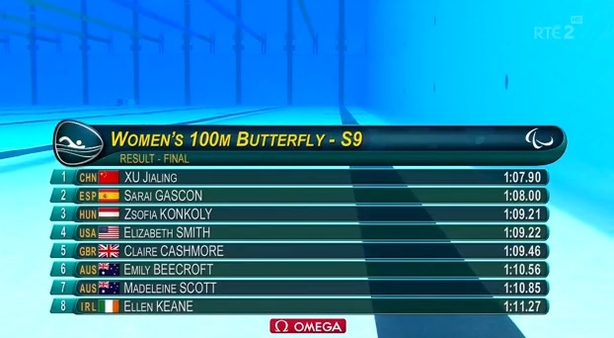 Turner finished fourth in her heat of the SB6 100m breaststroke in 1:48.13 to qualify as the seventh fastest finalist - and that's where she would finish.
She made a good start from lane 1, but a searing pace saw the Portarlington girl turn in sixth.
The 14-year-old, who was competing in her fifth final at these games, emptied the tank and finished a highly respectable seventh in 1:46.19, quicker than her heat time.
Ahead of the final she had sent a message to all her fans, saying: "I'd just like to thank everyone really for all the messages, all the support. I couldn't have done it without them."