Maggie Rose Carrigan grew up steeped in winter sports.
Raised in the picturesque city of Steamboat Springs in northern Colorado, she started snowboarding when she was just three years old.
Her sister Tory made the USA half-pipe team while her brother Lex is a junior world champion snowboarder. Hitting the slopes was a way of life, and Maggie Rose - named after her grandmother Margaret, and grand-aunt Rose, who grew up in Drumlosh on the Roscommon side of Athlone - was a natural.
But when she was 10, a chance discovery of a serious medical problem changed everything.
"I used to do slopestyle so you'd hike to the jumps," Carrigan told RTÉ Sport. "My back started hurting, and my knees. I started complaining to my mam. She was rubbing my back one day and all of sudden felt a really big lump on the left side of it. We went to the doctor and he asked me to bend down and touch my toes. Very quickly he said, 'you have scoliosis'. And I was like, 'what is that?!'."
Scoliosis is a curvature of the spine that can cause problems in the chest and lungs if severe enough.
When Carrigan had an X-ray, she was stunned to see that she had an S-curve that had already well exceeded the curvature required for surgery. Swift action had to be taken.
"They gave me two options. I could either wear a brace, which wouldn't correct it, it would just hold it in place. I'd have had to wear that every single day. The other option was surgery, which would correct it, but there was the possibility of not being able to snowboard anymore.
"They really advised against [continuing to snowboard] because of crashing, or potentially ruining the hardware. I only had three vertebrae left at the bottom of my spine so if I compressed a disc or something it could be really, really bad. But snowboarding was the only thing I loved and enjoyed... I just loved it so much."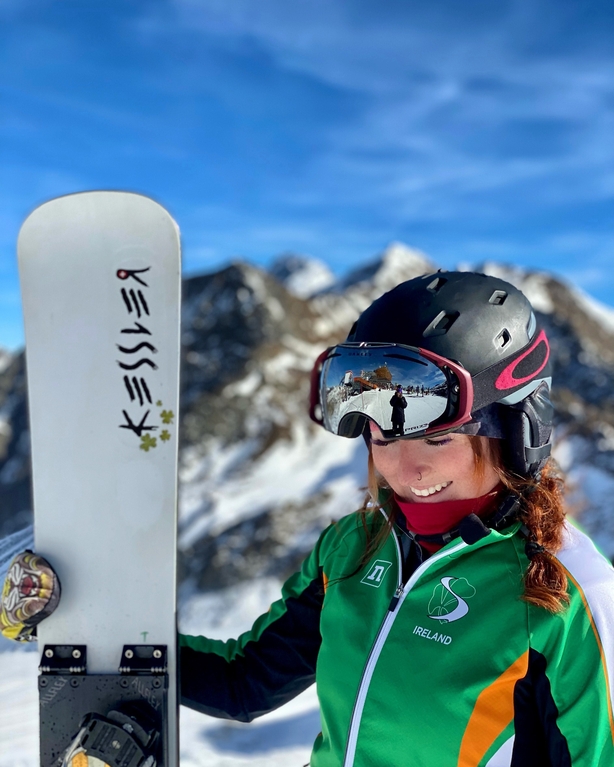 Carrigan had the surgery. She had to refrain from taking part in any physical sports for a year - no gym class, no field games, and absolutely no snowboarding.
When she turned 12, with 14 inches of metal in her back that seriously affected her flexibility, Carrigan went back to the slopes.
Initially she couldn't touch her knees, with her mother buckling up the bindings on her board before competitions.
Yoga and stretching became part of the daily routine - but once Carrigan adapted, her career started to take off. Aged 16 she won her first North American Cup race [the Nor-Am is one of the tours of competitions organised by the International Ski Federation] and thus gained enough points to qualify for a World Cup event.
She just missed out on making Team USA for the 2018 Winter Games, a disappointment that led to a period of soul searching, and a chat over Instagram that would alter her path completely.
"I just wanted a change. I wasn't sure whether to stop or if I needed something different. I'd heard of Seamus O'Connor [the Irish-American snowboarder who represented Ireland at the 2014 and 2018 Games] and I'd had my Irish citizenship since 2015.
"I'd always thought his story was amazing, and I love my family and its history so much. I reached out to him on Instagram, we talked, and he gave me great information. I got in touch with the Irish federation... it automatically felt like the perfect fit."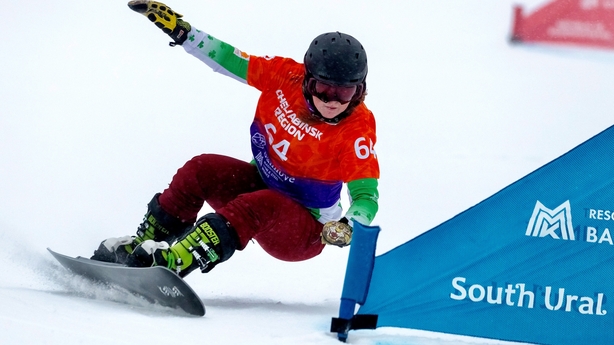 Carrigan is now on the cusp of making it to February's Winter Games in Tokyo, hovering just outside the top 30 as qualification heads for its climax.
"I have to be in the top 30 and I have to have over 106 points. I'm getting really, really close. I believe by 15 or 16 January I'll know for sure. I've qualifiers in Switzerland and Austria."
The dream is obvious: Carrigan, a teacher by profession, could be part of the Irish contingent when the Games begin this spring. It would be a remarkable feat.
"I've gotta tell you, my family is so proud," she added. "They love following every minute. Everybody in Athlone has been reading articles on me! It's been really cool to have them e-mailing and be so excited for me. It makes me feel so happy.
"My school where I work is incredible. It's been a magical experience because I never thought I'd have something besides snowboarding that I love so much. I love teaching and I love the kids. They got to come to a couple of my races in Steamboat and it was the coolest thing ever.
"They had green glitter all over them and made signs - it was the cutest thing in the world. I had the biggest cheering fan club at the bottom of the hill.
"It was special. Whatever medals I get I bring to the school. I have a shelf there... they adore it."