On last Tuesday's RTÉ Nine O'Clock News, it was 22 minutes into the bulletin before Sharon Ní Bheoláin informed the nation of the latest Covid-19 figures.
There were 379 new cases reported, along with nine further deaths. And while one is not making light of those who have succumbed to the deadly virus, the positioning of the daily figures on Tuesday's run-down is an indication of other news taking precedence.
The housing crisis is again gaining real traction, with the economic outlook, post-Covid, now coming into sharp focus. Political junkies will no doubt be relishing the prospect of a spicy Dublin Bay South by-election.
With vaccinations being ramped out, there is a strong possibility the vast majority of the population will be vaccinated by the end of June. Many other countries, if not before then, will be in a similar position.
We can only hope that the situation in India improves. Caution will exist as long as Covid mutations emerge; the pandemic will become endemic.
It's exactly a year since the Bundesliga emerged after the first Covid lockdown. Bayern Munich and Borussia Dortmund locked horns before empty terraces - still it was better than nothing.
Television companies came up with fake crowd noise to give us that better lockdown experience. A year on and we're edging closer to such noise effects being made redundant. Sport, too, is heading back towards normalcy.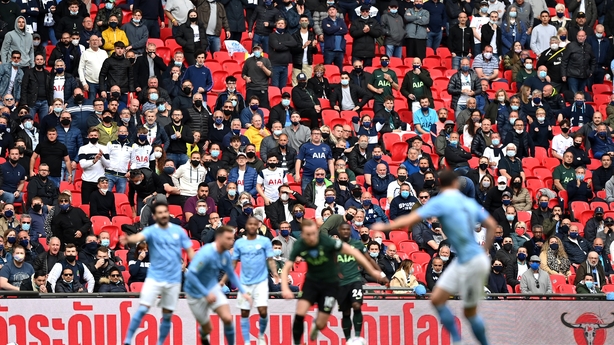 Yes, fans were back in attendance for the Australian Tennis Open, the Super Bowl and the Masters. Closer to home, the Crucible Theatre was full for the World Snooker final and Wembley had 8,000 spectators in situ for the Carabao Cup decider.
Later today, the same venue will welcome 21,000, as Chelsea and Leicester and meet in the FA Cup final. The final two series of games in the Premier League will also see crowds attend.
In Ireland, we will have to wait a little longer.
A Return to Spectators plan was published last October. An updated version will be released shortly. The Government are keen for fans to return in July, with Minister of State Jack Chambers recently telling RTÉ: "There is a huge amount of urgency from me, we are really ambitious and optimistic about getting fans back at games.
"We had a Return to Spectators plan that was formulated last October, I met with Martin Murphy, the chair of that last week and they are updating that plan now and the guidelines around that, taking into account the updated vaccination effect which has to be incorporated, that could allow for more fans in the stands than had been planned for initially.
"The guidelines are there and we are updating that to incorporate antigen testing or PCR, if you take the League Cup game in the UK where they had 8,000 in a 90,000 capacity stadium.
"In the previous document we had, the fan journey is very important, there will be personalised ticketing, staggered entry and exit, so when we get a return to spectators people may have to arrive at particular times, avoid congregation before and after games, they'd have to leave a little later.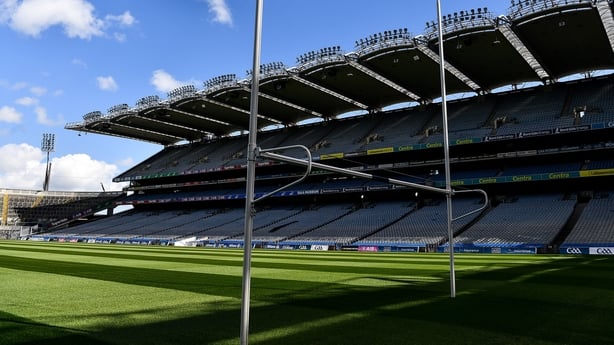 "In the original document we had 5% as a starter of capacity which would be 4,000-5,000 for Croke Park, then up to a two-metre distance would allow for about 15,000 in Croke Park, one-metre distance would be about 30,000 in Croke Park."
Exact figures as to what attendances will be is hard to predict at this stage. If we continue to suppress the virus, who's to say that 50,000 may be present for the All-Ireland finals at the end of August?
How the test events go will be crucial. An orderly, common sense approach at GAA provincial finals, Rainbow Cup matches or League of Ireland venues, is therefore required for such piloting.
A great summer could be in store.
This weekend sees the start of the men's and women's football leagues and the camogie league. The various championships are just around the corner.
The rescheduled Euro 2020, a multi-city tournament, is just under a month away. July and early August will see the Lions Tour of South Africa, while Shane Lowry will finally get a chance to defend his Open title at Royal St George's in front of a "significant" amount of fans.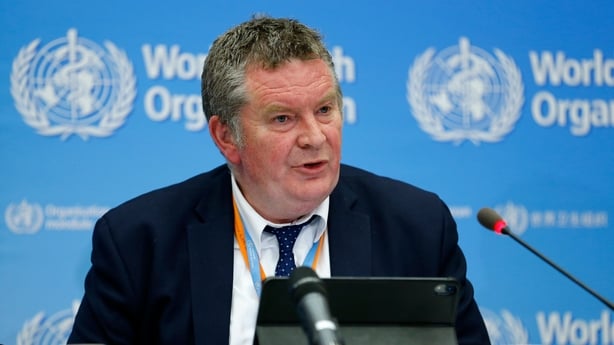 There is, however, still a doubt over the Tokyo Olympics and Paralympics.
Covid cases are still high in Japan and public opinion does not favour an influx of athletes and other support staff arriving from mid-July.
The IOC remain confident that the Games will go ahead and will be heartened by the words of Dr Michael Ryan from the World Health Organisation, who expressed his confidence that all involved "will make the right decisions regarding how best to manage the risks, and are working extremely hard right now to ensure that those risks are well managed".
Sligo-born Ryan, the WHO's Executive Director, added: "It is our hope that the Olympics (and Paralympics) can occur. We have seen sporting events and leagues run very, very safely over the last six months, without spectators, with special bubbles and arrangements for athletes and for others – footballers and many, many others."
In the last few days, positivity rates for Covid in Japan have started to level off. Olympic organisers will hope for a more pronounced downward trend in the weeks ahead.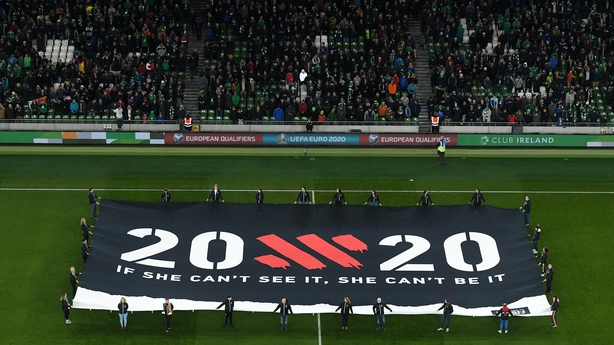 With the conclusion of the 20x20 movement to promote women's sport, the pandemic months have only served to increase awareness. It was not surprising then that the Government this week introduced grant equality for female Gaelic games players - they will receive the same amount of funding as their male counterparts.
With the Camogie Association, somewhat belatedly, opting for a split-season calendar from inter-county to club, another step was probably taken on the ultimate merging of the camogie body with the GAA and the LGFA.
In football, the European Super League idea, was quickly batted away. The proposed expansion of the Champions League from 2024, for now will be the cash generator to keep the big clubs happy in a post-pandemic world.
The Premier League will be happy that it has rolled over its current broadcasting deal with Sky Sports, BT Sport, Amazon Prime Video and BBC Sport. Across the domestic leagues in Europe, the value of rights appears to have peaked. The French league, for example, accepted half of what it had previously expected in their latest negotiations.
Professional sport will in many cases have to cut its cloth to an appropriate measure in the next few years. That will be no different to other forms of business. For those who enjoy sport purely for recreation, the fields and parks are open again, and in time indoor venues hopefully will be thronged.
Then we will be fully back.