On a cold January evening, the South Dublin Panthers take to the pitch at Westmanstown for a preseason training session.
They are an American football team, not the typical outfit that you would see training in Ireland.
Jerseys from various NFL teams populate the landscape as head coach Stephen McDonnell puts a group of over 20 players through their paces.
In the NFL, it's playoff time, the game is reaching fever pitch in America and creating a knock-on effect in the overseas areas where it is played.
In Ireland, it is growing in popularity every year and with new clubs popping up around the country there is an increased demand for players.
The Panthers play in the top division in Ireland and the squad is made up players of several different nationalities and plenty of varying body types too.
"There is a place for everyone on an American football team," explained Stephen McDonnell head coach of the Panthers.
"The big lads are in the front and what they do can be akin to sumo wrestling or Greco-Roman wrestling. You have rugby skills in carrying the ball and tackling and we love GAA players because they can catch.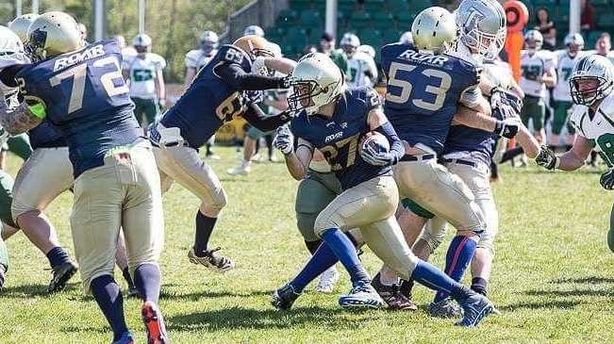 "If they are a half-forward or midfielder they are used to going up in the air and catching. It's that combination of skills that makes it wide ranging. The skills are very transferable from other sports.
"The defence coordinator on our team is a rugby coach when I got him to come on board I told him I just want you to teach the lads how to tackle.
"Learning how to do what you are told, like learning the plays is the hard part, the skills transfer from other sports."
McDonnell grew up watching American Football with his dad, he played golf but opted out of sport in his teens and when he decided to return to team sports in his 20's, American football was his preferred choice.
It's a familiar story as many of the players involved in the league played sport when they were children, took a break and returned to play again when they were adults.
"A lot of people just take up five-a-side but then you will have some who just want to take up something different and new," added McDonnell.
"When people come up to go training, they want to play American football so that's what we do. We try and give them what they are looking for and what they see on TV.
"It's a physical game, there are big hits so people figure out pretty quickly if it's for them or not."
Former Dublin footballer Eamon Fennell was one of those people who wanted to try something different. So he had a stint playing with the Panthers and found the experience benefited him as a Gaelic footballer.
"I found it challenging trying to get used to not being on the pitch for 60 or 70 minutes," explained Fennell.
"That was the real challenge for me, trying to prepare yourself for a play that you might not even get a touch of the ball in.
"When you are used to constant interaction and knowing that a run or a touch might make a difference to then being in a stop-start scenario, that was hard and difficult to adapt to but it was challenging in a good way.
"It really helped me as Gaelic footballer to be patient and to know that every play could make a difference. For example it gave me a focus on specific things like when a ball was being kicked out I'd think right we have a chance to win this now."
Over the last few weeks, several former GAA players have spoken out about the pressures and commitments required to ply elite level Gaelic games.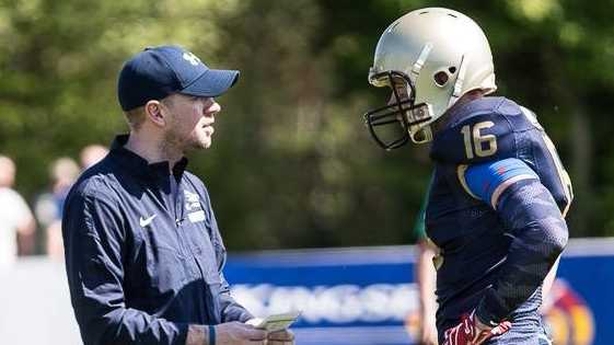 Fennell, who played tight end and doubled up as kicker, echoes the sentiments of the likes of Kieran Bergin, Eddie Brennan and Joe Sheridan and revealed the social side American football was one of the most enjoyable parts of playing the game.
"It's been well documented recently about how the GAA is becoming unsocial, certain people find that the enjoyment among the guys and the camraderie is unbeliveable.
"Everyone is great friends, after the games everyone goes for food and drinks and partners and families are all encouraged to go along too.
"It was a really nice aspect, when you join a new team and you don't have that social aspect it can be hard to gel but that definitely isn't the case with American football."
In Westmanstown, the squad go through the drills and it is exactly as you would expect a session to be. There are long throws, hard hits and plenty of shouting.
As the NFL reaches fever pitch in America, it's pre-season time for American football teams in Ireland, we visited the @SDPanthers to check it out. pic.twitter.com/vVt6x33ZMI

— RTÉ Sport (@RTEsport) January 13, 2018
There are players from several countries at the session, so many different languages are spoken on the pitch, but the play calls are universal so everyone reacts just as they should.
Murilo Carneiro is a running back on the team; originally from Brazil he has been living and working in Ireland for two years.
American Football is very popular in his native country and many players move south to play in the Brazilian League when they find themselves out of contract.
Before making the move to Dublin he played the sport at the top level in Brazil.
"When I took it up I just fell in love with it and I thought I was born to play it," recalled Caneria.
"The league is semi-pro in Brazil and the standard is very good. Many players who don't get drafted after college come down and play."
When he landed in Dublin one the first things he did was look for an American football team to join, he found the Panthers and the sport has become more than just a hobby for him.
It's given him a sense of community, a family away from home and helped him with the language.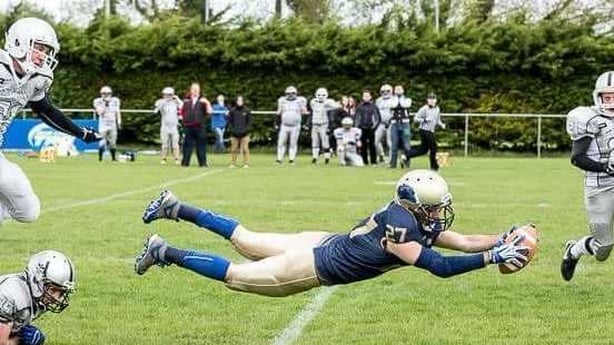 "I couldn't speak any English when I arrived, I had no words but I could communicate on the pitch and step by step I have learned to speak it now.
"My mother called me when I first came and she was worried that I wouldn't have any friends in Ireland because I couldn't speak English. She was so happy when she knew that I was on the team.
"My team-mates are like brothers. My first job came about because one of the team helped me to get it. It's a great team to be on.
"A couple of my friends who played over in Brazil are going to move to Ireland because they want to play American football. They will be coming over next week and they will have to be ready for the cold weather."
In the senior leagues in Ireland there are 21 teams over two divisions, from all over the country. It's similar to the NFL with a playoff stage for the top ranked teams and then it culminates in the Irish version of the Super Bowl called the Shamrock Bowl. They play their games on rugby or GAA pitches.
"The game has really exploded and Sky has a lot to do with it," said McDonnell.
"We can see it in our numbers. They are getting the introduction from the TV. They know what the rules are and they understand it. That makes them more inclined to take it up.
"There are double the amount of teams and the number of players on those teams has grown massively too. The game is also growing in Europe, in places like France, Austria and especially in Germany where there is an American air force base.
"Some clubs in Europe pay American coaches to come over and last year the best guy in our League moved to Austria to play."