STAND UP AND FIGHT
What a journey it's been for Munster. Their response to the tragic passing of Anthony Foley has been an explosive march to the last four of Europe.
They've kept punching; they've made their punches tell.
Now they face up to the biggest heavyweight left in the competition.
Saracens will swagger into the Aviva Stadium in defence of their crown and they come loaded with artillery: Mako Vunipola is back from injury; Itoje, Farrell and Wigglesworth are all well rested; Chris Ashton could become the highest try scorer in Europe if he crosses the whitewash. They're a serious outfit, the best left in the competition.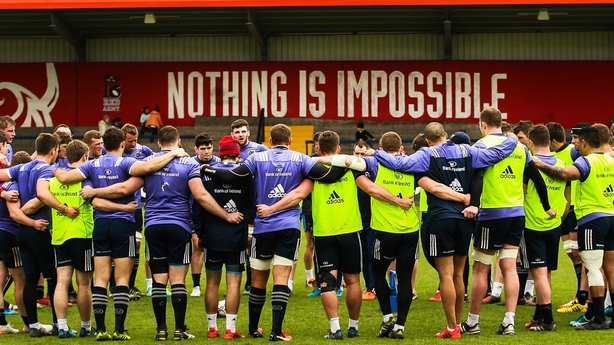 But sometimes logic goes out the window on days like this, especially where Munster are concerned.
They're playing in their 12th European Cup semi-final - a record for the competition – and will need another stomach-flipping, heart-pounding performance to keep the dream alive. They'll strive for it on Irish soil with droves of their loyal following filling the Dublin sky with noise. It should be electric.
Until you hear that bell, that final bell. Stand up and fight like hell!
You know they will.
Where to watch it
Munster v Saracens, Saturday, BT Sport 3, 3.15pm
Where to listen
RTE Radio 1, Saturday Sport, 3.15pm
Where to follow it
RTE Sport Online, www.rte.ie/sport, Live blog from 2pm
THE FRENCH INVASION
"We need a bit of voice," said Rhys Ruddock earlier in the week when looking ahead to Leinster's Champions Cup trip to Lyon.
They need their 16th man. A semi-final on French soil against Clermont –admittedly shorn of some key men (Noa Nakaitaci, Wesley Fofana) – is a big, big ask for the province. Every little helps.
Leinster's last four jaunts to France have ended in defeat and they're facing an extremely potent side at Parc Olympique Lyonnais.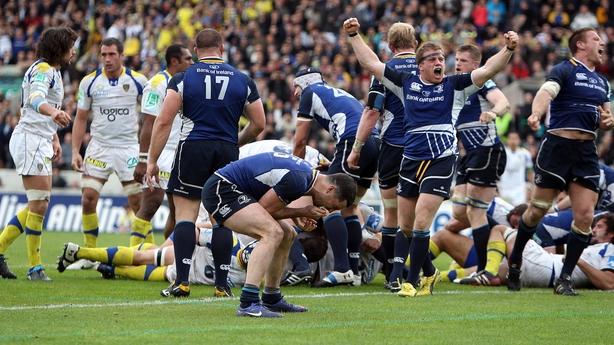 But Leo Cullen's Pro12 table-toppers are hardly toothless themselves. They've scored 121 tries this season, with Stuart Lancaster's influence evident in an attack full of width and invention. As Pat Lam put it after Connacht were turned over at the Sportsground last weekend, "they are playing the edges".
Playing the edges has put them on the cusp of a fourth European Cup final. They could even take to the field knowing victory would set up an all-Ireland Champions Cup final.
And how good would that be?
Where to watch it
Clermont v Leinster, Sunday, Sky Sports 3, 3pm
Where to follow it
RTE Sport Online, www.rte.ie/sport, Live blog from 2pm
SPURS LOOK TO KEEP CHELSEA ROCKING
Chelsea looked so robotically consistent until a couple of weeks ago that some bookmakers prematurely anointed them champions.
Boylesports reportedly lumped up a six-figure sum on Antonio Conte's men lifting the title back in February, but the juggernaut has hit a wobble.
Jose Mourinho loves being a pebble in a rival's shoe and he really did a number of the league leaders last week, masterminding Manchester United's convincing 2-0 win at Old Trafford.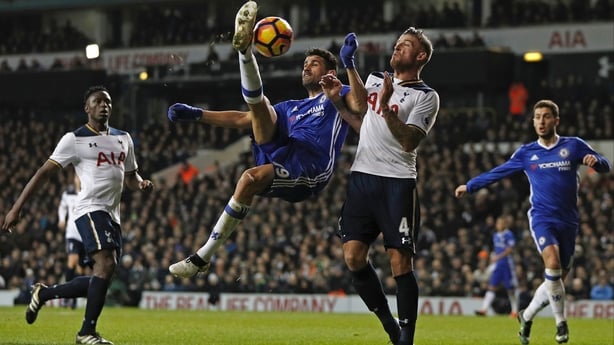 Chelsea get a breather from the bread and butter of the league campaign on Saturday but Tottenham – now just four points behind their London rivals in second – can offer a reminder that there's very little between these sides and continue their own excellent form while planting another seed of doubt in the blue corner.
There's a few hotheads in both camps, so we might get what they like to call an 'old-fashioned cup tie' here – code for some bad tackles and up-and-at-'em direct football.
These are two fine teams though and with an FA cup final spot up for grabs, it should be entertaining fare.
In the other last-four tie, on Sunday, Arsenal and Manchester City will both be looking to put a gloss on what has been a disappointing season by their standards.
Arsenal have won the FA Cup twice in the last three seasons and could do with another trophy in a season where they are struggling to qualify for the Champions League and doubts surround the future of manager Arsene Wenger.
City look better placed to seal a top-four spot but the expected title challenge in Pep Guardiola's first season failed to materialise and the Spaniard would love the consolation of a Wembley final appearance.
Where to watch it
Chelsea v Tottenham, Saturday, BBC 1/eir Sport 1, 5.15pm
Arsenal v Manchester City, Sunday, BT Sport 1, 3pm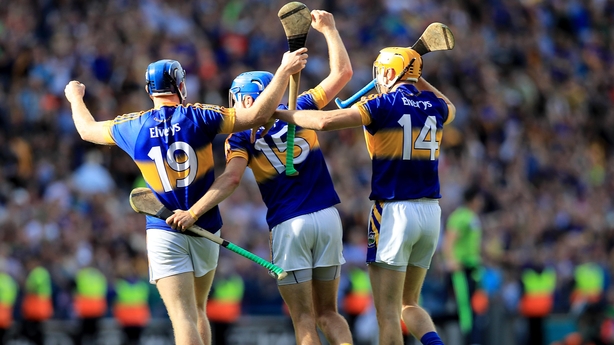 HURLING LEAGUE FINAL
Davy Fitzgerald's first-half cameo stole the narrative somewhat last weekend but when the dust settled Tipperary offered another reminder that they're the best in the land right now.
Michael Ryan's men flexed their muscles to devastating effect as a goal blitz rocketed them away from a game and committed Wexford - they'll take some stopping.
Galway failed to get promotion from 1B but they've been redeemed by a great run to the final.
They swatted Limerick aside last week, and before that Waterford were ambushed by a barnstorming comeback at Pearse Stadium.
The Tribesmen are aching for a piece of silver but Tipp look like they're in a different class at the moment.
"They just aren't happy to take a point or the easy option," Anthony Cunningham commented after their defeat of Wexford. "They find the man in the best space and go for the jugular."
It would be some feat if Galway were to wound the All-Ireland champions.
Where to watch it
Tipperary v Galway, Sunday, TG4, 3.30pm
Highlights on League Sunday, RTE 2, 9.30pm
NUMBER OF THE WEEK
41 – Warren Gatland has named the biggest Lions squad since the ill-fated Clive Woodward-helmed tour to New Zealand back in 2005. Eleven Ireland players made the cut.
QUOTES OF THE WEEK
"You have to do what you think is right for the team. It's probably something I won't try again." – Davy Fitzgerald was contrite (sort of) after his dramatic pitch invasion against Tipp. He subsequently received an eight-week touchline ban for his cameo in the half-forward line.
"You don't get too many shocks these days but it's definitely something that has come out of the blue for me." - Jared Payne had to pinch himself after Warren Gatland named him in his Lions squad for the mission to New Zealand.
"If we score the first goal, the second will be scored by Camp Nou and the third will come by itself." – Barcelona boss Luis Enrique anticipated another miraculous goal burst in the famous old stadium, but Messi and Co ended up in the Old Lady's pocket.
"He likes to go against the grain sometimes just to create debate." - Colm Cooper responds to Joe Brolly's controversial view of his glittering career. That last word by the way was either 'debate', or 'the bait', depending on your interpretation of the Kerry accent.
"As a fellow manager you should never launch personal attacks like that." – Stephen Kenny continues his war of words with Cork City manager John Caulfield.
"[Silence]" – Judd Trump's response to his shock Crucible defeat to Rory McLeod. Nothing. The former World Championship finalist refused media duties after his first-round loss.
SPORT ON TV THIS WEEKEND
FRIDAY
Basketball
Cavaliers v Pacers, NBA play-offs, BT Sport 1, midnight
Golf
Shenzhen International, Sky Sports 4, 5.30am
Texas Open, Sky Sports 4, 8.30pm
Rugby
Hurricanes v Brumbies, Super Rugby, Sky Sports 2, 8.35am Waratahs v Southern Kings, Super Rugby, Sky Sports 2, 10.45am
Lions v Los Jaguares, Super Rugby, Sky Sports 4, 6pm
Tennis
Monte Carlo Masters, Sky Sports 1, 10am
Snooker
World Championship, BBC 2, 10am-noon & 1pm-6pm/Eurosport 1, 10am-0.20am
Cycling
Tour of Croatia, Stage4, Eurosport 2, 2.45pm-4.15pm
Cricket
West Indies v Pakistan, First Test Day 1, Sky Sports 5, 2.55pm
Motorsport
Grand Prix of the Americas practice, BT Sport 2, 3pm
Soccer
Norwich City v Brighton, Championship, Sky Sports 1, 7.45pm Nancy v Marseille, Ligue 1,eir Sport 1/BT Sport 3, 7.45pm
Cologne v Hoffenheim, Bundesliga, BT Sport 1, 7.30pm Widnes Vikings v St Helens, Super League, Sky Sports 2, 8pm
Sevilla v Granada, La Liga, Sky Sports 3, 8pm
SATURDAY
Soccer
Hibernian v Aberdeen, Scottish Cup semi-final, Sky Sports 1, 12.15pm Malaga v Valencia, La Liga, Sky Sports 1 Red Button, noon
Chelsea v Tottenham, FA Cup semi-final, BBC 1/eir Sport 1, 5.15pm Borussia Mochengladbach v Borussia Dortmund, Bundesliga, BT Sport 1, 5.30pm
Osasuna v Sporting Gijon, La Liga, Sky Sports 1, 5.30pm
Philadelphia Union v Montreal Impact, MLS, Sky Sports 3, 6pm Portland Timbers v Vancouver Whitecaps, MLS, Sky Sports 3, 9pm
Espanyol v Atletico Madrid, La Liga, Sky Sports 5 from 7.45pm
Golf
Shenzhen International, Sky Sports 4, 5.30am
Mediterranean Open, Sky Sports 4, 10am
Texas Open, Sky Sports 4, 7.30pm
Rugby
Highlanders v Sunwolves, Super Rugby, Sky Sports 2, 6.15am Crusaders v Stormers, Super Rugby, Sky Sports 2, 8.35am
Western Force v Chiefs, Super Rugby, Sky Sports 5, 10.45am
Munster v Saracens, Champions Cup semi-final, BT Sport 3, 3.15pm
Warrington Wolves v Wakefield Trinity, Super League, Sky Sports 2, 3pm
Sharks v Melbourne Rebels, Super Rugby, Sky Sports 3, 6.30pm Stade Rochelais v Gloucester, Challenge Cup, BT Sport 3, 8pm
Champions Cup highlights, TG4, 9.50pm
Tennis
Monte Carlo Masters, Sky Sports 3, 10am
Snooker
World Championship, BBC 2, 10am-noon & 7pm-8pm/BBC 1, 1.45pm-4.30pm/Eurosport 1, 10am-0.45am
Gymnastics
European Championships, BBC 2, 1.30pm
Cycling
Tour of Croatia, Stage 5, Eurosport 2, 2.30pm
Cricket
West Indies v Pakistan, First Test Day 2, Sky Sports Mix from 2.55pm
Boxing
Martin Murray v Gabriel Rosado, Sky Sports 1 from 7.30pm
Motorsport
Grand Prix of the Americas qualifying, BT Sport 2 from 6pm
SUNDAY
GAA
Cork v Kilkenny, Camogie League Division 1 final,TG4, 1.30pm Tipperary v Galway, Allianz Hurling League Division 1 final, TG4, 3.30pm
League Sunday, RTE 2, 9.30pm
Soccer
Sassuolo v Napoli, eir Sport 1/BT Sport 3, 11.30am
Celtic v Rangers, Scottish Cup semi-final, Sky Sports 2, noon
Vitesse Arnhem v Feyenoord, Eredivisie, Sky Sports 4, 1.30pm
Burnley v Manchester United, Premier League, Sky Sports 1, 2.15pm Liverpool v Crystal Palace, Premier League, Sky Sports 1, 4.30pm
Chievo v Torino, Serie A, eir Sport 1, 2pm
AC Milan v Empoli, Serie A, ESPN, 2pm Freiburg v Bayer Leverkusen, Bundesliga, BT Sport 3, 2.30pm
Arsenal v Manchester City, FA Cup semi-final, BT Sport 1, 3pm
Schalke v Rb Leipzig, Bundesliga, BT Sport 3, 4.30pm
Celta Vigo v Real Betis, La Liga, Sky Sports 4 Red Button, 3.15pm Las Palmas v Alaves, La Liga, Sky Sports 4 Red Button, 5.30pm
PSV Eindhoven v Ajax, Eredivisie, Sky Sports Mix, 3.45pm St Etienne v Rennes, Ligue 1, eir Sport 1/ESPN, 4pm
New York City FC v Orlando City SC, MLS, Sky Sports 3, 6.30pm LA Galaxy v Seattle Sounders FC, MLS, Sky Sports 3, 9pm
Real Madrid v Barcelona, La Liga, Sky Sports 1, 7.45pm Juventus v Genoa, Serie A, eir Sport 1/BT Sport 3, 7.45pm
Lyon v Monaco, Ligue 1, BT Sport 1, 8.15pm
Rugby
World Women's Sevens, Sky Sports 3 from 9am
Stade Francais v Bath, Challenge Cup, Sky Sports 3, 12.30pm
Clermont v Leinster, Champions Cup semi-final, Sky Sports 3, 3pm
Champions Cup highlights, TG4, 5.50pm
UFC
Cub Swanson v Artem Lobov, BT Sport 2 from 3am
Boxing
Oscar Valdez v Miguel Marriaga, Box Nation from 3am Carson
Golf
Shenzhen International, Sky Sports 4, 5.30am
Mediterranean Open, Sky Sports 4, 10am
Texas Open, Sky Sports 4, 6pm
Athletics
London Marathon, BBC 1, 8.30am
Snooker
World Championship, BBC 2, 10am-12.15pm & 1pm-6pm & 7pm-8pm/ Eurosport 1, 10am-0.45am
Tennis
Monte Carlo Masters, Sky Sports 4, 1.30pm
Cricket
West Indies v Pakistan, First Test Day 3, Sky Sports 5 from 2.55pm
Cycling
Tour of Croatia, Eurosport 2, 4pm
Motorsport
Grand Prix of Americas, BT Sport 2, 7.45pm