Paralympics Ireland marked the announcement of their 56-strong athlete panel with the launch of a powerful new awareness and fundraising campaign, 'More Than Sport'.
The campaign is a drive by Paralympics Ireland to raise vital and necessary funds for the road to Rio 2016.
The funds will supplement recent Government funding that was allocated towards the cost of the Games and the Performance Programme.
"With this panel, we will be able to ring fence added support around these athletes in order to help them to achieve their full potential on the international stage"
'More Than Sport' itself will be the vessel through which athletes' own stories will be told.
In essence, it will be a behind-the-scenes look into life as an elite Irish athlete, their training, their dedication and above all, what motivates them.
The campaign also asks the public to get behind these athletes by texting PARA to 50300 to donate €4.
More Than Sport kicked off this morning with a powerful video featuring a number of Paralympic athletes, and over the coming months five more videos will be launched ahead of the Paralympic Games in Rio.
CEO of Paralympics Ireland Liam Harbison stated: "More Than Sport is a new awareness and fundraising initiative we've launched this year as we prepare for the Rio 2016 Games, where we hope to see Ireland's athletes do us proud on the international stage, with the tricolour soaring high and medals and Lifetime Bests to celebrate.
"But behind those medals, there's more, behind those world records, there's more and it's that something more that is the true essence of this campaign.
"Paralympic athletes are more than elite athletes. They are elite athletes who have achieved and succeeded against all the odds. They are athletes who have faced adversity, and won. They are athletes who have often been told they can't, to then go on and prove that in fact, they can.
"Over the coming weeks and months we will be bringing you more, as we take you behind the scenes to meet these athletes, hear their stories and come behind them to support them all the way to Rio.
"It's an extremely exciting and inspirational campaign and we hope that the public will also get behind the text fundraising element of the campaign too in the coming months."
The new awareness drive features some members of the 2016 Panel which was also unveiled today and comprises of 56 elite Irish athletes across 10 sports.
"Irish athletes will go to Rio this September and compete against approximately 4,350 athletes from 176 countries for glory over the course of 11 days," said Paralympics Ireland Performance Director Dave Malone.
"With this panel, we will be able to ring fence added support around these athletes in order to help them to achieve their full potential on the international stage."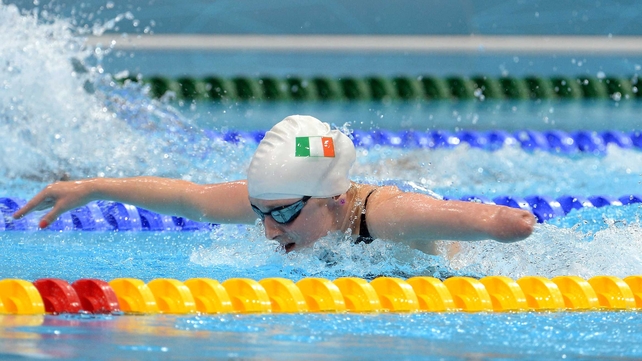 2016 Paralympics Ireland Athlete Panel
Athletics: Jason Smyth (Derry), Michael McKillop (Antrim), Orla Barry (Cork), Niamh McCarthy (Cork), Deirdre Mongan (Galway), Noelle Lenihan (Cork), John McCarthy (Cork), Lorraine Regan (Offaly), Paul Keogan (Meath), Patrick Monahan (Kildare), Heather Jameson (Dublin).
Canoeing: Patrick O'Leary (Galway)
Cycling: Colin Lynch (Manchester, UK), Eoghan Clifford (Galway), Katie-George Dunlevy (Crawley, UK) and Eve McCrystal (Louth), Peter Ryan (Tipperary), Sean Hahessey (Tipperary), James Brown (Stonehouse, UK), Fiona McCormack (Meath), Ciara Staunton (Wicklow), Declan Slevin (Westmeath), Jerry Towey (Roscommon), Martin Gordon (Dublin), Damien Veraker (Waterford)
Equestrian: Helen Kearney (Wicklow), Rosemary Gaffney (Tipperary)
Football 7-A-Side: Brian Mc Gillivary (Dublin), Simon L'Estrange (Westmeath), Joe Markey (Monaghan), Luke Evans (Dublin), Gary Messett (Wicklow),Daragh Snell (Wicklow), Eric O'Flaherty (Galway), Podge Leacy (Wexford), Peter Cotter (Cork), Aaron Tier (Limerick), Tom Badun (Louth), Dillon Sheridan (Ballyfermot), Ryan Nolan (Wicklow), Conor Tuite (Louth), Carl McKee (Dublin)
Sailing: John Twomey (Cork), Ian Costelloe (Kerry), Austin O'Carroll (Cork)
Shooting: Sean Baldwin (Kildare), Phillip Eaglesham (Tyrone)
Swimming: Ellen Keane (Dublin), James Scully (Meath), Jonathan McGrath (Clare), Ailbhe Kelly (Dublin), Nicole Turner (Laois)
Table Tennis: Rena McCarron Rooney (Donegal/Galway)
Triathlon: Aidan McGlynn (Belfast), Fran Meehan (Offaly) and Catherine Walsh (Swords)
The panel is subject to change over the coming months.