Conor McGregor defeated Diego Brandao by a first round TKO in their UFC featherweight bout at the O2 Arena in Dublin on Saturday.
The fight started at a blistering pace, with both men trading kicks and punches, McGregor, returning from a lengthy injury lay-off, edging the early exchanges.
McGregor eventually forced a take-down, but was under threat from Brandao's dangerous up-kicks.
Brandao fought bravely from the mat to escape that particular predicament, but seconds later it was all over as jabs and a left cross from McGregor put Brandao on the mat and the referee stopped the fight with the Brazilian at McGregor's mercy.
The Dubliner said afterwards: "I felt calm throughout. I said I was going to put him away in the first round and I put him away, first round.
"There's not a man alive who can come onto this soil and beat me."
There were also wins for Cathal Pendred, Neil Seery and Patrick Holohan in the preliminary bouts.
Pendred defeated American Mike King in their middleweight showdown, courtesy of a second-round submission finish.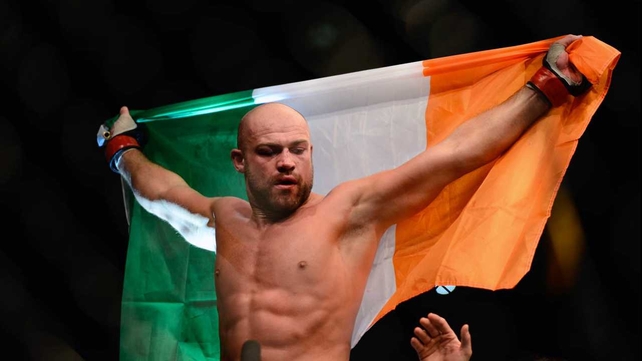 Dublin flyweight Seery, in his second bout in the octagon, defeated Phil Harris by a unanimous decision, avenging his 2010 loss to the Englishman.
Tallaght's Houlohan, in his first UFC fight, earned a first-round submission of Josh Sampo in the flyweight opener.
And Gunnar Nelson defeated Zak Cummins to keep his undefeated record intact.