Vic Wild claimed Winter Olympic gold for hosts Russia in the men's snowboard parallel giant slalom final, minutes after seeing his wife Alena Zavarzina win bronze in the women's event.
US-born Wild, who became a Russian citizen two years ago, beat Nevin Galmarini in the big final at Rosa Khutor Extreme Park, overcoming a first-run deficit to see off the challenge of the Swiss.
"I want to thank Russia for giving me the opportunity to win a gold medal," said Wild.
"It is incredible, man. Right now, it is hard to put into words. I am euphoric. It's an incredible day."
The 27-year-old had first got past Patrick Bussler in the last four, with the German then missing out on a bronze medal in the small final to Slovenia's Zan Kosir.
Shortly before the men's event, Switzerland's Patrizia Kummer walked off with gold in the women's race after Tomoka Takeuchi of Japan fell in the second run of their showdown.
Reigning World Cup champion Kummer, 26, beat home hope Zavarzina in the semis to set up a final against Takeuchi, who benefited from a slip by Ina Meschik in their last-four tie.
"I still can't believe it, it's crazy," said Kummer after winning Switzerland's 50th gold medal in the Winter Olympics. "I still have the feeling that I have to go up and do another run."
Zavarzina took bronze in the small final before watching her husband's success.
"It's the first time we are the winners together," she said.
"He has had the most incredible journey. He deserves it more than anyone. It's the craziest day of my life."
Czech skater Martina Sablikova downed the Dutch by successfully defending the women's 5,000 metres speed skating title.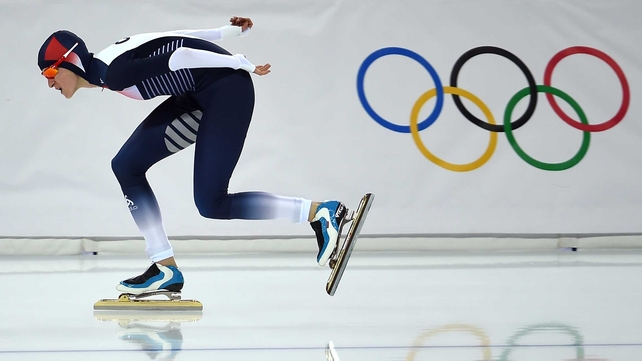 Sablikova clocked six minutes 51.54 seconds for her 12-and-a-half laps to edge Ireen Wust of Netherlands into the silver medal position by 2.74 seconds.

Carien Kleibeuker won bronze to take to 21 the number of medals won by Dutch speed skaters here, out of 30.

The 41-year-old German Claudia Pechstein finished fifth and failed to add to her record number of Olympic skating medals.

Sablikova, dubbed the "queen of skating" four years ago after winning the 3,000m and 5,000m titles in Vancouver, raced in the penultimate heat alongside Wust, who had won the shorter distance gold ahead of the Czech.

The 26-year-old Sablikova trailed Wust early on and had to adjust her glasses mid-skate, but she maintained her composure and eventually reined in the Dutchwoman with three laps left.
Norway, anchored by the indomitable Marit Bjoergen, won the women's team sprint classic gold medal.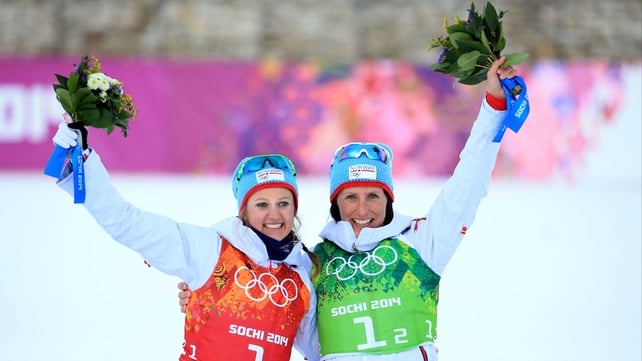 Bjoergen paired up with Ingvild Flugstad Oestberg to bring Norway home in 16 minutes 04.05 seconds to win the country's fourth cross-country skiing title at these Games.

Aino-Kaisa Saarinen and Kerttu Niskanen took silver for Finland, 9.09 seconds behind.

Stina Nilsson beat Germany's Denise Herrmann in a pulsating dash to the line to claim bronze for Sweden with Ida Ingemarsdotter 19.77 seconds off the pace.
American Ted Ligety won the Olympic men's Alpine skiing giant slalom gold medal, beating two Frenchmen to the top of the podium.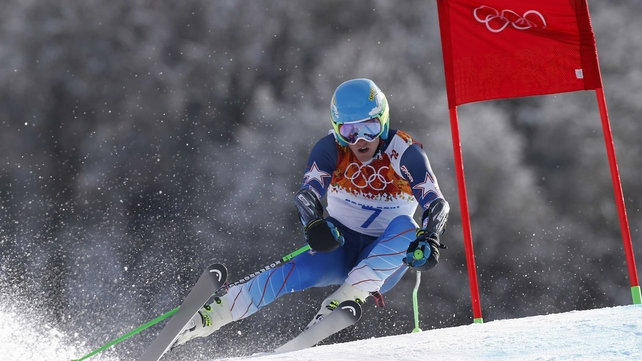 Ligety, the clear leader from the first run, made a few mistakes in the second leg but stayed 0.48 seconds ahead of Steve Missillier, who took the silver.

Alexis Pinturault trailed Ligety by 0.64 seconds in the bronze medal position.

World champion Ligety's gold was the first for the United States in the Alpine skiing events at the Sochi Games.
Norway cruised to victory in the inaugural Olympic biathlon mixed relay in a race in which they were never threatened.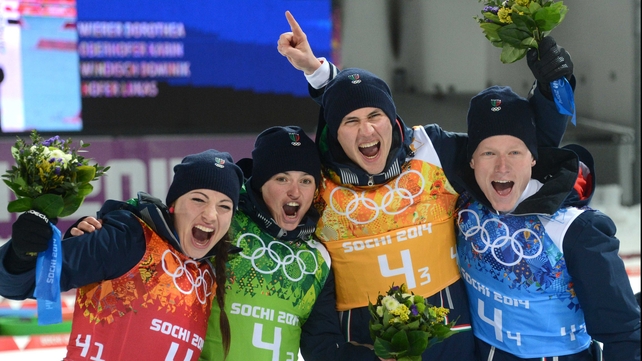 The gold was a record 13th Winter Olympic medal for Ole Einar Bjoerndalen, who partnered Emil Hegle Svendsen, Tiril Eckhoff and Tora Berger to victory.

Czech Republic won silver while Italy claimed the bronze.

France, who were among the favourites, dropped out of contention after Anais Bescond missed five of 10 targets in the second leg and finished a distant seventh.

In the mixed relay, two women race a 6km sprint and two men race a 7.5km sprint. They can reload up to three times per shooting session.
Canada's Kaillie Humphries and Heather Moyse won a second successive Olympic women's bobsleigh gold after pipping the USA-1 sled of Elana Meyers by a tenth of a second.


Meyers and her brakeman Lauryn Williams - who had been seeking to become the first woman to win gold in the Summer and Winter Olympics - held a lead of 0.11 over the Canadians after three runs.

But after Humphries had ratcheted up the pressure with a quick final slide, Meyers could not find the smooth lines she wanted and a succession of bumps slowed her to finish 0.10 down.

Americans Jamie Greubel and Aja Evans won bronze.