Pittsburgh Steelers star quarterback Ben Roethlisberger has told RTÉ Sport he will be fit for the start of the new NFL season, despite recent knee surgery.
The Ohio native was the youngest ever starting quarterback to win a Super Bowl when he led the Steelers to victory over the Seattle Seahawks at the age of 23 in 2006.
Roethlisberger underwent surgery on a minor knee complaint in June, but insists he will be fit and ready for the Steelers opening game of the NFL season against the Tennessee Titans on 8 September.
On a visit to Ireland for 4 July, the NFL legend was positive about his recovery and adamant he would be back in time for pre-season training.
"I had surgery five weeks ago and I feel like I have a brand new knee. I feel younger than ever.
"The body feels better than it has in a long, long time. My knee was bothering me for the last number of years but, now that I got it fixed, I would say I am healthier than I have been in a few years.
"We are back in training camp at the end of July and that's when things really click into high gear."
"I would not call myself a runner. I would say I am a mobile quarterback. It's a little different" - Ben Roethlisberger
Roethlisberger, a two-time Super Bowl winner, was in Ireland to play golf at the K Club and as part of a European tour to promote the Steelers' game against the Minnesota Vikings at Wembley Stadium, London, on 29 September.
He was quick to pay tribute to Pittsburgh fans and explained how important they were to the team as they prepare to battle for another Super Bowl title.
"It's hard to explain what (winning a Super Bowl) is like, but it's one of the greatest feelings that you can experience. As kids growing up in America, if you are a football fan or want to be a football player at some point, you dream of that day, of getting to a Super Bowl and getting a chance to play in it and win it.
"When you get to the Super Bowl as a young adult it really is a dream come true.
"We know how important the fans are to us, and it is such an honour to be a Pittsburgh Steeler. In every game we play for the fans, and we want to win for the fans. We love to bring home those Lombardi Trophies for them, because we can see the pride in our fans' faces. You can see them puffing their chests out when we get a win so it's neat to do it for them."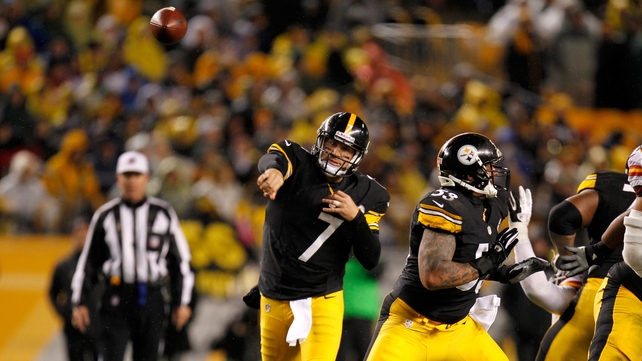 Roethlisberger is known for his slightly unorthodox playing style, and frequently moves from the safety of "the pocket" in an effort to gain his team an advantage.
"I would not call myself a runner. I would say I am a mobile quarterback. It's a little different.
"I would say sometimes, for me, it's just about extending the play. I can't give up on the play. My competitive nature is just not being able to give up, and so I want to do everything I can to help our team win."
One of the major talking points of the past season in the NFL has been the influence of quarterbacks such as Colin Kaepernick of the San Francisco 49ers, Andrew Luck of the Indianapolis Colts and Robert Griffin III of the Washington Redskins had in their breakthrough season. Roethlisberger wants to see if they, and others like them, can maintain the level of performance into the coming season.
"It's great to hear that there is an American Football league here in Ireland"
"It's a popular question for us older quarterbacks and, to me, I would say congratulations on a great first year. I want to see if they can sustain that consistent level of play because it's not easy in this league. Defences are good and have good coordinators who can figure players out.
"If they can continue to do that then that's great for them."
Roethlisberger is not looking beyond his own side for challenges this season, and insists that the Steelers must fiocus on themselves to have any chance of success.
"If you ask me than the only team you need to look out for are the Pittsburgh Steelers! That's the only team we need to worry about because we have to focus on ourselves. We can't focus on what other teams are doing.
"We have to make ourselves the best team possible so that we can contend for another championship."
Big Ben is also delighted with the increased popularity of American Football around the world, and would be keen to help promote the game outside the US.
"We obviously know how big football is in America. Coming over here and being in London the last couple of days and seeing that it really is growing into a worldwide sport is neat for us.
"It's great to hear that there is an American Football league here in Ireland because I love the sport.
"The more I can be an ambassador for the NFL, for football and for the Pittsburgh Steelers is great."
Listen to Game On tonight at 7pm for Diarmuid Byrne's extended interview with Ben Roethlisberger