The New England Patriots will face the Baltimore Ravens in the AFC Championship game next Sunday after Bill Belichick's side beat the Houston Texans 41-28 at Gillette Stadium.
Tom Brady registered his 17th play-off victory - the most by a quarterback - throwing three touchdowns and 344 yards.
Running back Shane Vereen scored three touchdowns two of which came from receptions as the Patriots eased to victory.
Texans quarterback Matt Schaub threw two touchdowns and 343 yards, while running back Arian Foster ran for 93 yards, but it was not enough as Brady proved too good for their defence.
Matt Bryant kicked a 49-yard field goal with eight seconds remaining as the Atlanta Falcons bounced back from blowing a 20-point fourth-quarter lead to reach the NFC Championship game 30-28 over the Seattle Seahawks.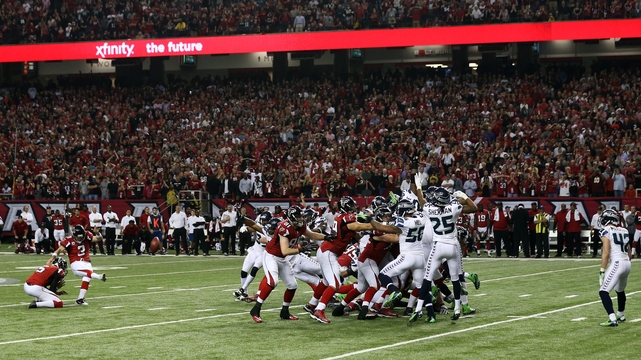 The Falcons looked set to concede the biggest fourth-quarter comeback in NFL play-off history when, after leading 27-7, they fell behind to Marshawn Lynch's two-yard run with 31secs left.
But Matt Ryan completed two long passes after the kick-off to set up Bryant's winning kick and send the Falcons to the NFC Championship game for only the third time in franchise history.
Bryant's winning moment was not without controversy, however, after he missed an initial kick only for the officials to rule a time-out had been called.
Russell Wilson passed for two touchdowns and ran for another, but it wasn't enough for the Seahawks.
The Falcons will host the San Francisco 49ers, who beat the Green Bay Packers 45-31 last night, next Sunday.