A field goal in second overtime by Justin Tucker has sent the Baltimore Ravens into the AFC Conference final after they beat the Denver Broncos 38-35.
The kicker converted from 47 yards after Broncos quarterback Peyton Manning was intercepted by Corey Graham to give the Ravens the ball on the Denver 45.
Three Ray Rice runs up the middle set up Tucker whose effort sailed through the uprights with room to spare.
The Ravens forced overtime on a 70-yard touchdown pass from Joe Flacco to Jacoby Jones with 31 seconds left in regulation, after Jones slipped behind a pair of Broncos defenders along the sideline.
Baltimore will travel to the winner of New England and Houston for the AFC title game next Sunday.
Colin Kaepernick ran for a quarterback play-off record 181 yards and to leading the San Francisco 49ers back to the NFC championship game after a comfortable 45-31 victory against the Green Bay Packers.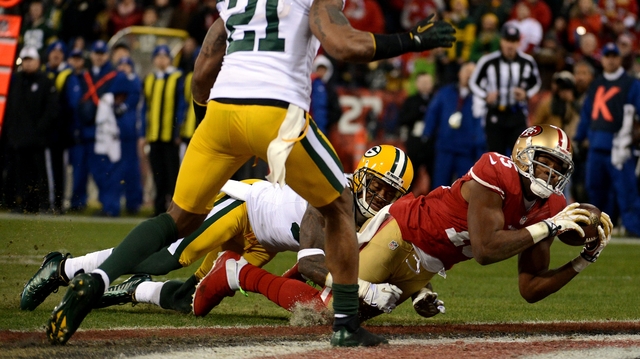 Kaepernick, taking part in his first play-off game, outshone reigning NFL MVP Aaron Rodgers, adding two touchdown passes to wide receiver Michael Crabtree (above) to the good work he put in with his feet.
Crabtree ended with nine receptions and 119 yards as the 49ers compiled 579 yards, with 323 of those coming on the ground.
Jim Harbaugh's side will face the winner of the Seattle Seahawks and Atlanta Falcons.