Stern-faced shooter Sergei Martynov finally had something to smile about this afternoon after winning gold in the men's 50-metre rifle prone.
The 44-year-old marksman from Belarus had just two bronze medals to show for his previous five appearances at the Olympic Games.
But Martynov, dubbed 'the man who does not smile', outclassed the rest of the field at the Royal Artillery Barracks in Woolwich to finally get his hands on gold.
He scored perfect 600 in qualifying and increased his lead in the final, not missing a single bullseye and nailing one perfect 10.9, to set a new world record of 705.5.
Martynov was a massive 4.3 points ahead of Belgium's Lionel Cox, who took silver with Rajmond Debevec of Slovenia winning bronze.
Contrary to his nickname, Martynov was grinning from ear to ear when he stepped on to the top of the podium to collect his medal
Many of the shooters struggled with the windy conditions in qualifying, before the final which takes place indoors.
"In qualifying the weather was quite passable until my last 10 or 15 shots, then it might have created some issues" - Sergei Martynov
"At other championships I might have been a bit bolder - sometimes you shoot, you miss - but because of the significance of this event I had to tolerate the weather.
"In the final was encouraged by the differential between myself and fourth place. When it was about five points it gave me some security to make my final shots."
Cox, an amateur shooter, added: "I think what I have achieved is extraordinary for Belgium.
"An Olympic silver medal is not exactly planned so it is an extraordinary achievement."
Cuba wins gold in 25m pistol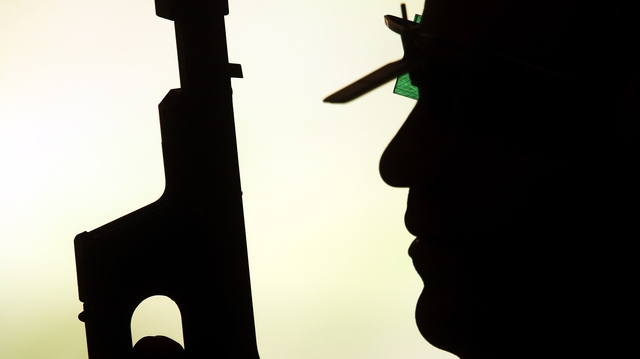 Meanwhile, Cuba's Leuris Pupo proved he had the steadiest arm in the Olympic men's 25 metre rapid fire pistol final, grabbing gold with a record-equalling total.
The 35-year-old hit 34 of the 40 targets to finish ahead of Vijay Kumar of India in second with 30.
Feng Ding of China was third on 27 before being eliminated after 35 shots.
The Cuban, ranked 21 in the world, showed little emotion as he shook hands and calmly embraced his five rivals after securing victory by matching the finals world record.
He had showed great consistency in hitting all five targets three times in the eight-round, time-constrained final in which shooters were eliminated as the competition went on.
Having started poorly by hitting three in the opening round, Pupo regained his composure and, after his run of fives, finished with four scores of four to claim victory.
The many Indian supporters at the Royal Artillery Barracks were rewarded for their support when 26-year-old Kumar claimed a surprise silver.
The army serviceman threw both hands in the air and pumped his fists as he was welcomed on to the podium to collect India's second shooting medal of the Games.
There was big disappointment for Russian Alexei Klimov who had scored 592 to improve his qualifying world record mark by one but was eliminated in fourth place after hitting 23 of 30 targets.
China's world number three Zhang Jian was another to make an early exit, finishing fifth after hitting 17 of 25 targets.
A delighted Pupo, 35, said afterwards: "I would like to say what an honour this is.
"This is has been a thorn in my side since 2000, it's my fourth Olympic Games and the feeling I feel is overwhelmed."
Kumar added: "I won this for India," he said.
"You can see during the last two Olympics that shooting is really on the up in India. Credit goes to all the shooters who are working hard."