Ireland's Brendan 'Bubba' Newby finished 20th of 23 competitors in qualifying for the men's freestyle skiing halfpipe in snowy conditions at at the Winter Olympics.
Newby posted 10.75 for his first run after a fall, but that score was discarded when he recorded 47.00 with his second effort.
Reflecting on his qualifying session, Newby said: "In the first run I did a left cork 900 and I went really big on it, and I was hyped on that one.
"I then came into a red cork 540 and then the next trick was a left flare. And those top three were going really, really good.
"Then I was just going real fast, I had a lot of heat coming into the trick that I fell on, the cork 720, and I just got a little too psyched, a little too amped and I popped.
"I landed really low on the wall, you land backwards, so I landed really low on the wall going backwards, so I got crunch-rapped going into the transition. That one definitely got me rattled coming into the second run.
"I wish I could have put down that first run clean because I was going much bigger than I normally do, but hey, it's a competition and stuff happens that you would rather didn't happen, but I did my best today and that's what really matters.
"Coming into the second run, the plans didn't change, I was going to do the same run either way. But I just had to get over the nerves of crashing in the first run. It is way better to crash second run than the first one."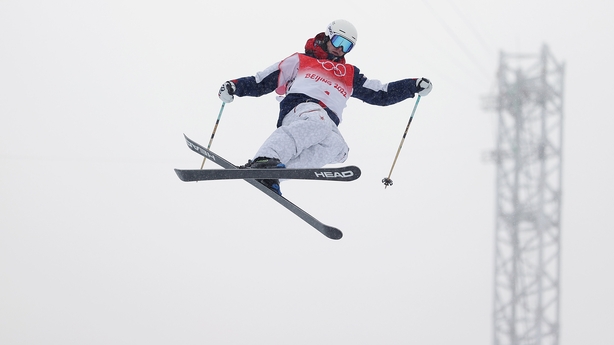 American Aaron Blunck led the qualifiers, followed by New Zealand's Nico Porteous, who won bronze at Pyeongchang four years ago.
Blunck roared back from his uneven first run to score 92.00 and bolted to first place, while Porteous nabbed the second-highest score of 90.50 after soaring high above the halfpipe to make four and a half rotations in the air.
Veteran David Wise, who won gold in the halfpipe at both the Pyeongchang and Sochi Games, scored 89 in a confident return to the Olympics. The top 12 advanced to the final.

Skiers soared over a giant halfpipe at the Genting Snow Park in Zhangjiakou, where snow began to fall on the skiers as they got ready to drop into the halfpipe, with a number of skiers crashing and wiping out, including Newby in his first run.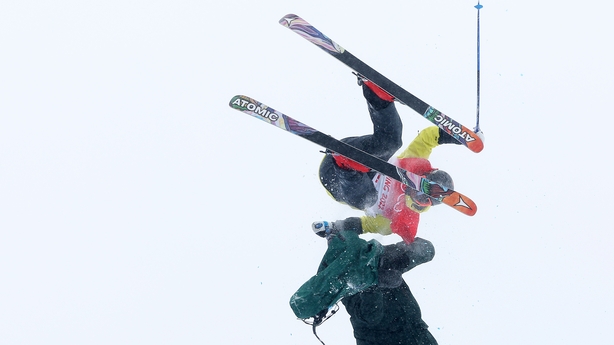 Finnish freestyle skier Jon Sallinen was half way through his opening run when he lost control on the left lip of the pipe, soaring over the edge and clipping the cameraman, sending him crashing to the snow.

Blaming the weather, Sallinen said he had hurt his collarbone from the fall.

"I was lucky not to land on my head, maybe I got a cushion from that cameraman," he said.
Thomas Maloney Westgaard, who finished 14th in cross-country skiing's 15km classic and 43rd in the 30km skiathlon will be Team Ireland's final representative at the Games on Saturday.
The 26-year-old lines up in the gruelling 50km race.