Therese Johaug, the Norwegian cross-country skier who served an 18-month doping ban, has won the first gold medal of the Beijing Winter Olympics.
Johaug skied away to win the women's skiathlon at Zhangjiakou cross-country centre, finishing half a minute ahead of Russia's Natalia Nepryaeva with Teresa Stadlober of Austria in third.
It is Johaug's fourth Olympic medal, having won a relay gold in Vancouver in 2010 and individual silver and bronze medals in Sochi in 2014.
However, she missed the 2018 Games in Pyeongchang after testing positive for the banned anabolic steroid clostebol, for which she had an initial 13-month suspension extended following an appeal to the Court of Arbitration for Sport.
Johaug argued that she had unintentionally taken the steroid having used a lotion that had been approved by the team to treat sunburned lips during an off-season camp in Italy.
The 33-year-old Johaug, who is also a 14-time world champion, is expected to add to her medal haul at further events in the women's cross-country programme.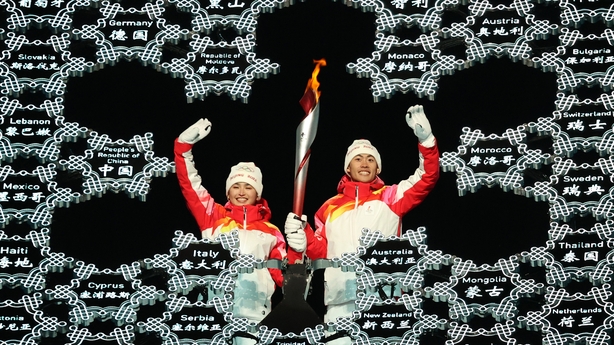 Meanwhile, the International Olympic Committee has described the decision to use an Uyghur athlete to light the cauldron at Friday night's opening ceremony of the Winter Olympics as "a lovely concept".
Cross-country skier Dinigeer Yilamujiang joined Nordic combined athlete Zhao Jiawen to light the small flame that sat inside a large snowflake at the National Stadium.
The 20-year-old is one of five athletes from Xinjiang who is competing the Games. China denies allegations of genocide and the establishing of forced labour camps in the region.
IOC spokesperson Mark Adams, speaking about Yilamujiang's role on Friday, said: "I think it is a lovely concept.
"This is an athlete who is competing here, she has every right wherever she comes from, whatever background she comes from to compete and she has every right whatever her background and wherever she comes from to take part in the opening ceremony."
The move was criticised by Uyghur human rights groups, with Zumretay Arkin of the World Uyghur Congress describing the decision as "the most politically motivated move".
Watch daily highlights of the 2022 Winter Olympics on the RTÉ News channel at 3pm, with clips of the action on RTÉ Sport Online, the RTÉ News app and RTÉ Sport's social media channels