It is by a happy accident of birth that Brendan Newby looks ahead to his second Winter Olympics in the green of Ireland next month.
In 1996, 'Bubba' was born here to American parents, his father Van's work as an economics professor having taken the family to University College Cork.
They moved back to Utah when he was two years old and settled in Park City, a resort that hosted the skiing and snowboarding events of the 2002 Salt Lake City Winter Olympics. Five-year-old Bubba was in attendance and immediately hooked.
"The slogan was 'Light the fire within' and I think it lit the fire. I've always wanted to be an Olympian," Newby told 2fm's Game On.
"In a lot of host cities, the venues afterwards don't get used but all of the 2002 venues are still in use for competitions and as training facilities.
"I've been going to the Utah Olympic park since I was 14 years old training in their aerials pool. That's big jumps where you land in a pool so you can practise a lot of flips without getting totally smoked. It still hurts if you don't do it right!
"I've also been working there since I was 18 as a coach."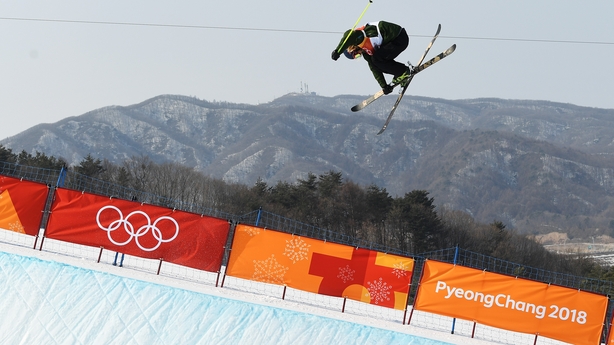 Newby finished 22nd in the half-pipe freestyle skiing event Korea four years ago, missing out on a place in the final after falling on his second and final run.
"The first one, Pyeongchang, was absolutely amazing. I was like a kid in a candy store, stoked about every little thing.
"This time I am equally as stoked about everything but I have more experience to build on and that goes a long way. Knowing what to expect helps so much.
"I've had four years of training so I've been able to work hard and put down some new stuff.
"Everytime you do a new trick in my sport it just scares the pants off you and you've got to just work through that. I've had a lot of time to work through it.
"Overall I just feel more confident this time around."
Newby recently pulled off his first 'double flare', a side flip where the skier's head goes under their body twice.
We need your consent to load this Instagram contentWe use Instagram to manage extra content that can set cookies on your device and collect data about your activity. Please review their details and accept them to load the content.Manage Preferences
"It took years and years of just looking through that one in my head to pull that one off finally and just doing it makes me feel super good.
"My number one goal is to stay healthy. The day has to be good, the vibes have to be high, everything has to be just right to pull that one off so we'll see what happens.
"I have a run in my head that if I can do I would be over the moon about."
Bubba will have three days of practice before competition gets underway on 17 February.
What is he hoping to achieve in China?
"The biggest goal is to stay healthy. Not catch Covid. Make as many new friends out there as I can and try to add to my pin collection. I got a whole bunch in Pyeongchang, they're up on my wall and they look fire.
"If I can even get one place better than last time I would be super-hyped."
We need your consent to load this comcast-player contentWe use comcast-player to manage extra content that can set cookies on your device and collect data about your activity. Please review their details and accept them to load the content.Manage Preferences