Barry McGuigan believes Kellie Harrington has the opportunity to turn professional after reaching the "pinnacle" of amateur boxing and that a future fight against Katie Taylor would be "amazing" if such an eventuality were to come to pass.
Harrington became the third Irish boxer to win an Olympic gold medal with a victory over reigning world champion Beatriz Ferreira on Sunday at Tokyo 2020, joining Taylor and Michael Carruth in that very select group.
Having already won a world championship title at lightweight in 2018, Harrington has now won the highest honours that the amateur game can provide, although the possibility of defending Olympic gold at the 2024 Olympics is also a tantalising prospect.
Speaking to RTÉ's Morning Ireland, former WBA and lineal featherweight champion McGuigan believes the 31-year-old has the attributes to follow in Taylor's footsteps by going professional if she so chooses.
"She could stay around until 2024 and box in Paris which is only three years away. She could box in the world amateur championships between now and then and she's already won that," he said.
"She's right up there. She could stay in the amateurs or she could turn professional and move away to America or box in the UK or box at home.
"There's a number of options available to her so it's entirely up to Kellie. I suppose at the moment she just wants to have a rest and celebrate.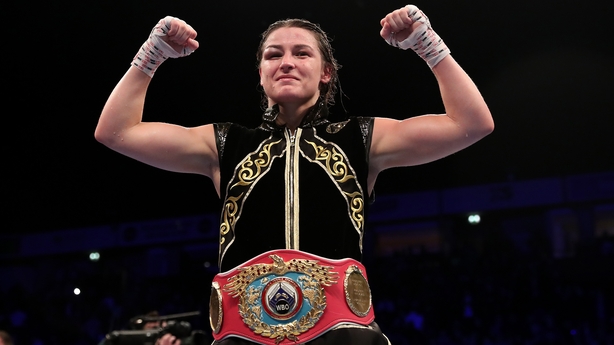 "She has achieved the pinnacle of the amateur game and you can't get much better than the world championships and the Olympic Games and the gold medals. So it'll be old hat going back over that ground.
"So she has the chance to turn professional and she has the ability to be very successful."
Taylor has enjoyed success since turning professional in 2016 and has become a two-weight world champion along with a host of other global accolades.
Given that Taylor also fights at lightweight like Harrington, McGuigan added that the possibility of an all-Irish mega fight between two decorated Olympians would garner considerable interest.
"If she did turn professional, it's a massive fight at home for her because you don't get fighters that are that talented in the same weight division very often, so it's a great opportunity for her to box at home and to box someone as legendary as Katie Taylor. That would be an amazing fight," he said.
"But the decision of course is going to be down to Kellie herself and her family and it's a tough decision to make. It's a tough old road the professional boxing game and I'm sure Katie Taylor would tell you that.
"But those opportunities are available to her and I very much wish her the best of luck."
McGuigan also feels that amateur boxing in Ireland remains in a good place after the medal haul at Tokyo 2020 which also included Aidan Walsh's bronze.
"I think the amateur game is flying," he said.
"Paris is only three years away. The high performance team are getting funding and that's the difference from my day. They're now getting government funding and public funding is going into it."