Former Olympians Kenneth Egan and Andy Lee have called on extra funding to be provided to boxing clubs to help them capitalise on Ireland's medal success at the Olympic Games.
Welterweight Aidan Walsh picked up a bronze medal after injury ruled him out of his semi-final, but the undoubted highlight was Sunday's lightweight gold for Kellie Harrington with the sport making up half of Team Ireland's haul of four medals.
After winning boxing medals at the 2008 and 2012 Games, Rio was a tournament to forget in the ring as the team came home empty-handed.
But Lee says the money needs to be pumped into clubs around the country to keep the momentum going.
"It's a challenge to whoever is in control to fund boxing in Ireland," Lee said.
"Boxing thrives in disadvantaged areas. It needs support because there have been many lives saved through boxing.
"So if you keep investing in boxing you're going to see the returns."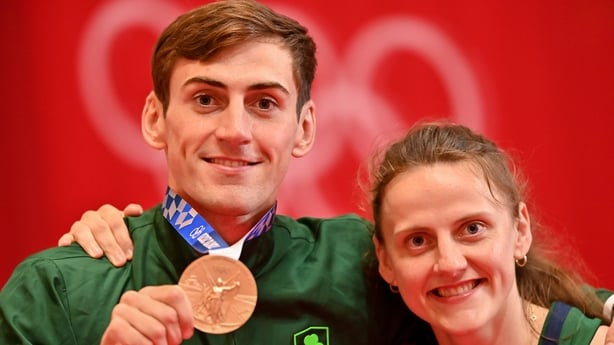 Boxing clubs across the country have been closed throughout the pandemic, with many facing financial challenges and potential loss of premises.
Egan, who won a silver medal in Beijing in 2008, echoed Lee's sentiments.
"This is going to put a lot of pressure on boxing clubs now to facilitate the increase that's going to happen now over the next number of months," the Dubliner suggested.
"Boxing clubs are a safe haven; they open the doors to everybody. They don't discriminate and that's the beautiful thing about boxing - everyone is welcome into a boxing club.
"So you will see a huge increase now over the next few months of boys and girls wanting to be the next Kellie Harrington or Katie Taylor.
"That's what we want. More bodies in the clubs to give us a better chance to select top-class amateurs that go and represent the country in order to get to an Olympic Games, in order to get Olympic medals.
"We need to keep that conveyor belt going."
After the disappointment at the last Olympics in 2016, Egan reflected that the sport had recovered well.
"We all saw the car crash that was Rio," he said.
"On paper that was the best team to ever leave the country with all the super names on the list. We didn't perform. A lot of things went wrong - weight issues, discipline issues, all sorts of stuff.
"So the pressure was on in Tokyo and we only had one qualified - Brendan Irvine - a year out. It was panic stations, everyone was panicking talking about the high performance unit not working.
"But the lads kept it together - Bernard Dunne and co - stuck together and got the job done with seven boxers qualified.
"They pulled through and we got a gold and a bronze medal. Things are working in there. It needs proper investment, not only from the high performance side of it but from the grassroots level [up].
"Boxing clubs all over the country need that push to keep kids involved in the sport.
"But that's a great team that was sent with seven boxers and it's only three years now until Paris. Let's keep a few of that team of seven, drive them onto Paris, and please God we'll have a few more medals on the list.
"Boxing is fantastic in this country - it really is."