Kellie Harrington's gold medal victory on the final day of Tokyo 2020 resulted in Ireland climbing into the top 40 of the Olympic medal table, the highest finish since Atlanta 1996.
Team Ireland depart Tokyo with a medal haul consisting of two golds - won by the rowing duo of Paul O'Donovan and Fintan McCarthy, along with Harrington - and two bronzes - won by boxer Aidan Walsh and the rowing quartet of Aifric Keogh, Eimear Lambe, Fiona Murtagh and Emily Hegarty.
This tally is enough to land Ireland in a tie for 39th place in the medal table, alongside Israel.
It is Ireland's best finish in the medal standings since Atlanta in 1996, when Michelle Smith's exploits in the swimming pool led to a 28th place finish.
Four years previously in Barcelona, the boxing gold and silver medals won respectively by Michael Carruth and Wayne McCullough were enough to land Ireland in 33rd place.
Peter Sherrard, CEO of the Olympic Federation of Ireland, said he was happy with the performance, saying that three of four medals had been the objective at the outset but acknowledged there was a desire to set bigger targets in future Games.
"In terms of medals we are extremely happy with our medals in two different sports. Something we can build on going into Paris," Sherrard told This Week on RTÉ Radio 1.
"We do need to be continuing to aim higher and we do that within the high performance plan for Paris and beyond for LA."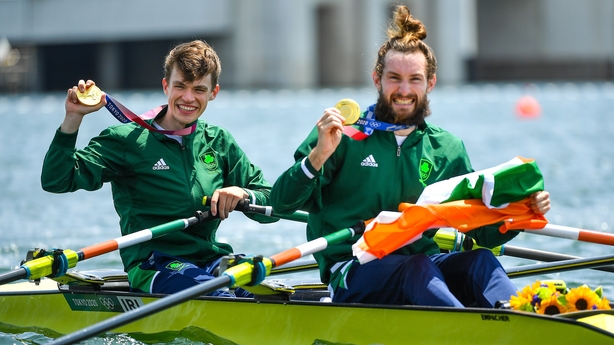 Sherrard insisted that funding increases were required to allow the athletes to perform at this level, noting that the government had made commitments in the area.
He said that New Zealand, who secured 20 Olympic medals, and Demark are countries that Ireland should be seeking to emulate.
"The joined-up thinking and performance support provided on all sides means if we keep that model that is tried and tested going into the Paris cycle of 2024, hopefully we can achieve more. We should be ambitious."
The CEO also observed that said Ireland's medals and top ten performances have come from a much greater range of sports than ever before and the investment is paying off.
"Previously it would have been really traditionally just relying on boxing."
At the summit of the medal table, USA overhauled China in the table late in the day, winning 39 golds compared to their rivals' 38.
The Americans have topped the table at six of the past seven Games, finishing second behind hosts China in Beijing in 2008.
Host nation Japan came in third with 27 gold medals, followed by Great Britain in fourth spot with 22. The team representing the Russian Olympic Committee were fifth with 20 golds, while Australia finished in sixth with 17 in total.