By Aisling Moloney
The pride of the community in Dublin's north inner-city swells as hometown hero Kellie Harrington takes on the Olympic final tomorrow.
Corinthians Boxing Club was where Harrington threw her first punches in her teens.
Coach Stephen Molloy says the phones have been ringing with young girls looking to join the club after seeing Harrington's success.
"It's been spectacular over the last couple of weeks," he says.
"The young kids who have come into the club, it's hard to do now with social distancing, but those who do come in, I'm sure to God they are dreaming 'we can be like Kellie!' We hope she can do well in the Olympics and win the gold medal."
Club member Jasmin Meredith is a European Schoolgirl Champion and says Harrington has been a massive inspiration for her, knowing that she is at the same club where the Tokyo 2020 lightweight finalist started out.
"It gives you that bit of, 'she's making it' and we're here following in her footsteps" Meredith says.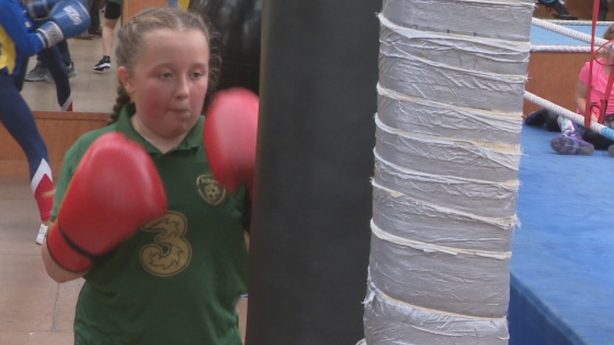 Fellow boxer from Docklands Boxing Club Ava Rose Henry is waiting for competitions to resume to get back out there and win more titles. She is currently the U15 European silver medal holder and she says her next goal is the Olympics.
"It's only in the last two years, that's all I want to do is go to the Olympics, and Kellie has been a big part of that," Henry says.
"Pushing girls, everyone in Dublin, not just me like every girl around, she pushes them forward."
While Harrington's focus on boxing has brought her to the Olympic final, her determination has touched people in every part of her life.
When she began to win titles at the start of her career, she decided to finish her education in Youthreach on Parnell Square by completing their sports programme.
Former sports co-ordinator Noel White says Harrington has always inspired women to take up sport, even since she was in school, she would talk to the other girls in the canteen to try and convince them to take part.
Hopes are high in Dublin's Portland Row ahead of Kellie Harrington's Olympic final tomorrow morning. The 31-year-old boxer will be going for gold when she steps into the ring to take on her Brazillian opponent, Beatriz Ferreira. | Read more: https://t.co/cUKWIbzOf8 pic.twitter.com/nOo8oPgSJN

— RTÉ News (@rtenews) August 7, 2021
He also spoke of the time when Harrington thought she may give up on the sport but stuck with it to get to where she is today.
"This woman has gone on and on and on, and that's Kellie you know, she's unbelievable," he says.
Harrington's current club is St Mary's Boxing Club in Tallaght and there she has honed her skills over the last few years.
The club is not short of talented sparring partners; she trains with George Bates, who just missed out on a place in Tokyo 2020.
Bates' brother and coach, Ciaran, says he feels Kellie has the raw boxing talent to get the gold medal and beat Brazilian Beatriz Ferreira.
He says: "The stuff they do in training, you don't see it, because they only have nine minutes, that's all people see, but day-in day-out the stuff they do. She's brilliant, she's different gravy."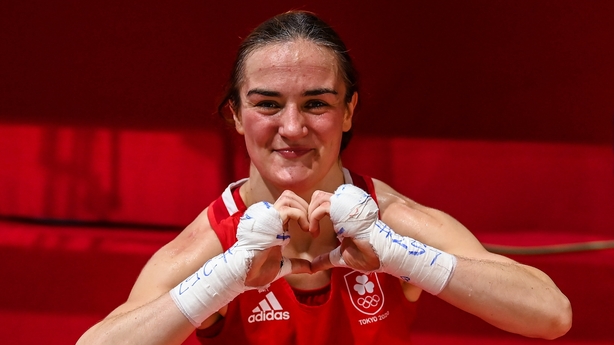 While Harrington took the World Championship title in 2018, Ferreira was the 2019 title holder, but Bates feels the Irish woman can outmanoeuvre her opponent.
"I've watched the Brazilian girl, and it's going to be a tough fight," he adds.
"Kellie's superior boxing skills, that's what she needs to use. She has it, she just needs to use it. She needs to not get involved, keep moving and I think she can do it, I really do."
Lynne O'Shea, boxer turned coach and friend of Harrington, said she still can't believe the 31-year-old is in contention for a gold medal.
"It's what every athlete dreams of, and to know her personally as well it's unbelievable, it's brilliant," says O'Shea.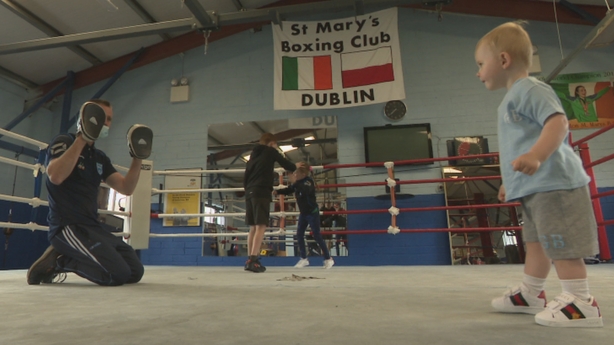 If she could say anything to her friend ahead of the big fight, what would she say?
"As Kellie said herself, Hakuna Matata."