A year later than planned and Tokyo has managed to pull off the 32nd staging of the modern Summer Olympics.
Fans may not have been present in the stands, but there was enough of an atmosphere coming through to give those watching from afar a somewhat satisfying experience.
Team Ireland sent 116 athletes to the Japanese capital, with four medals won across the 119 sporting disciplines. In rowing, Fintan McCarthy and Paul O'Donovan delivered a gold medal, while the quartet of Emily Hegarty, Fiona Murtagh, Eimear Lambe, and Aifric Keogh, won bronze.
In boxing, Aidan Walsh also took home a bronze, with Kellie Harrington guaranteed at least a silver ahead of her quest to go one better in the early hours of Sunday morning.
The target beforehand was to bring home 4-6 medals. Rhys McClenaghan, Sanita Pušpure and Natalya Coyle we thought might be on a podium, but things just didn't go to plan. A freak ankle injury denied Aidan Walsh the chance to upgrade his boxing medal.
Misfortune and the Olympic Games often go hand in hand.
The presence of Mona McSharry in a swimming final and Daniel Wiffen knocking more than just a second or two of his Irish records gives us hope of even more exciting days in the pool.
'The standard is just insane!' - @Andrewcoscoran enjoyed his first #olympics semi-final and had a word for fans back home
'Balbriggan is a class... Everyone should check it out'#Tokyo2020 #RTESport

📺 Watch live - https://t.co/BjyJKrGcju

📱 Updates – https://t.co/DMXbyiGFtE pic.twitter.com/Fyv07eH7wj

— RTÉ Sport (@RTEsport) August 5, 2021
Andrew Coscoran got to a 1500m final on the track. No little achievement in such a competitive theatre as he outlined to RTÉ Sport. "I ran 3:35.8, which is pretty good, but I'm still way off! The standard is just insane. There are some class guys in there. I'm happy to be in the mix with them."
Yes, happy to be in the mix, standards keep rising. Yes, the competition is fierce. In two years and 50 weeks from now, it will no doubt be just as fierce in Paris. Many of those Irish competitors who competed in Tokyo will now be targeting improved performances at the next Games.
For the Olympic Federation of Ireland president, Sarah Keane, the aim now is to develop and nature the talent coming through.
Speaking on RTÉ's Saturday Sport, Keane, first of all highlighted the collective spirit that was evident in Tokyo.
"We wanted to go out as one Team Ireland," she said. "We've worked very closely with the individual federations, with Sport Ireland and the Department of Sport, our Ministers. It's very important that when we go on the global stage we are united in order to put our best foot forward to support the athletes. Unity and team spirt has been an important part of these Games."
With regard to the nurturing process, Keane accentuated the requirement for further investment to ensure that we don't stand still, that more athletes on the track, for example, can aspire to making semi-finals and finals and that all competitors can get the opportunity to maximise their potential.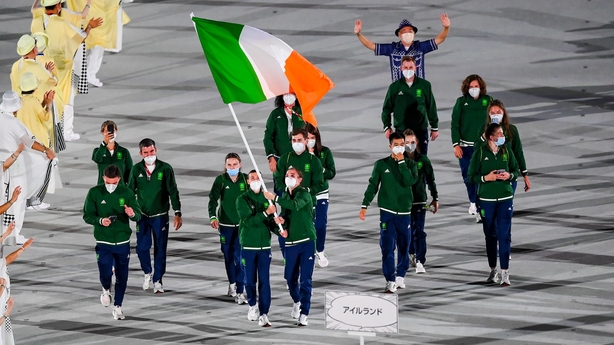 Expanding on this, she added: "From the Olympic Federation perspective our aim is to inspire the nation. Yes, medals are important, but the welfare of athletes, as people, is our primary piece. It's about wanting that opportunity to perform. We need to to be getting better in that regard.
In outlining the investment required that will see future generations of sport stars emerge, Keane spoke about "a direct correlation between high performance results and high performance investment".
The role that other bodies will play in this is crucial.
"Under the National Sports Policy which was launched in 2018 - a nine-year plan - the Government committed to tripling the investment in high performance sport over that period. Our expectation is that we will see that significant uplift in high performance sport continue.
"More money has been put in the system in the last year and that will be very crucial in ensuring that our talented younger people get that opportunity and get what they need in the system. The system in Ireland is still developing, but that doesn't matter when you are against the rest of the world.
"That investment is important for our club coaches and for those working with our younger athletes, while also having high performance centres for our other athletes depending on their sport. The ambition set out by Sport Ireland in their high performance strategy is to increase the number of medals and final appearances."