Natalya Coyle's dreams of an Olympic medal in the modern pentathlon were undone by a disastrous showjumping round when her horse refused to cooperate.
Superb performances in the two fencing rounds and swimming had put Coyle in fourth place heading into this evening's showjumping, with a real prospect of ending on the podium.
However, her horse Constantin performed poorly in the Tokyo Stadium, refusing a number of fences and incurring time faults.
It saw the three-time Olympian drop from fourth to 19th place and she could not recover in the final laser run, finishing 24th overall.
"It's just really upsetting," Coyle told RTÉ Sport after the event. "Especially after the fencing, I thought I was in with a shout.
"I knew it was going to be trouble (with the horse), but I thought I might be able to handle it.
"It's not the way I wanted to finish out my career, but hopefully I can look back in a day or two and be happy with coming third in the fencing."
'It's not the way I wanted to finish out my career' - @Natalyacoyle incredibly disappointed with how the showjumping transpired #Tokyo2020 #RTESport #modernpentathlon #RTESport

📺 Watch - https://t.co/lLKXNhKPkF

📱 Updates - https://t.co/rrhIHZ9LpR pic.twitter.com/iQFxefud1H

— RTÉ Sport (@RTEsport) August 6, 2021
"It's difficult in the modern pentathlon because someone else has to ride it first and she didn't get over the treble, so I knew it was going to be tough, but I thought I came in with a good plan.
"I know one of the fences was definitely my fault, number four, but I thought I did everything right or gave enough encouragement but obviously not.
"It's just hard when you're really close and it's snatched away from you."
The event was won by Britain's Kate French, who came through from fifth place to take the gold medal.
The silver medal was claimed by Laura Asadauskaite of Lithuania, while Sarolta Kovacs of Hungary won the bronze medal.
However, the headlines are set to be dominated by the performances of some of the horses in the showjumping round.
The competitors do not use their own horses and are assigned a partner shortly before the event.
They are given 20 minutes to familiarise themselves with the horse, but must also share it with another competitor.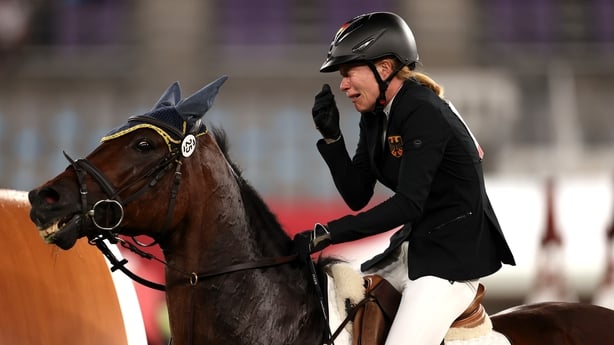 There were warning signs about the ability of Constantin as he had acted up for Alise Fakhrutdinova of Uzbekistan in his first outing.
Leader Annika Schleu's (above) commanding advantage was also destroyed by a belligerent horse, which left her in tears and saw her plummet from 1st to 31st in the standings.
Schleu harboured strong medal chances after setting an Olympic record in the fencing. She was still well out in front after the swim, but was undone by the misnamed Saint Boy.
French put together a series of strong performances to become Britain's second Olympic champion in the event.
The Rio Games were the first Olympics since the women's event was introduced in 2000 that Britain had not won a medal, but French made up for that, keeping her cool in the final run-and-shoot.
French, from Kent, began the last event in fifth, but surged into the lead by the end of the first lap and never looked like letting that go, hitting her targets with her laser gun, missing just two of her 22 shots.
She follows in the footsteps of Stephanie Cook, who was the first female Olympic champion in Sydney, while Kate Allenby, Georgina Harland, Heather Fell and Samantha Murray have all won medals for Britain.
French finished fifth in Rio and was considered a strong medal prospect having won gold at the World Cup final earlier this year.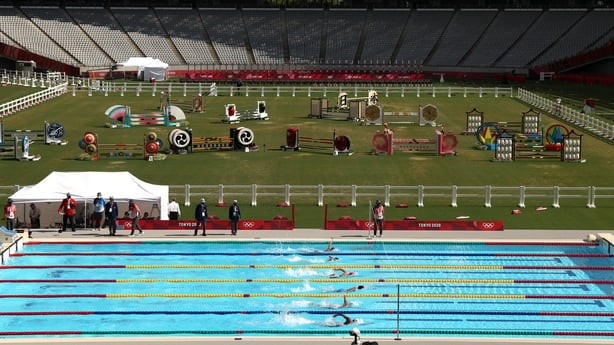 Modelled on the skills of the ideal soldier, pentathlon is the only sport created especially for the modern Olympics, being introduced by Games founder Baron Pierre de Coubertin in Stockholm in 1912.
It has remained relatively unchanged ever since.
In 1964, when the Games were last staged in Tokyo, modern pentathlon was staged over five days, but this time the 200 metre swim, fencing, equestrian show jumping, shooting and running events were crammed into one action-packed afternoon in Tokyo Stadium.
The final event, the run-and-shoot, sees athletes complete four legs of 800m and four rounds at the range, where they must hit five targets each time.
The leader goes off first, with each point adrift converted to one second, and the top five were all within 15 seconds.