Brendan Boyce secured a top-10 finish in the men's 50km walk, while Alex Wright was 29th in a race won by Poland's Dawid Tomala on the streets of Sapporo.
In his third Olympic Games, it marked the Letterkenny man's best ever finish after a strong finish saw him pick up two places in the final 5km to finish 3:32 adrift of the race winner.
Reflecting on the race, Boyce was satisfied with his top-10 placing, as he passed a few walkers late on to secure that position.
"It was a battle in the last few kilometres but I hung in," he told RTÉ Sport.
"I was in the elite group until 35K but the way the race panned out meant I wasn't going to get a medal - still it was great to come away with a top 10.
"I made up two spots in the last two or three laps - I wasn't giving up hope - a few guys ahead of me were struggling as well and I managed to pip a Polish lad to get the top 10."
The 50km walk will not be part of the Olympic programme at Paris 2024, a decision that Boyce says is "tough to take".
Outlining his disappointment, he added: "It's devastating to be honest. If you look back at the careers of 50km walkers it's a long-term goal to win a medal. Rob (Heffernan) won his medal at his fourth Olympics. This is my third Olympics so I was hoping to go on and do one more. To have an opportunity taken way and a career ended by a political decision is tough to take."
Wright also finished well, picking up half a dozen places to finish 29th overall, 16:09 down on Tomala.
The event began with 59 walkers and it was China's Yadong Luo who made an early break shortly after 5km.
It was a particularly bright start from 34-year-old Boyce, who crossed the 5km mark in fourth position, and by 10km was part of a chasing group, 27 seconds down on the Chinese athlete in 16th place.
We need your consent to load this comcast-player contentWe use comcast-player to manage extra content that can set cookies on your device and collect data about your activity. Please review their details and accept them to load the content.Manage Preferences
At the same stage, Wright was positioned in 42nd position, a further 13 seconds adrift.
Luo's lead was whittled down and by the halfway stage, Letterkenny native Boyce among a group of 18 walkers at the front of the race, with Poland's Dawid Tomala driving the pace.
Wright was 2:51 down on the race leader in 48th position.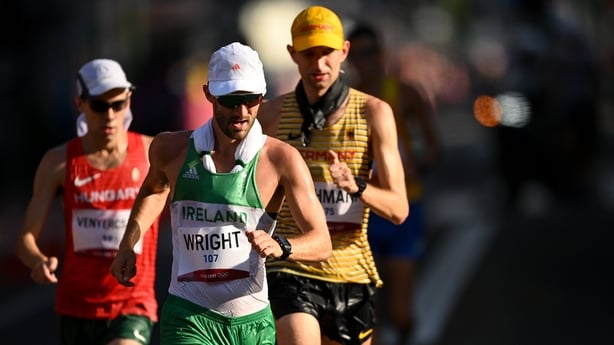 Boyce appeared in danger of being dropped, but the sixth-place finisher at the 2019 World Championships stuck dutifully to the task, though Tomala pushed hard at the front to put daylight between him and the rest of the challengers.
With 10km to go, that advantage was pushed out to 2:50 with the chasing pack beginning to splinter.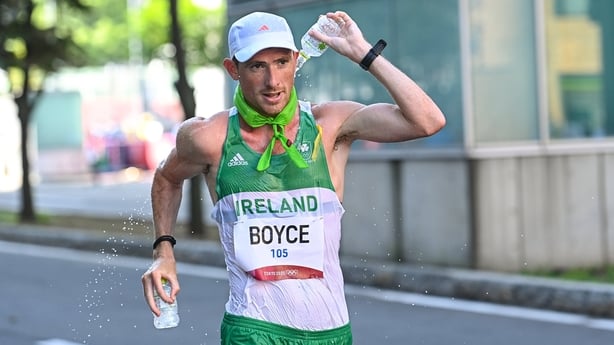 Boyce, while losing time on Tomala, was moving up the pecking order and by the 40km mark he was in 11th. Tomala, despite tiring, had too big a lead to be caught, with Germany's Jonathan Hilbert and Spain's Marc Tur neck-and-neck on the final lap.
The German finished the stronger to take silver, while Tur was overtaken on the home stretch by Canada's Evan Dunfee for bronze.
Wright picked up six places in the final 5km to finish in 29th position.
World record holder and 2017 world champion Yohann Diniz of France dropped out of the race before the 30km mark, citing fatigue and back pain and saying it was one competition too many for the 43-year-old.