Italy's Massimo Stano won the Olympic men's 20km race walk in Sapporo, pulling ahead of the pack in the final stages, with Ireland's David Kenny finishing in 29th place.
The 22-year-old Kerryman, who is coached by former world champion and Olympic bronze medalist Rob Heffernan, came home in a time of 1:26:54.
"Happy enough with the performance. A great experience really," Kenny said after the race.
"I came through strong, probably the most mature I've raced to date. I came though strong and kept fighting towards the end, so I'm happy enough with my performance and hopefully, more to come."
Stano finished in 1:21:05 to claim his country's third gold medal in the event.
Japan's Koki Ikeda secured the silver medal and compatriot Toshikazu Yamanishi claimed bronze, the first Olympic medals for Japan in the 20km race walk.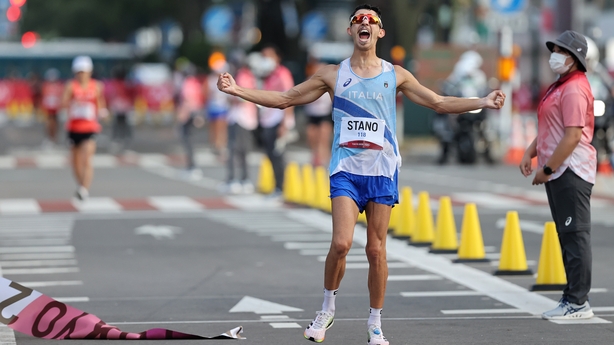 World champion Yamanishi led in the early going until China's Wang Kaihua took over through the 12km mark.
Stano (above) moved to the front at the 16km stage, just ahead of Ikeda and Yamanishi, until he put distance between himself and his Japanese rivals to cross the finish line nine seconds ahead.
The IOC announced in 2019 that it was moving the marathon and race walking events to Sapporo, over 800km north of Tokyo, because of the heat and humidity in the Japanese capital.
Heffernan, who also coached Britain's Callum Wilkinson and South African Wayne Snyman, said there were lots of positives for Kenny to take from his Olympic debut.
Speaking on RTÉ Sport, Heffernan said: "He finished a very credible 29th. He was ranked 56th going in so it's really positive. When you look back, I was 28th in Sydney (2000).
"Another Togher AC athlete from Cork competing for Britain, Callum Wilkinson, finished tenth (1:22:38) and a South African (Wayne Snyman) I coached finished 20th (1:24:33), so that was a really solid return from the three boys.
"I was just on to Dave there and he said it was great and he fought all the way. He said he took down a world champion and another Japanese guy was behind him, so he took some really big scalps in the last 5k as well, so loads of positives coming out of that.
"I spoke to him before and said 'don't mind the show the Olympic Games', this is a race and you're ready to compete. Just go out with the group, fight hard all the way and fight hard for the last 5km and have an understanding of where you're at now."
In relation to the hot and humid weather conditions the walkers faced, Heffernan said: "He said it was really tough, but it was the same for everyone. His approach and even his language afterwards was good. He's going to get a huge kick out of this to move on."