Kellie Harrington is on the cusp of becoming the star of Team Ireland at the Olympic Games, broadening the appeal of an athlete who has already inspired so many.
With a bronze medal already secured, the Dubliner takes on Thailand's Sudaporn Seesondee for a chance to box for gold on the final day of the Games (6am Thursday, RTÉ2 & RTÉ Player).
Harrington's story epitomises the meaning behind the event for Ireland.
Having taken the delay of the competition in her stride, and put it in perspective with all of the difficulties of the pandemic in the last 18 months, there is reason to smile at all times when wearing the Irish vest in Tokyo.
From Portland Row in Dublin's north-east inner city, the value of Harrington's achievements cannot be overstated.
The reality of becoming an Olympian is there is lots of struggle on the way to the biggest stage, to reaching a truly national audience and the pinnacle of the sport.
Harrington has been a hero to her own community for years now, her family, friends and neighbours well aware of the sacrifices that have been made.
For that reason, her victory on Tuesday came with an immediate reality.
She told RTÉ Sport: "The support that I'm getting from the community back home ... I've heard that it's lit back home. I'm just so happy and my emotions really come out when it comes to this.
"To be able to give them something to be happy about and to sing and dance…just for one person lifting the nation."
The 31-year-old put boxing aside to an extent last year when the Olympic cycle was delayed.
She increased her workload as a cleaner at St Vincent's Hospital, clocking in 10 days a fortnight, including seven days in one week.
Entertaining the troops ???? getting a few supported rounds in before lunch ?????? #INNERCITY #D1 #D3 @IABABOXING @EUBCBOXING @AIBA_Boxing #IRELAND
#ShadowBoxingChallenge #ShadowBoxing #PunchChallenge #EUBCevent #EUBCchallenge. https://t.co/yOPfgaDDa7 pic.twitter.com/13duW1RfpO

— Kellie Harrington (@Kelly64kg) May 17, 2020
In an area where drugs, and the 'glamour' which can come with it, have destroyed and ended so many lives, a value can be put on Harrington providing alternative realities for young people in the area.
Sport Ireland funded Harrington with €40,000 last year and that sum is now worth many multiples to the country on the legacy being created.
Harrington displays a wisdom and class that can only be admired and which stems from the grounded nature of the journey to this Olympic semi-final.
She happily took a back seat from the High Performance Institute during the early days of the pandemic, and allowed time to pass, knowing hunger could be cast aside to appear again when it mattered.
Boxing has been credited with the betterment of so many lives in under-resourced communities.
We need your consent to load this comcast-player contentWe use comcast-player to manage extra content that can set cookies on your device and collect data about your activity. Please review their details and accept them to load the content.Manage Preferences
Harrington's story is no different.
"When I was around 14 I was heading down the wrong road, getting in trouble and stuff, and that was when I got involved in boxing, and that was what put me on the straight and narrow," she explained to RTÉ Sport's Des Cahill last year.
"I'm not going to say what I was doing but I was going down the wrong road and anyone from the inner city that knows me, they all know.
"It's been a massive change and a turn in the road and so if I could do it, then anybody can do it, if you want to do it.
"I turned it around and I am proud of myself and I'm glad that my Ma and Da can look at me now and say 'all that she has accomplished in life and all that she will possibly accomplish, [compared] to the road that she was going down'."
It's more than her parents watching on proudly.
Sudaporn Seesondee edged a close fight against Caroline Dubois and will provide the first real test of these Games for Harrington.
Harrington beat the Thai fighter in the World Championships in 2018
Seesondee said in the aftermath of that fight that she has been training specifically to beat the Dubliner after the close split-decision.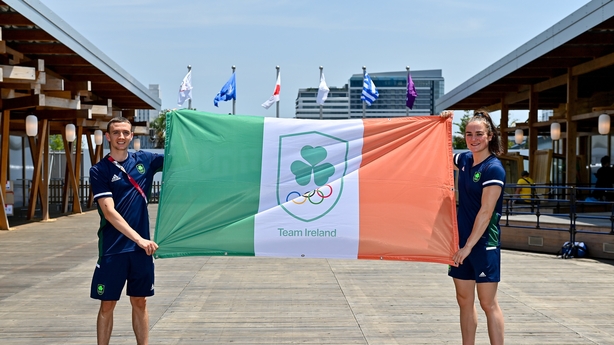 This will be a very different fight compared to the quarter-final with Imane Khelif of Algeria
Seesondee will be happier to box on the inside compared to the Khelif's attempts to use her long reach and it will be a greater test of stamina and skill, with Khelif much more limited.
Harrington will pass little heed of a revenge mission and more so on the task at hand.
Her attitude after the two wins so far have been clear.
"I'm just fighting for myself, fighting for my own honour and what will be will be.
"Sometimes I think I'm lucky. I can't be that lucky to be winning all these things and end up here with a bronze medal in my bag from the Olympic Games."
Ireland will watch on Thursday morning as the nation's flag bearer, in more ways than one, looks to go one step further.